Best LED Grow Light Setup: [Instuctions] How To Hang & Setup LED Grow Light
Installing grow light for grow tent is a trouble-free process. So, do it yourself because it requires just a few minutes to get it done. You do need to be a certified electrician or expert to install it. We've broken down 5 easiest steps to guide you to start LED or any other light installation for your grow room.
Step 1. Determine Grow Light Location for Grow Tent
Choosing an installation site is as important as selecting the light itself. The right position of light ensures the availability of more space for plantation in the tent as well as better light's performance. As we know light does the work of the sun. So, it should hang upside down to throw as much as possible. So the best location will be to hang the light through the ceiling.
Always hang light through the ceiling with studs.
If you don't have a light installation rod in your grow tent, then you can use a light stand as well.
The middle of the ceiling is the best place to erect studs for light.
Remember middle point should be measured carefully from all corners of grow tent
The ideal position of the light is and right above the plant with some safe distance
Mark the location you find suitable for light installation on the ceiling
Step 2. Install Hook or Joist to the rod of grow tent or grow stand
Grow tent comes with fixing rods that sometimes pass through the ceiling to hang any object you like. If your tent lack this you can use the light stand and can attach joist or hook through it.

Here are a few instructions to consider
During seedling adjust the height of the growing stand close to the plant pots. In this way, lights will deliver the best performance with low leaks
The hook should not be made up of plastic as it would not behold much weight
Always buy stainless steel heavy-duty hooks to stand longer with heavy light panels
Step 3. Set up Light Hangers or Rope Ranchers to hang lights
Things you should know to hang grow light
Hooks are almost done with ceiling or grow stand if you don't have a hanging rod on the ceiling. Now prepare the panel of light by attaching hangers on its back. These hangers come with a lightbox or you can buy them also. At least attach four rancher hangers at the points given under the light panel. Now insert ranchers according to the size of your light panel at every corner now atie the ropes with the rod on the ceiling and adjust them through rancher pulley. Lock the rancher's clips when you adjust the height
Step 4. Setup  Grow Light and adjust the height
Now everything is done. The panel is ready to hang grow light. If your lights are already inserted in the panel you are the lucky one.If not you can buy an LED grow lights, LEC, or HPS lights and install them under the holder below the panel setup. Keep these lights on for 8 to 12 hours depending on the type and size of our plants. Also, adjust its height according to the size of the plant. To avoid light leaks zip the tent.
Things you should know to hang grow light
Grow light cables
To connect grow light to electricity, connections wires are a must thing. Here's few safety instructions to know before plugin grow light cable
Always buy grow lights with high-quality cables not worn out from anywhere.It can damage
Fix grow light cables connected to the circuit breaker. In case of any mishap, the breaker would disconnect it automatically
Don't install grow lights with very long cables so that it may entangle with a fan. Always knt the extra cable
During growing tent set up keep the cables at safe distance from the fan
Grow Light Stand
Depending on the size of light as well as space available to hang, you can build your own stand with wood. These stands help the bulb to shed as much light as it can on the plant. Also, they are adjustable. If you are shifting to some other place you can easily take these stands with them. You can build stand for your pots and can hang light with each shelf.
Grow Light Rope Ranchers
These are adjustable bodies attached with a hook from one side and rope from others. Most of the hangers have slide clip systems to adjust the height as the plant grows. These are made up of heavy-duty stainless steel and work as a pulley.
Grow Light Kits
LED light
Cables to insert in switch
Rope ranchers
Grow light hangers
Here are three best LED grow lights:
ECO Farm 480W/650W/1000W/1200W LED Grow Light With Samsung 301H Chips Full Spectrum Commercial Light Easy To Set Up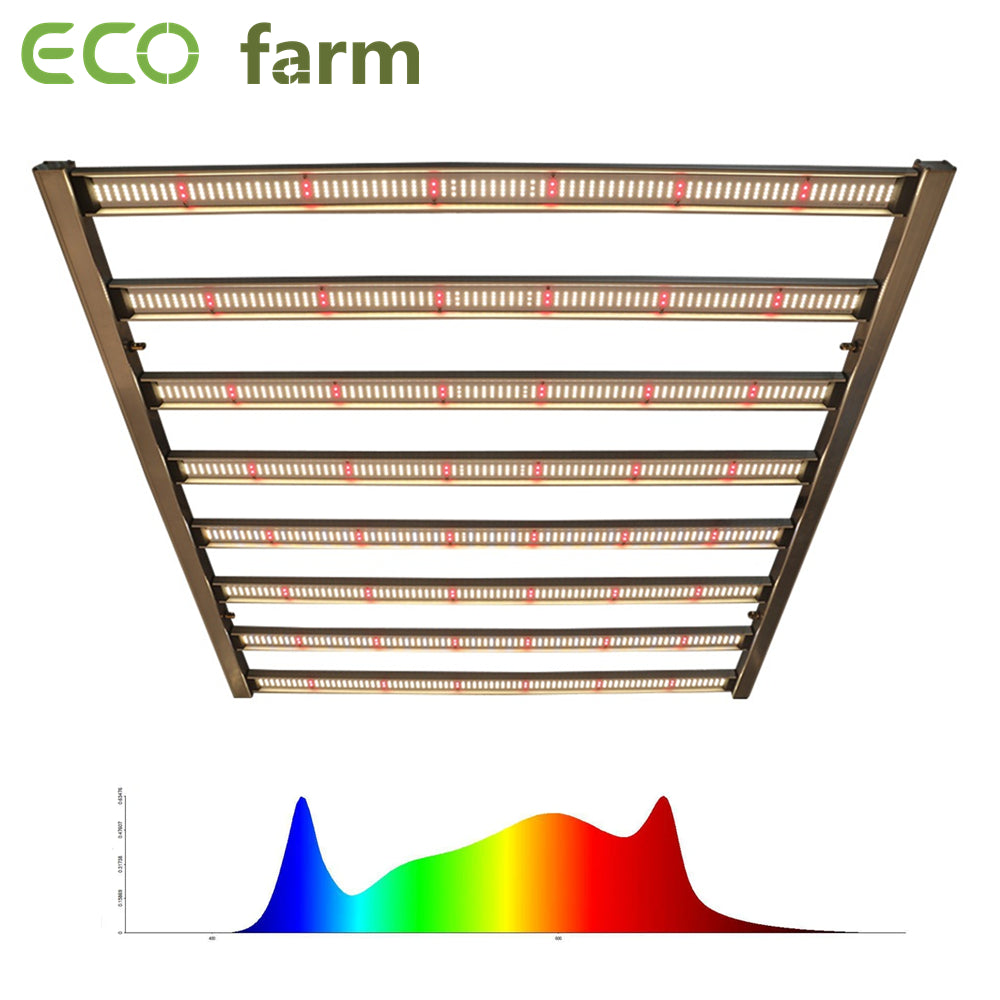 ECO Farm LED light strip is a full-cycle spectrum optimized for rapid growth and complete plant development. Tailored for growing plants from propagation to senescence (germination, clones/cuttings, mothers, vegetative and flowering applications) in indoor environments.

ECO Farm upgrades LED is a high-performance, full-cycle top-lighting solution for commercial horticulture cultivation, with the power to scale from vegetative growth to higher light intensities in bloom. It was designed for commercial growers to push the envelope with high-PPFD cultivation practices along with sophisticated CO2 supplementation.

Designed with Samsung 301H chip, higher light intensity, less light decay, better lumens and PAR values than ordinary LEDs. It runs at a lower temperature and can bring higher energy conversion and longer life. This grows light is a full-cycle lighting solution for all growing environments including wet situations and is ideal for greenhouse or indoor lighting.

Flowering period: turn on the light for 12 hours, the humidity is 45-50%.
ECO Farm 240W/320W/480W/660W Waterproof Light Strips With Osram Chips Full Spectrum Foldable LED Light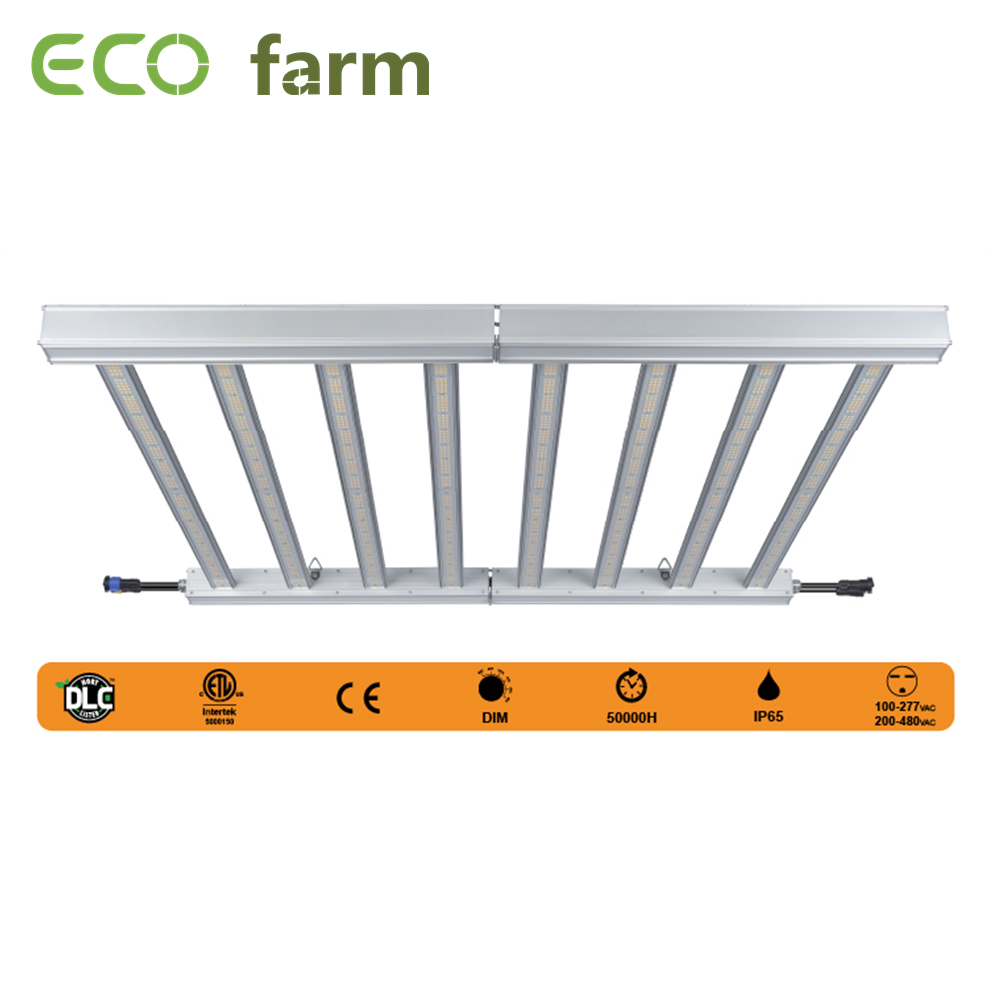 Fanless Design
IP65 Waterproof
Dimmable: 0-10V Dimming
Lights can be connected in series
2 versions available
Input Voltage:100-277V ; 200-480V
Slim design and 180 degrees foldable
Uniform PPFD distribution
ECO Farm 700W/860W/1060W UV IR Separately Control LED Grow Light With Samsung Chips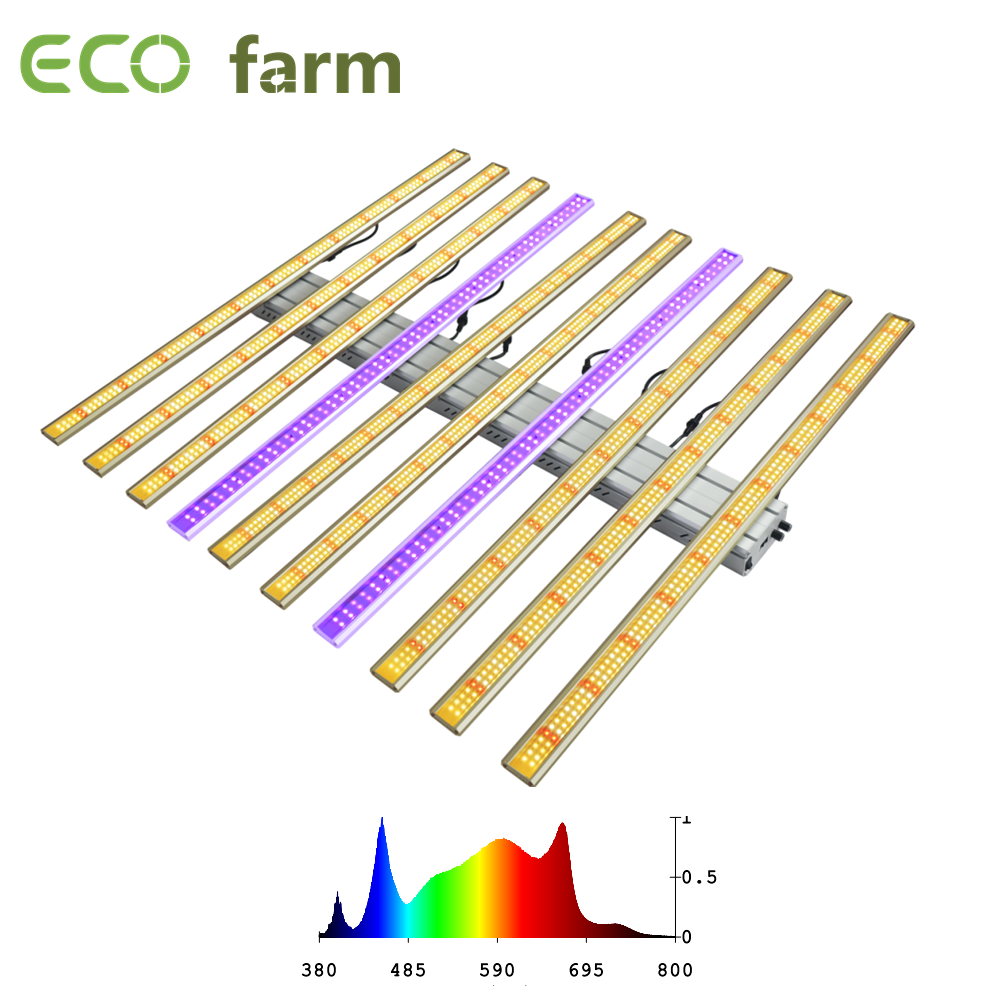 Easier and more effective dimmer switch: can adjust brightness from 0%to 100%to adapt the needs of plants in different stages of seeding, veg and flower, which making you planting easier
Group Control The Lights: It is equipped with an external RJ 14 cable and allows you to install up to 200 fixtures per controller by simply daisy chain. Easy to dimming and control a lot of fixtures for you. Gospel for commercial
growers.
True IP65 protection against water and dust
Five-year warranty, 10000 hours on UV diodes
If you are also interested in other grow equipments, welcome to visit our website: ecofarm.ca
Our emails address is: business@ecofarm.ca
Contact:
WhatsApp: +1 206 581 5521
6 Responses
Leave a comment