Which LED Lights Do Professional Growers Use?

Right now the world is experiencing a medicinal plants growing revolution, and that means there are more options for growers out there than ever. However, it also means that it's not always clear what the best alternatives are, especially when new tech comes out so fast.

This post is a review of the top five best LED grow lights. We reviewed as many LED grow lights as we could from those available on the market as of July 2021. From those, we selected our favorites for a variety of reasons, and created this detailed guide.

We evaluated each grow lamp based on numerous factors, including durability, cost, yield, wattage, spectrum and more. The details of your grow determine which are the best LED lamp options for your grow, so we wanted to go deep and present the range of the best choices out there.

Obviously, budget, growing experience, strains, environment, and goals will all define growing needs. That's why each grower's needs are unique.
We tried to include a few options for every kind of grower, so whether you're a serious pro or just getting started, there should be something here for you.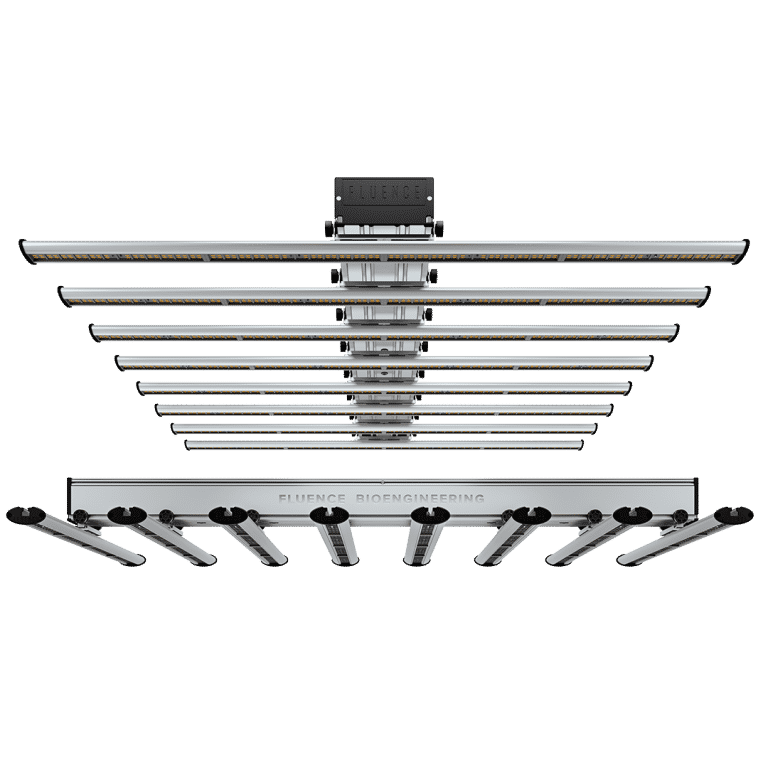 SPYDRx PLUS is a full-cycle top-lighting solution for commercial horticulture cultivation, with the power to scale from vegetative growth to bloom. For optimal results, we recommend SPYDRx PLUS deployed in environments with CO2 supplementation between 800-1400 ppm in reproductive growth stage due to high PPFD levels.
Solid-state engineering coupled with a patent-pending form factor makes the SPYDRx family ideal for multi-tier vertical farming applications and single-tier applications including growth chambers, tables with adjacent aisles, and tents.
With a thickness of only 4.6" thin, and recommended mounting height just 6" from the top of the canopy, the SPYDR family is purposefully designed for vertical farming – from veg to bloom – with an average PPFD up to 1,030 µmol/m2/s over a 4'x4' canopy.
All SPYDR models are dimmable with their optional light intensity dimmer for precise control over PPFD, and offer the flexibility to instantly accommodate a new crop with varying light requirements.
Recommended mounting height 6" from top of canopy for optimal light uniformity, penetration and flux density above a 4'x4' canopy.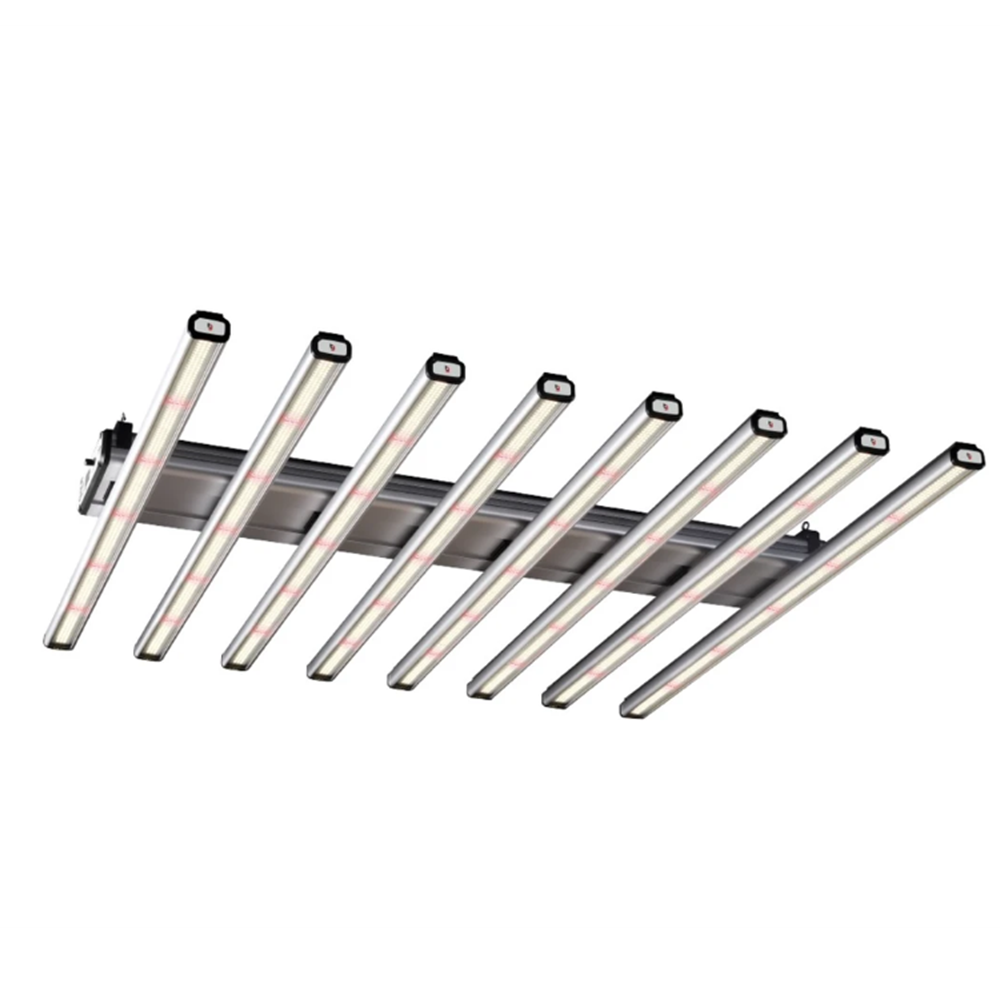 The Model-W is designed for high PPFD cultivation practices in vertical farming. Full Spectrum design covers each critical phase of growth from vegetative to flowering. An independent Far Red 730nm Channel is designed to target Phytochrome Far Red in photomorphogenic lighting applications.
We listen to growers. We build for growers.
Outstanding Efficiency
Plug and Play
Full Spectrum Design
On-Board Dimming
Adjustable Spectrum
External Controllability
Group Control
IP56 Waterproof
From the same company that manufactures TrolMaster, J&L Hydro is proud to bring you ThinkGrow LED's. Our products are designed by growers for growers. The TrolMaster/ThinkGrow engineers bring a combined 30+ years of design and manufacturing.
Made for every grower; small home hobbyist or large commercial facility.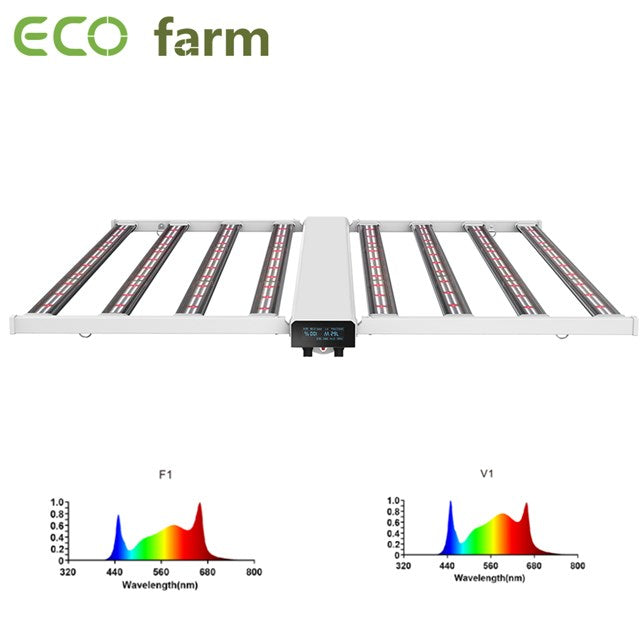 ECO Farm MB3 PRO version 760W foldable grow light could offer 2128 μmol/s output, providing a great amount of Efficacy 2.8 μmol/J.
Specialized driver designed by ECO Farm company, Superior quality white chips (Samsung 301B) and Red chips (Osram) on each bar, which be able to fully cover 5x5'' plant growing stages with ease.

MB3 PRO also has two knobs and one button,  which allows you to select time, dimming and bloom spectrum.

The LCD screen shows time setting, power, dimming percentage, spectrum, PPF and current value.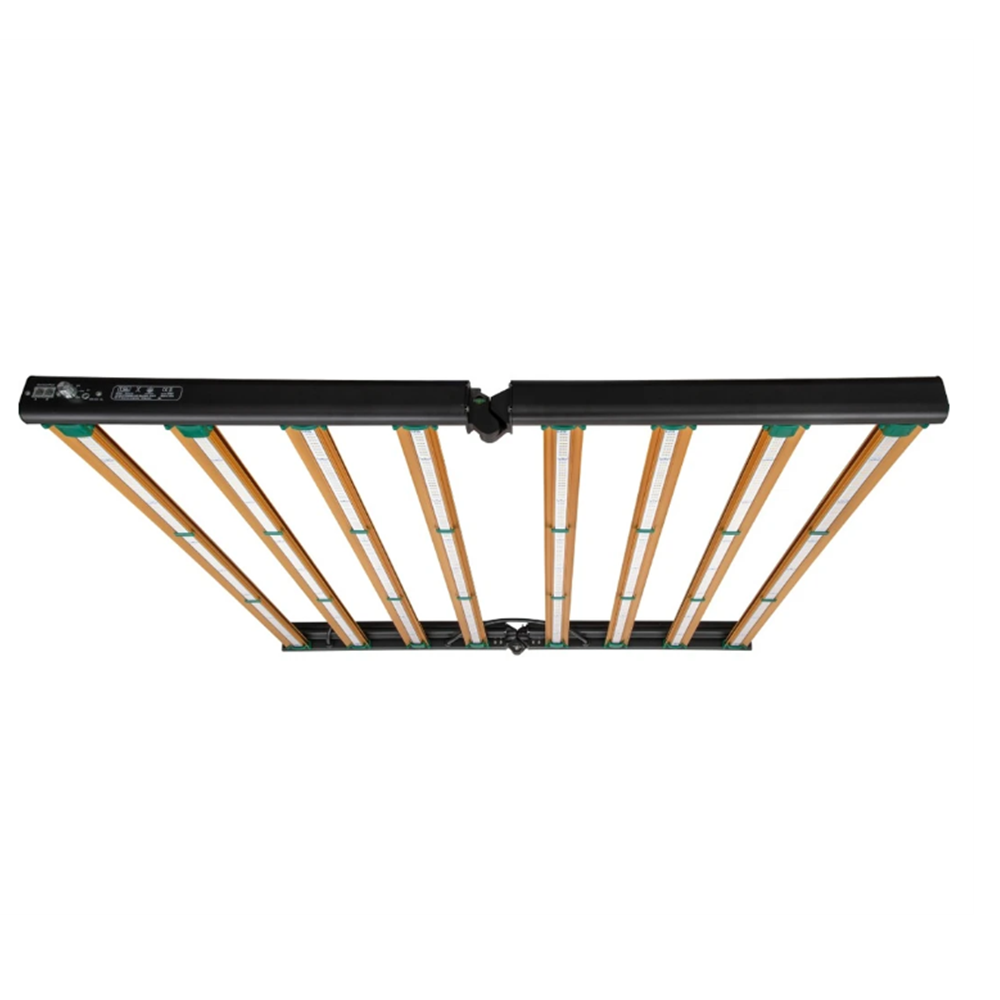 By far the most powerful LED in its class with a standard PPF of 1850 umol/m2/s and a "BOOST" mode that raises the output to 2050 umol/m2/s, for professional cultivators who demand ultimate light output.

The ROI-E720 was engineered with greater dimensions to provide more versatility and better canopy coverage, especially to the outer edges of 4'x4' cultivation areas.
This model combines the industry know-how and ability of two top brands in the game – Growers Choice and TSL Horti Tech. These two companies worked together on the ROI-E720, and the result is a high-quality option that can take your growing endeavors to the next level. This light combines excellent light output in an efficient design that helps encourage growth without ridiculous power consumption needs. When combined with the Growers Choice Master Controller, you can operate up to 200 of these bad boys at a time. 
The ROI-E720 utilizes a whopping 720-watt output to provide GC-3K full phase light made possible by high-end Osram diodes. This can be increased by another 10% using Boost mode for a little extra kick to help at any stage of plant growth. This light also features a fanless design that encourages heat dissipation without any extra components and an onboard dimming capability so you can adjust everything as needed. The ROI-E720 also comes with an IP65 waterproof rating to handle the environment of any indoor grow alongside UL1598 and UL880 certs. The unit comes with rope ratchet hangers, a long connecting cable, and a power adapter to assist with the installation process.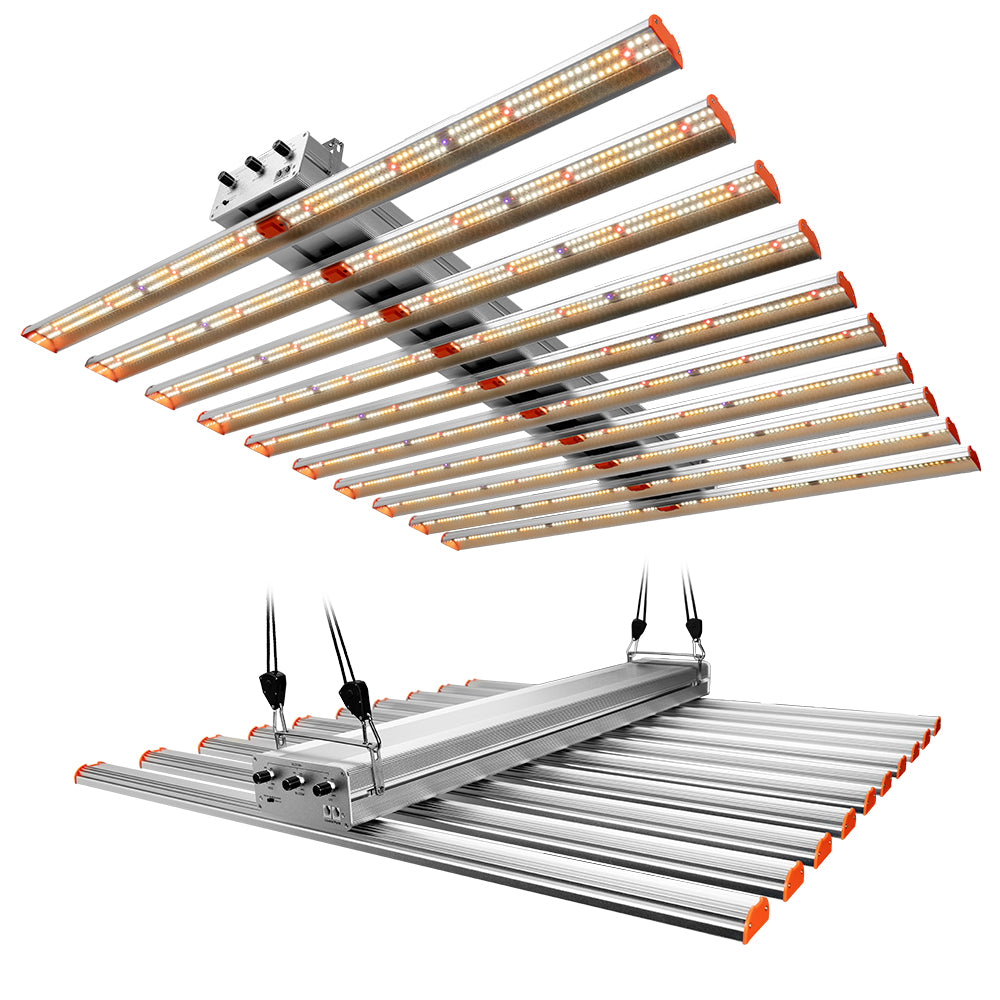 ECO Farm 250W/510W/700W/1000W series was the latest trend and most popular for its good design and ease of use.
It is a perfect top-lighting solution for commercial horticulture cultivation, or a full-cycle top-lighting solution for home hobbyists cultivating.
Save 100%-200% on lighting compared to other brands;
Industry top efficacy and light output - 2.9 μmol/j ;
Reduce HVAC and electricity costs by 50-60%;
Make you get 30% Higher Yield compare the traditional lamps, Increases revenue with better quality flower,s and higher yield(maximize crop yield by growing vertical).
Using high efficient and more reliable Samsung LM301H & Osram Chip horticultural LEDs.
3 Channel Dimmers, VEG switch, Bloom switch, UV switch separately controlled, Freely adjust the lamps according to different growing stages; VEG dimmer to control white light 5000K, one Bloom dimmer to control white light +red light ( 3000K+660nm), and UV dimmer to control UV 395nm.

 

Plug & Play design, horticultural can be easier! 
Application: All those products are widely used in grow tents, house gardens, pot culture, hydroponics, greenhouse cultivation, etc.
Tailored spectrum can meet all your various application needs, easy for full growth cycle.
Perfect heat management, cool to touch.
Conclusion:
Indoor gardening is slowly becoming popular and so is the equipment that is necessary for that. Modern LEDs have come a long way since their initial development and use in practical technology. The advantages of LEDs include lower energy consumption than traditional HID and CMH lamps. Additional improvements include a improved durability, small size, and faster switching of the diodes.
LED grow light that allows you to set up your own growing platform with sufficient light. To avoid confusion due to the number of different options and their varying properties, we have shortlisted the best options for you. You could also refer to our buying guide to choose the best option for your preferred application.
We hope this article helped you find the best LED grow light for your row room or grow tent!
If you want to know more about its symptoms and solutions, do not hesitate to contact us, the ECO Farm technician is always here to help you.
  If you need any tools, click here
 Our emails address is: business@ecofarm.ca
Contact:
WhatsApp: +1 206 581 5521
Leave a comment