The Pros & Cons of Regenerating Medicinal Plants
How Does Medicinal Plants Regeneration Work?
Medicinal plants are very photosensitive. As the available hours of light per day decrease, the change triggers these annuals to produce more of their flowering hormones. Once these hormones reach a set level, the plants know that their life will soon be over, so they answer the call to reproduce by starting the flowering stage.
By increasing the available hours of light, you can force the plant to reduce the amount of flowering hormones it produces. This drop will eventually stop the flowering process and force the plant to revert back to the vegetative stage. Sometimes growers do this by accident, but our focus will be on purposeful regeneration performed immediately after a successful harvest.
Reason to Regenerate Your Medicinal Plants
1. Saves Space By Eliminating Mothers
If you can consistently regenerate your existing plants, there's little to no need to keep a separate grow space along with the associated equipment for your mothers and a nursery of clones. This not only saves square footage that you could devote to flowering plants, but also saves money by reducing energy and hardware needs.

2. Saves Time By Reducing Veg
Medicinal plants strains that take well to regeneration bounce back quickly. Their roots, trunk, and primary branches are already developed, so they'll have a head start on the typical veg cycle with a robust support system. Plus, you won't have to wait for them to reach sexual maturity or guess whether they'll be female. In a best case scenario, you'll be able to harvest more buds off the same plant within eight weeks of the time it reverted to veg.

3. Preserves Genetics
Your mother finally failed to thrive. You can't find any more of your preferred medicinal plants seeds. You realise near the end of bloom that you have a very special phenotype on your hands, but you carelessly forgot to take clones while you had the chance. With regeneration, there's no need to lose exceptional genetics just because bad things happen. Simply trick the plant into vegging again and you're back in business.
Pros and Cons of Medicinal Plants Regeneration
PROS
Saves time and gets you to the next harvest faster.
With each cycle, regenerated plants get a little bigger and yield better.
You'll be 100% confident that the plant is female.
No need to keep mothers for clones or source new seeds.
Saves space and cuts down on equipment and energy costs.
Allows you to quickly create new "monster-cropped" clones. These are cuts taken from a flowering plant.
CONS
This is an advanced method that typically requires a lot of growing experience.
Not all strains take to regeneration. They may die, show hermaphrodite tendencies, or develop deficiencies in yield, vigour, or quality.
If plants are overstressed during the regeneration process, they could take up to two months to recover. When this happens, it negates the time savings from the list of pros.
This technique is primarily for soil grows. Because clones veg so quickly in hydro, regeneration is only recommended for genetic preservation if you grow using this method.
Then I will recommend several LED grow lights for indoor plants.
ECO Farm 480W/640W/800W/1000W Dimmable LED Grow Light With Samsung 301 Chips+UV+ IR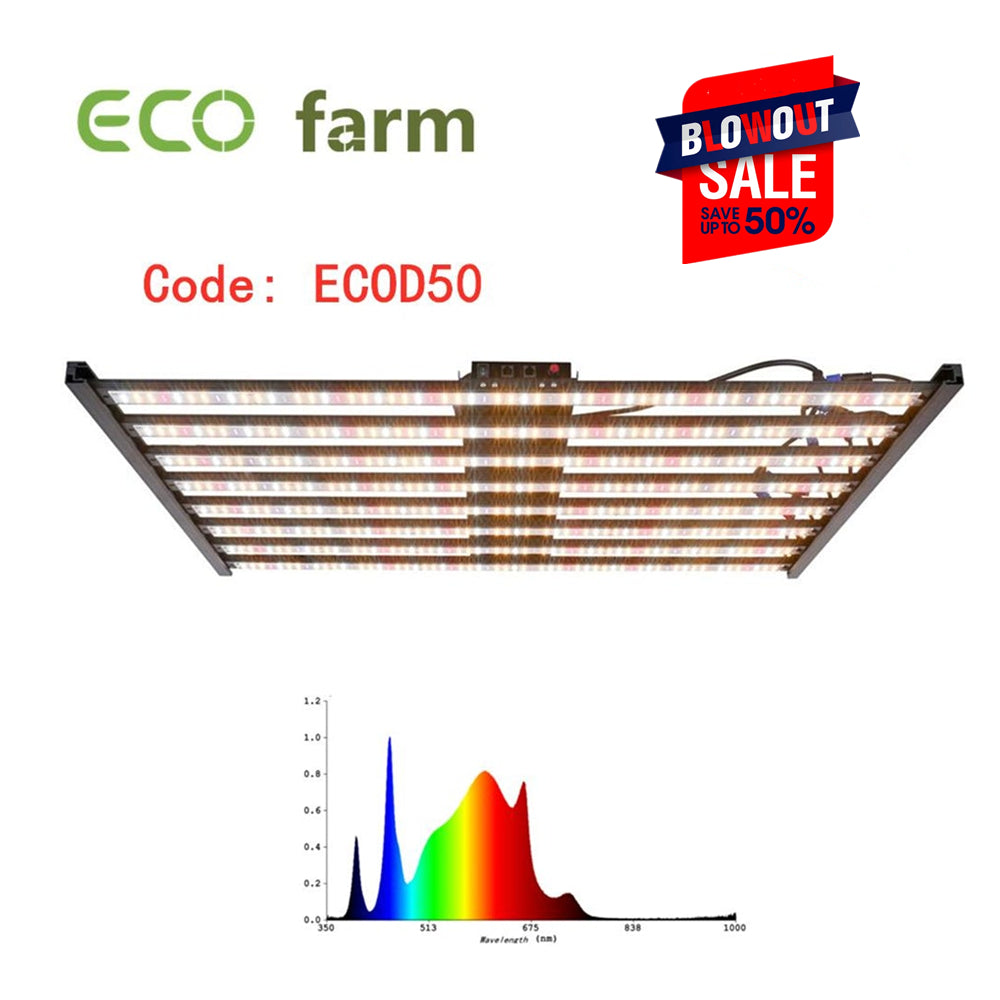 The ECO Farm Samsung LED grow light features a balanced spectrum for superior growing power with best possible LED diodes available.

This fixture provides you with total control over everything. With onboard dimming function, growers can set the ideal intensity at any stage of plant growth for optimal photosynthesis activation.

PPF & Par Efficacy
The ECO Farm Samsung LED grow light produces a PPF output of 1514.7μmol/s and a PAR efficacy of 2.8 umol/J making this fixture incredibly efficient compared to other commercial fixures.

Energy Output
The ECO Farm Samsung LED grow light provides its users with an average 40% reduction on energy and costs. This is the ultimate combination of increasing the amount of light energy reaching your plants while also shrinking costs.

The ECO Farm Samsung LED grow light allows for even light distribution, and is precisely designed to deliver uniform levels of photosynthesis flux density, or PPFD.

Spectrum
The specially deployed full spectrum fills the negligence of the main photoreceptors and pigments outside the 730nm IR and 395nm UV range, and it is suitable for reproduction to aging in indoor environments.
ECO Farm 400W/650W/800W G3 Series LED Grow Light Strips With Samsung LM301H/ LM301B/LM281B Chips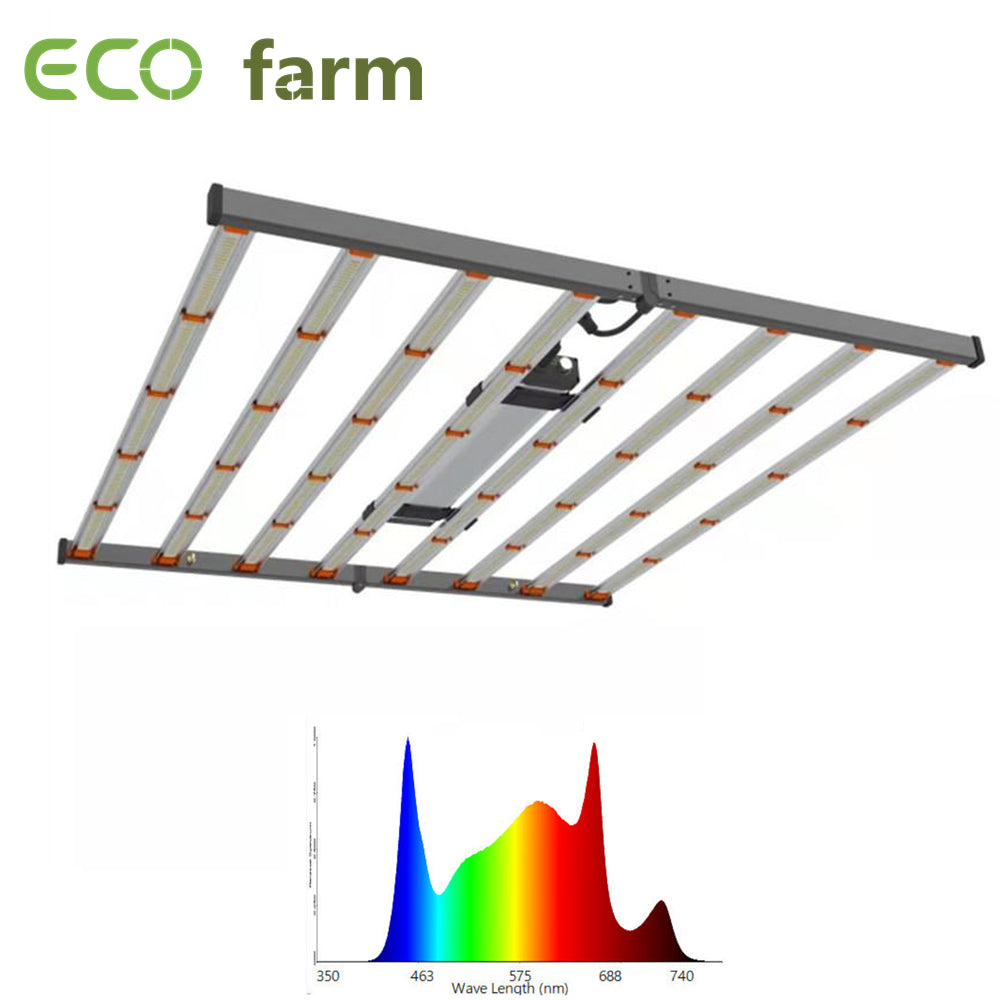 ECO Farm grows light just consumes about 400W/650W/800W power. High-efficiency PPF LEDs make your cost less but get more.
It has a long using lifetime, which is up to 50000 hours.
Re-defined & Wide coverage light design, benefit your plants everywhere and let your plants get higher yielding.
Real full-spectrum(sunlight) for plants from veg growth to bloom, no need to change your light source.
Pre-installed light bars for plug and play directly.
5-Year standard warranty
The dimming design makes it easy to choose the right light for your plants at different stages.
Powered by Samsung LM301H/ LM301B/LM281B+OSRAM
ECO Farm 690W Three Channel Dimming LED Grow Light With Samsung 301B/ LedStar Chips 180° Foldable Design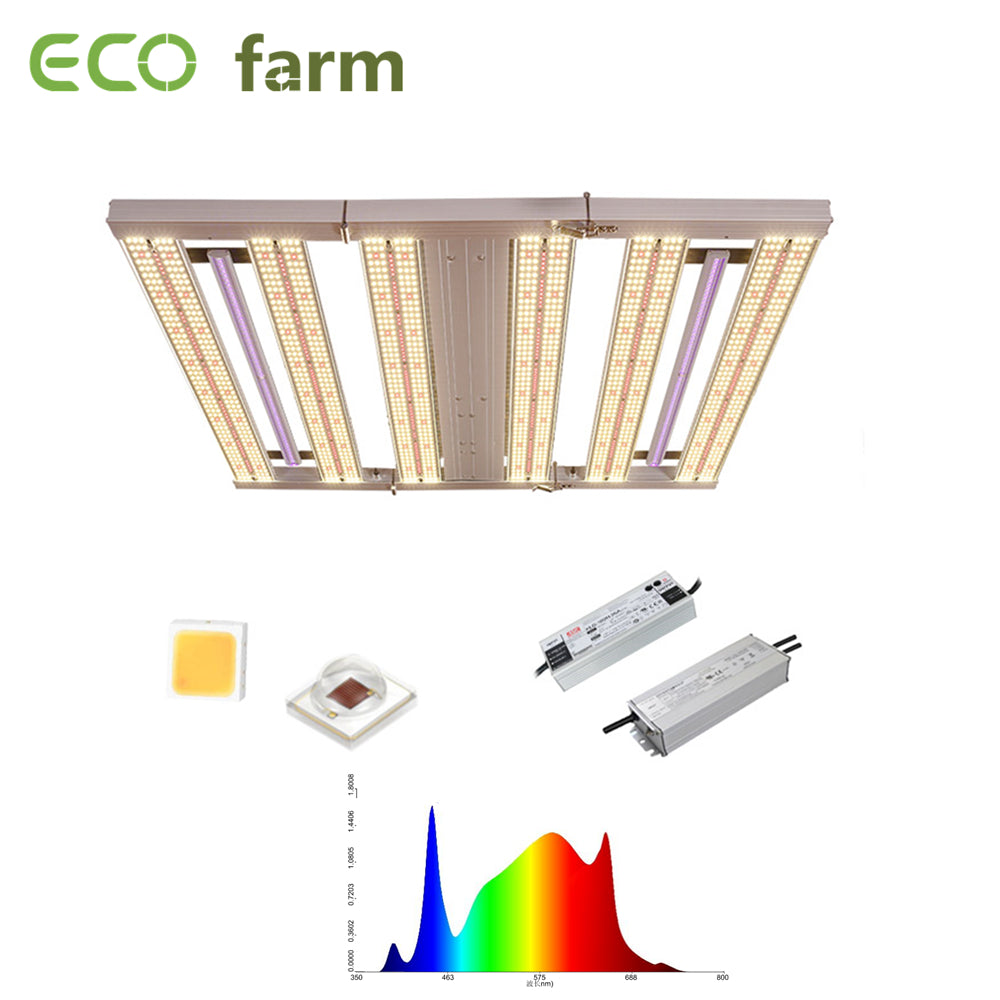 ECO Farm 690W LED grow light has higher PPFD and PAR than the conventional full-spectrum, and is also more efficient. It provides sufficient growth light for plants, increases plant yields, and helps plants grow healthily.
The surface is made of high-purity refined aluminum anodized and processed by physical heat dissipation, which greatly prolongs the service life of the lamp, and is energy-saving and environmentally friendly.
The detachable ultraviolet and infrared light-emitting modules are added, and the unique folding design and detachable solution are more convenient to use.
Using the three-way dimming design of the knob and controller, the light components can be adjusted separately to adapt to different growth stages of plants.
If you are also interested in other grow equipments, welcome to visit our website: ecofarm.ca
Our emails address is: business@ecofarm.ca
Contact:
WhatsApp: +1 206 581 5521
Leave a comment