PPFD intensity affects the photosynthesis of plants. In a certain range (below the light saturation point), the higher PPFD, the higher the photosynthetic rate and the higher the plant yield.
Light compensation point:
 refers to the light intensity of a plant under a certain light intensity, leaf photosynthetic rate and 
respiration rate are equal, net photosynthetic rate is zero (organic matter formation and consumption are equal), light intensity 
is called light compensation point.
Light saturation point:
 when the light intensity of plants reaches a certain value, and then increases the light intensity, the 
photosynthetic rate does not increase, which is the phenomenon of light saturation.
PPFD value plays a very important role in plant growth.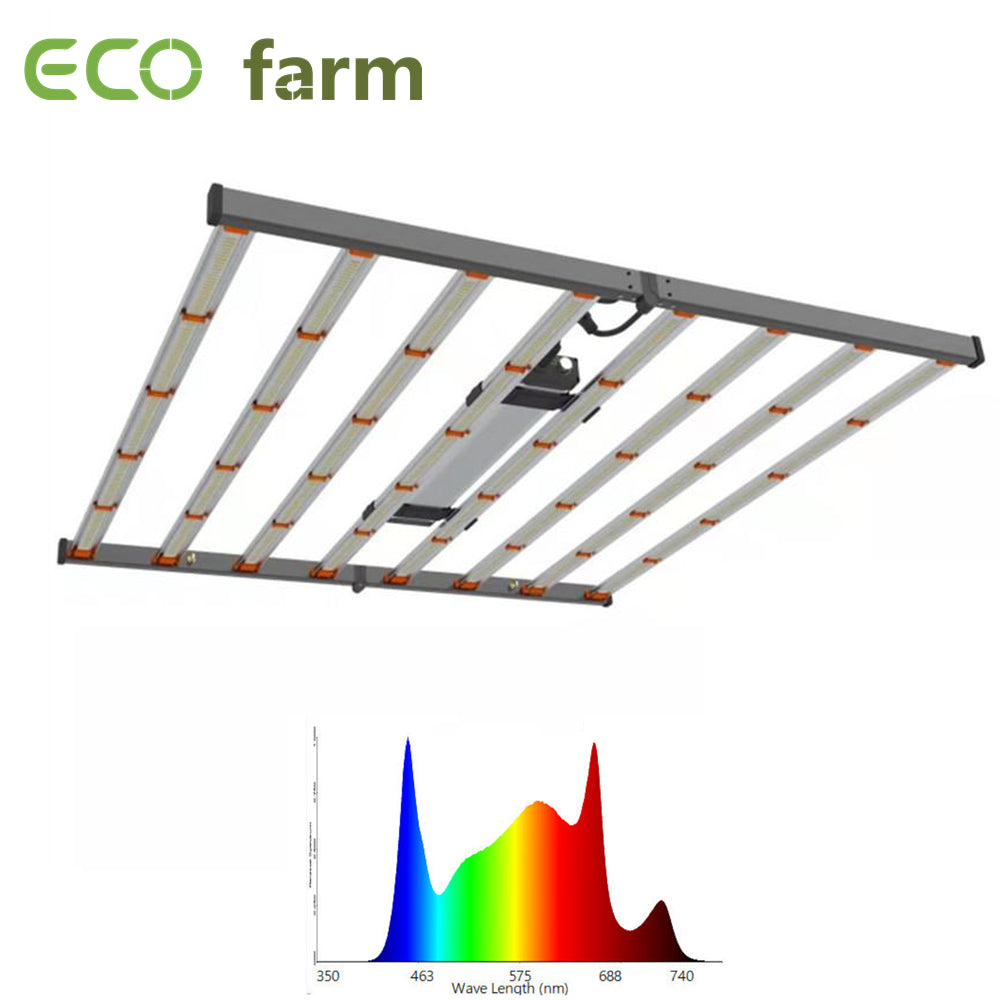 ECO Farm grows light just consumes about 400W/650W/800W power. High-efficiency PPF LEDs make your cost less but get more.
It has a long using lifetime, which is up to 50000 hours.
Re-defined & Wide coverage light design, benefit your plants everywhere and let your plants get higher yielding.
Real full-spectrum(sunlight) for plants from veg growth to bloom, no need to change your light source.
Pre-installed light bars for plug and play directly.
5-Year standard warranty
The dimming design makes it easy to choose the right light for your plants at different stages.
Powered by Samsung LM301H/ LM301B/LM281B+OSRAM
ECO Farm FLD Series 200W/320W Full Spectrum LED Grow Light Foldable Light Strips
Description:
1. Maximize harvest yield & energy-saving - ECO Farm FLD 200W/320W LED grow light with higher light intensity, less light decay, better lumens and PAR values than HPS/MH light. 
2. Flexible dimmable grow light & full spectrum: - The intensity of light can be adjusted according to the needs of plants. Light chips were consist of 3000K+5000K+660nm+730nm, provide full-spectrum results.
3. Foldable design & fanless zero noise - FLD LED grow light can be folded, installed and moved easily, save a lot shipping fee. 
4. Structure optimization and material upgrade make it more lightweight and easy to install and use.