Mastering The Indoor Plants Seedling Stage In Just 3 Steps
Medicinal plants seedlings can be tricky to keep alive, especially for rookie growers. With a solid understanding of seedlings and their requirements, though, the all-important seedling stage can be a lot less threatening. Keep reading for three simple steps to growing healthy seedlings.
STEP 1: Pick The Right Genetics, Containers, And Medium For Your Seedings
When sourcing your seeds, be sure to actively search out the right strain for you; your experience and skill as a grower, budget, grow equipment, preferences in taste and effect, and whether you're growing indoors or outdoors will determine which strain will yield the best results for you.

As for the medium, we always recommend growing in a light, well-aerated, slightly acidic soil with a pH of 6.3–6.5. We recommend using between 20–50% perlite in your medium to aid with soil aeration and nutrient retention. The more nutrients you plan to give your plants, the more perlite you should add to your soil to help with drainage and prevent nutrient lockout.

From cheap nursery containers to sophisticated smart pots, growers are spoilt for choice when it comes to picking the right container for their medicinal plants. And while it's possible to grow great medicinal plants in cheap plastic propagation containers, there are a couple of things you'll want to keep in mind when choosing pots for your plants.
Make sure your pots drain well to protect your plants against fungal pathogens and root rot. If your pots don't already contain holes (or some other kind of mesh to allow runoff), you'll need to puncture them yourself.
One of the functions of a plant's substrate is to serve as a site for air exchange between the roots and the environment. Smart pots your plant's roots respire by allowing more oxygen to reach them. This translates into faster, more vigorous growth, healthier plants, and a better harvest.
Keeping tiny seedlings in huge pots increases the risk of overwatering, as your plant's roots won't be big enough to extract all the water from their substrate. Any water that stays in the substrate will effectively drown the roots and attract pathogens and pests into your garden/grow room.
STEP 2: Use The Right Germination Techniques
Medicinal plants seeds need four things in order to germinate: moisture, warmth, darkness, and time. To ensure you grow healthy seedlings, germinate your seeds using one of the following techniques.
• Paper towel method
Carefully place your medicinal seeds between a few moist pieces of paper towel, and place it all in a plastic container with a lid. Keep the container in a warm, dark place (temperatures between 20–25°C are ideal). Leave a slight crack in the lid to allow for some fresh air exchange.
• Glass of water method
Simply drop your seeds into a glass of water and let them sit in a cupboard for 24–48 hours at 20–25°C. Once you see the first signs of taproots sprouting from your seeds, they're ready to plant. If your seeds don't germinate after 48 hours in water, switch to the paper towel method. Don't keep the seeds submerged for more than 48 hours or they'll rot.
Your seeds are ready to plant once they've cracked open and released a small, white taproot. Plant your germinated seeds one knuckle (roughly 3–5 millimetres) deep with the taproot facing down. That way, your seedlings won't have to reorient themselves.
STEP 3: Mastering The Seeding Stage
Seedlings have very particular needs when it comes to temperature, humidity, and lighting, and missing the mark in any of these areas can prove fatal for such small plants. For best results, we recommend growing seedlings in a propagator where you can easily create the perfect environment for them to flourish in.
• Temperature
Medicinal plants seedlings like daytime temperatures of 20–25°C and nighttime temperatures that are roughly 4–5°C cooler. High temperatures will stress your seedlings and stunt their growth, which, at such an early stage, can prove fatal. Dry leaves with curled up edges are a telltale sign of heat stress. With time, your seedlings might also develop other symptoms, including pale foliage and red or purple stems. Heat stress can also cause weak, wilting leaves with downward folding tips.

Cold temperatures, on the other hand, can freeze a seedling's cells and affect its ability to transport and use nutrients, water, and oxygen. This will result in stunted growth and eventually death if not dealt with properly. Wilting foliage, slow growth, and poor plant turgor are some signs that the temperature in your grow room or propagator is too low.
• Humidity
While their roots are young and still developing, medicinal plants seedlings absorb water via osmosis in their leaves. To optimise this process, it's super important to keep relative humidity levels at 40–60%.

Humidity levels below 20% will seriously stunt the growth of your seedlings and may cause them to develop symptoms similar to some nutrient deficiencies (yellow or spotted leaves). Humidity levels above 60%, on the other hand, will cause your plants to develop wet spots that can cause foliage to wilt or rot, as well as attract fungi and/or other pathogens and pests. Once your seedlings enter the vegetative phase, you should keep relative humidity at 50%.
• Lights
Seedlings are sensitive to light and will burn under strong HID or LED grow lights. Like adult plants, seedlings will develop burnt, crinkled leaves when suffering from light stress. Alternatively, seedlings that don't get enough light will grow tall and lanky and topple over.

For best results, we recommend growing your seedlings under an 18/6 light cycle using CFL bulbs with a blue light spectrum for the first 10–14 days. Once they've developed healthy true leaves and at least 2–3 nodes, you can move them under stronger HID or LED lights to start vegging.
ECO Farm 710W Pro LED Grow Light Bars With Samsung 301B/301H Chips Separately UV+IR Control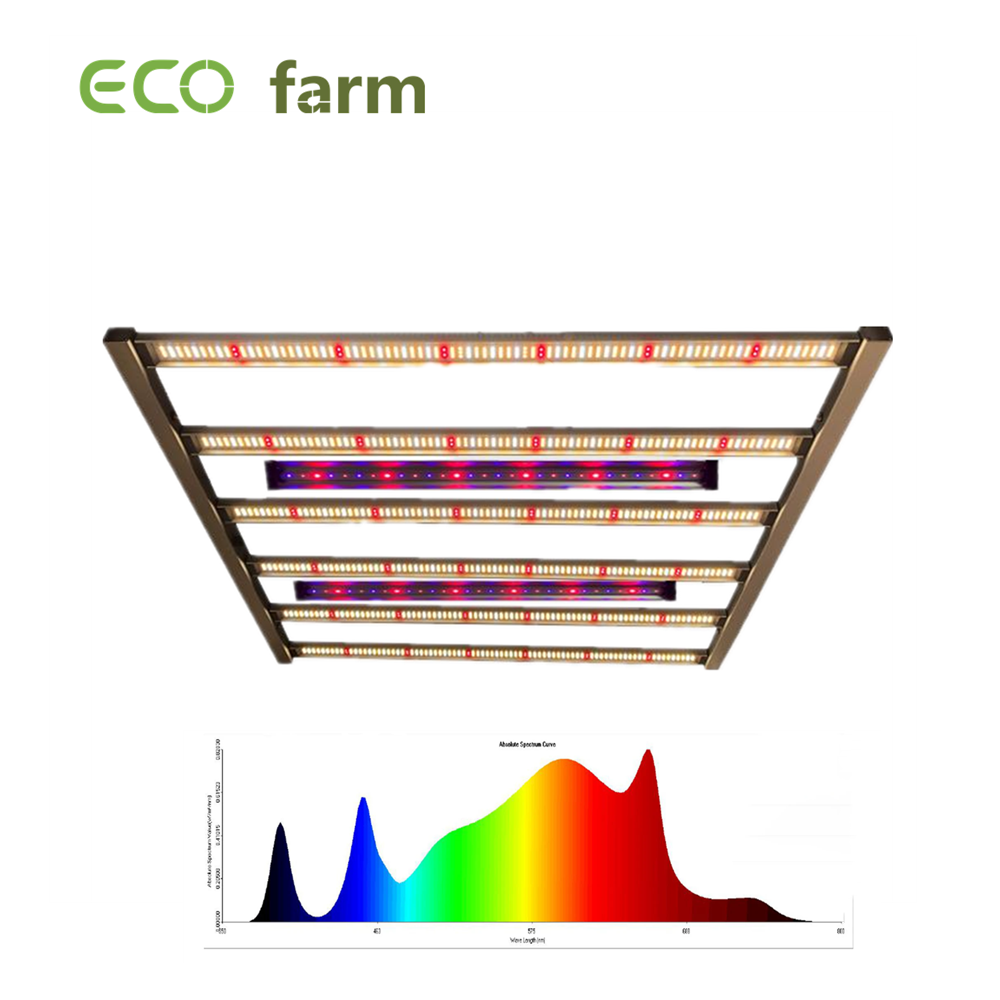 Description:
1. Samsung LM301B&LM301H 6500K+3500K with OSRAM white+660nm led source, the lighting is most suitable to the indoor or greenhouse planting growth.
2. Top grade driver-Inventronics driver be certificated by authority, providing the stable and long time protection to the lights.
3. Slim frame and light weight designed, flexible and simple to use, plug and play.
4. Good heatsink by multi-tier finned aluminum, during strict temperature test, no harmful no noisy, longer life span.
5. Inside hook design, fast installation and a plug and play, 100% safety for hanging.
6. Whole light is designed with IP65 waterproof, aoviding all usage risk.
ECO Farm 480W/580W/650W Samsung 561C Chips Commercial LED Grow Light Strip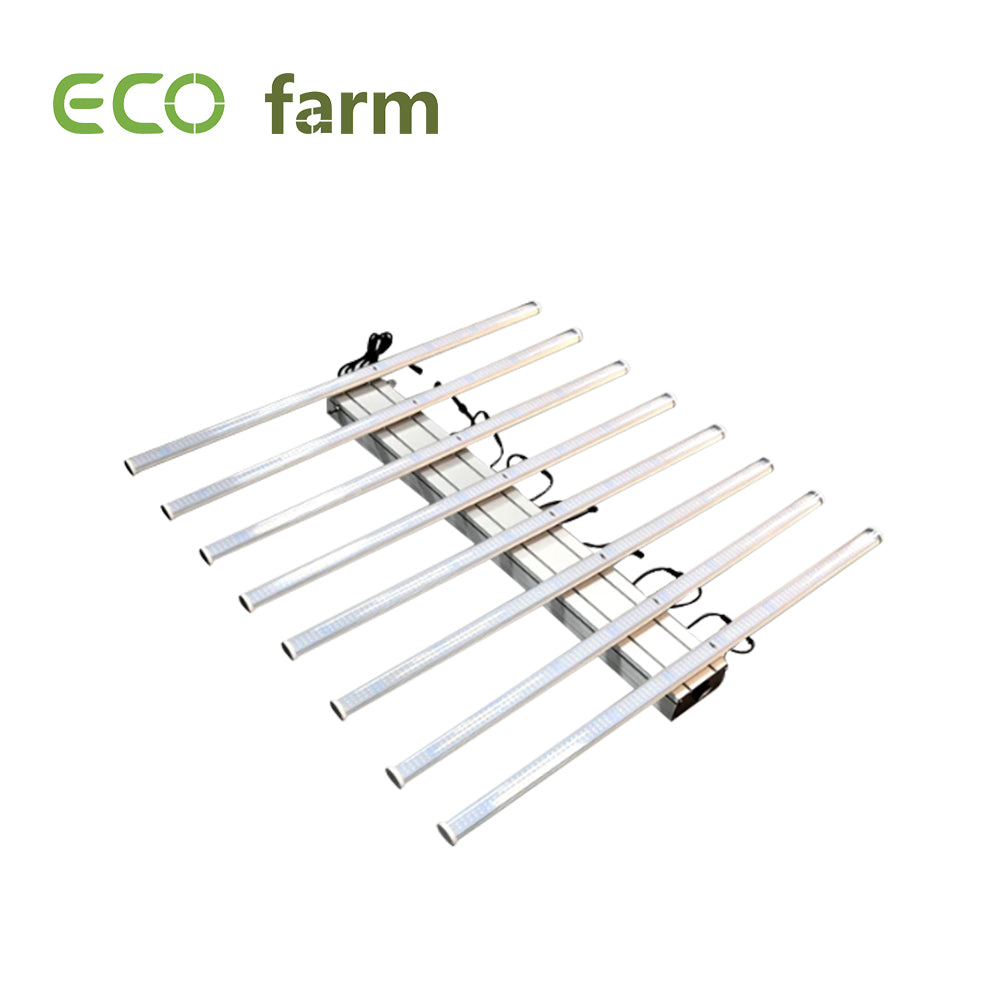 Description:
In 3 sizes options, whether for research facilities, vertical farms, side-canopy or intra-canopy light, as the sole lighting solution, the Eco Farm Strip is versatile for any crop grow applications at any stage of the crop life cycle.
The Eco Farm grow strip is ideal for research facilities, vertical farms, side-canopy, and intra-canopy lighting, and simple installation.
ECO Farm 240W/640W Samsung LM561C+OSRAM 660NM+ Dimmable LED Light Strips Built-in Power Supply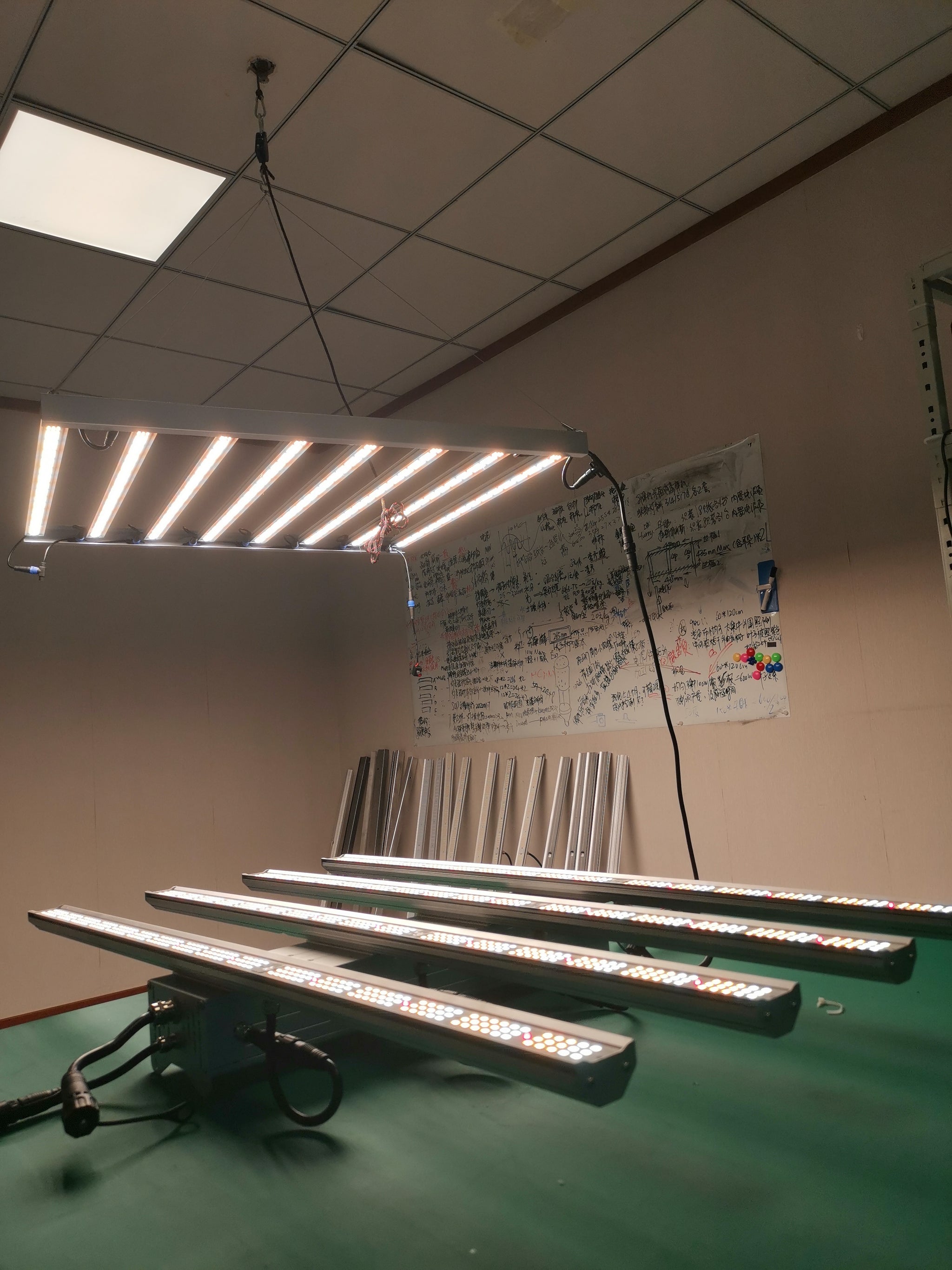 Description:
240W:
240W is equal to HPS lamp HPS2000~2200W,
Rated voltage 100-260V,
The LED full-spectrum lamp beads are all 561C package, and the red light adopts the original 660nm of OSRAM.
Support 0-10V dimming,
Built-in power supply design (power supply is made in the light bar),
The lamp body profile is 6060 model is 1.0 thickness, 2.0 thermal conductivity aluminum substrate;
640W:
640W is equal to HPS lamp HPS2000~2200W,
Rated voltage 100-260V,
All LED light bulbs are packaged in 561C, and the red light adopts the original 660nm from Osram.
Support 0-10V dimming,
Built-in power supply design (power supply is made in the light bar),
The lamp body profile is 6060 model is 1.0 thickness, 2.0 thermal conductivity aluminum substrate;
If you have other question about led plant growth, welcome to visit our official website: ecofarm.ca
Our emails address is: business@ecofarm.ca
Contact:
WhatsApp: +1 206 581 5521
Leave a comment