Enlite Ceres 780W dimmable LED grow light is a high-intensity, full-spectrum fixture that is designed to cover a 4' x 4' to 5' x 5' space for full-cycle or flowering growth.
It is designed for commercial multi-tier or top-lighting applications for indoor cultivation or for home grows. It features a folding and slim profile design that makes it easy to install.
Each fixture comes with a 240v power cable and a 120v adapter. If you need an EU or AUS/NZ plug please let us know when you place your order.

Full Spectrum: Enlite Full Spectrum differs from other fixtures because they have added 10% more infrared which results in strong stem growth, proper node placement and larger flower yields

High-Efficacy LED Chips - Samsung LM301H diodes with an efficacy of 2.45 µmol/J and a light output of 1911 µmol/s

High PPFD: Flowering (high-intensity): 4' x 4' (average PPFD 1180 µmol/m2/s); Flowering (average intensity): 5' x 5' (average PPFD 895 µmol/m2/s)

Excellent Heat Dissipation System: With a patented-design heat dissipation structure, Enlite Ceres grow lights allow lower working temperatures

Foldable Design: Makes shipping, moving and installing much easier

Dimming Control: Ceres Supports 0-10V dimming which is compatible with the Enlite Smart Controller as well as most controllers on the market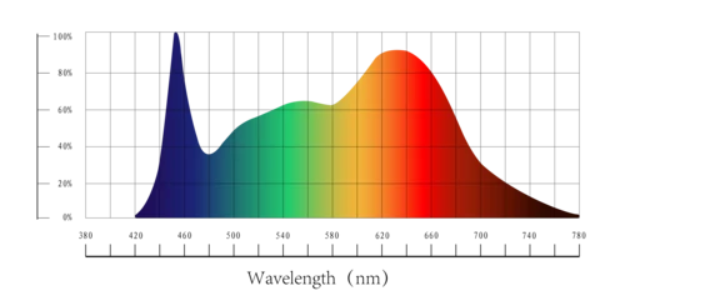 Wattage draw: 780 watts
HID replacement: 1000W DE
LEDs: Samsung LM301H
Beam angle: 120°
Lifetime: >50,000 hours
Spectrum: Full-spectrum white
Dimming: 0-10v
Efficacy: 2.45 umol/j
PPF: 1911 µmol/s
BTU's: 2,660
Coverage Area: 4'x4' to 5'x'5
Hang Height: 6"-14" above canopy
Dimensions: 44" L x 44" W x 2" H
Weight: 35.5 lbs
Voltage / Amperage: 6.5A @ 120V, 3.3A @ 240V
Certifications: CE, ETL certified
Waterproof/dustproof: IP66
Manufacturer's warranty: 3-year warranty