ECO Farm Foldable LED 600W LED Grow light is our new upgrade light, widely used in greenhouse and commercial grow room. This kind of light bar could replace most of the light in today's market. Fully equipped with the latest in high end LED technology from the best of Samsung beads + CREE chips +MEANWELL driver. ECO Farm 600W is a massive 41" x 42" fixture that delivers uniform light intensity and promotes uniform growth across your canopy. Dimmable light could help you to adjust the light intensity during the plant's different stages, also could add the THC and the taste.
600W foldable strip is for growers who want to grow with the latest and greatest LED tech from Samsung and their new Horticulture specific line of LEDs. 600W foldable strip is the first Vertical Farming style of light to integrate Blue LEDs with the Red LEDs to make the light easier to absorb at high intensities and promote the best possible bud quality. 600W foldable strip is also the first to feature Samsung's LM301H LEDs in high power LED grow Light that flowers a 4x4 area or bigger.

Coverage Footprint:

Flower: Veg:
4' x 4' area (1.2m x 1.2m) 4' x 4' area (Up to 7' x 7' area)
Max: 5' x 5' area (1.5m x 1.5m)
Hanging Height :
Flower: 6"-24"
The 600W strip Components:
Totally chips: 212pcs *8 Pcs
Single bar:
Samsung 301B 202pcs
660nm 6pcs CREE 30303030 UV 2pcs 3030 740nm 2pcs
Each Light Bar (8 Light Bars total @75w each)
Samsung LM301H/301B LEDs (Mixed White Blend 3000k & 4000k)
Overbuilt extruded bar Aluminum Heatsink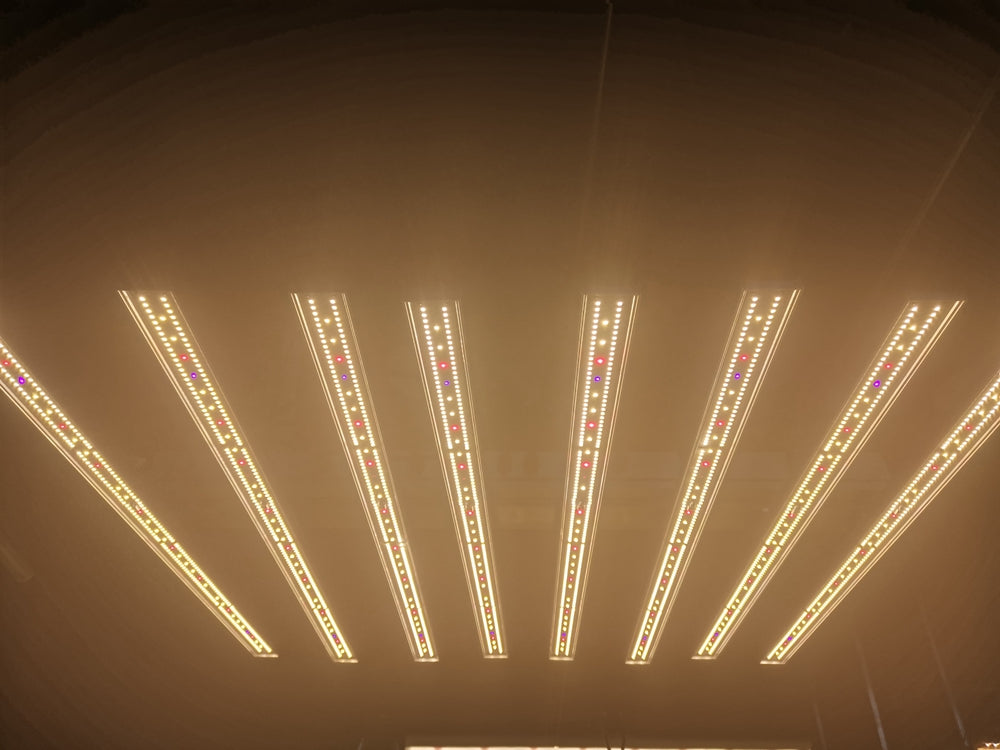 Samsung LM301H LEDS: 120 Degree Wide Beam Lens
CREE LEDs: 120 Degree Wide Beam Lens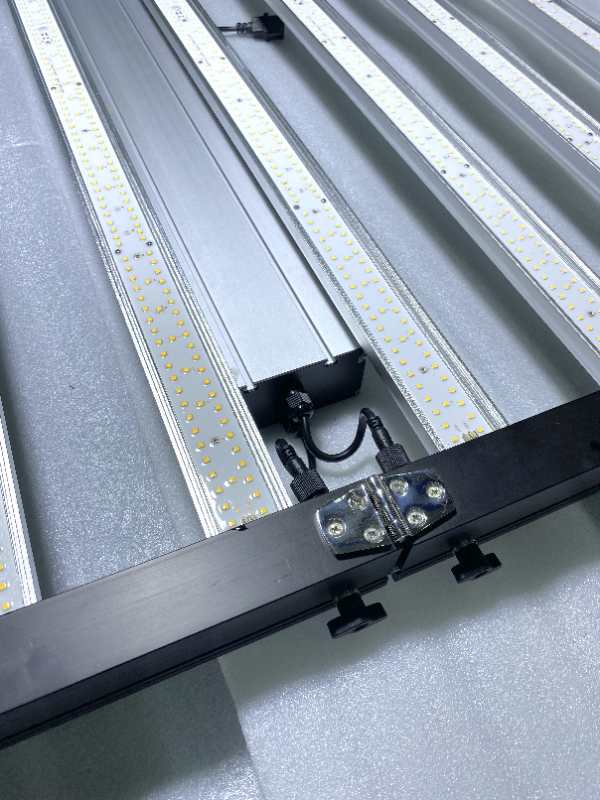 Driver: Meanwell Dimmable Driver
- Driver Can be mounted remotely or on top of the light.
Thermal management: Passive Cooling from an Overbuilt extruded Heat sink (Fanless Technology - No Moving Parts)
Spectrum: Full Spectrum LED Light for the whole grow stage
Specifications:
Chip: Samsung LM301H/301B+CREE
Actual Power Draw: 600 watts max

Grams Per Watt: up to 2.0
Yield: Up to 1200 grams / 42.85 oz / up to 2.67lbs
Lifetime: 100,000 Hours+
Warranty: 15000h
Light Fixture: 42" x 41" Vertical Farming Aluminum Fixture - folds in half
Cables: 6-foot attached power cord
Plug: customized
(We automatically ship the correct cord for your country)
Fixture Dimensions: 41" x 42" x 4"
Weight: 40 lbs (With Driver)
Hanger: Comes with 4 adjustable rope ratchet hangers.
Widely Used for : Grow Tents, Grow Rooms, Commercial Grows