Get the Metrix 600 for linear horticulture, which gives out broad-spectrum light for plantations' overall development. Due to anodic oxidation, the fixture is wear and corrosion-resistant. The system has an IP65 waterproof design that is dust-tight and can also resist heavy water jets projected against it. With the PPF output of 1584 umol/s and efficiency of 2.64 umol/J, you can expect healthier yields.
120-Degrees Beam Angle: With wider light dispersion, it does not create any hot spots; thus, dispersed light allows deeper canopy penetration.

Full Spectrum: The 12-band spectrum light replicates the natural sunlike spectrum and works great for culinary herbs, house plants, and various plants.

Wet-Listed: It conforms to UL1598 for dry/damp location, which means it can endure moist and humid outdoors for a safe and long-lasting installation.

100,000 Hours Lifespan: Save massively on the long-term replacement costs due to the fixture's long lifespan.
Boost crop yield, achieve superior quality plantations with advanced indoor cultivation facilities. The fixture delivers an outstanding performance whether your plants are placed in a greenhouse, indoor farms, grow tents, grow rooms, etc.
The system gives out full-spectrum light and delivers an output of 2.64 umol/J. Its PPF output has been reported to be 1584 umol/s.
The grow light has a waterproof design ideal for indoor cultivation and greenhouse. The fixture has an IP65 rating, which means it is dust-tight, waterproof, and will work fine when placed in front of high-power water jets coming from any direction.
The fixture's recommended hanging height is 36'' for covering 6' X 6' vegetative area and 24'' for providing coverage to 5' x 5' area.
The fixture's anodic oxidation ensures it to be wear and corrosion-resistant. The LED chips include Samsung LM301H white + Osram 660nm red diodes that promote photosynthesis in plants and lead to the formation of healthier buds and overall yield.
The fixture is ensured under a 3-year manufacturer warranty making it a reliable investment. The grow light withdraws 600watts of power and is 1000 watts HPS equivalent. A smart thermal management system helps with quick heat dissipation and helps to maintain the fixture temperature throughout.
The light emitted by the fixture creates a 120-degree beam angle, thus providing coverage to a wider area. Dispersed light does not create any hotspots, so your plants never get burnt.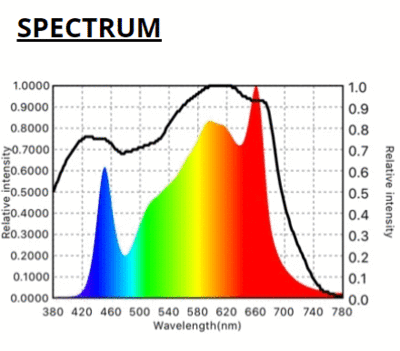 Specifications:
SKU/Model No.: LED-CL-METRIX600

Vegetative Growth: Coverage 6' x 6' @ 36" Height

Flower Growth: Coverage Area 5' x 5' @ 24" Height

LED Chips: Samsung LM301H White + Osram 660nm Red

Housing Material: Aluminum

Finishing: Anodic Oxidation

Optics Material: High Transmission Glass

IP65 Waterproof Design for Greenhouse & Indoor Cultivation Facility

Lighting Impact Resistance: IK08

PPF Output: 1584 umol/s

Efficiency: 2.64 umol/J

Input Power: 600 W

Input Voltage:120V - 240V

Current Range: 5 A - 2.5 A

Frequency Range: 50/60 Hz

Power Factor: 0.99

Dimming: 0 - 10V

Dimensions: 46.3" L x 5.47" W x 3.54" H (2 piece)

Weight: 25.7 lbs (2 piece)

Beam Angle: 120 degree

Thermal Management: Passive Cooling

Operating Temp: 0 to 40 degree C

Lifespan: 100,000 hours

Listing: Conforms UL1598 for Dry/Damp Location

Safety Certification: ETL, cETL certified

Warranty: 3 Years Limited
What's Included: