Perfect Design: Durable 3 piece design, precision machined from solid aluminum blocks, and easily put in and out.
ECO Farm Pre-press molds will allow you to compact kief or flower so that you can press more rosin in less time. They are going to help to reduce blowouts and improve your yields. Pre-press mold is very beneficial for rosin enthusiasts when it comes to yield and time. By using pre-press mold, you can compress loose materials and make a perfectly shaped 'puck' that fits in your rosin bag. You can also use arbor press or Irwin clamp for better pressure.
There are many models in the market and choosing the best one becomes a challenge, in this review, ECO Farm has done some detailed research and come up with two common sizes of Pre- Press Mold for you. Take a look.
6x12cm
10x15cm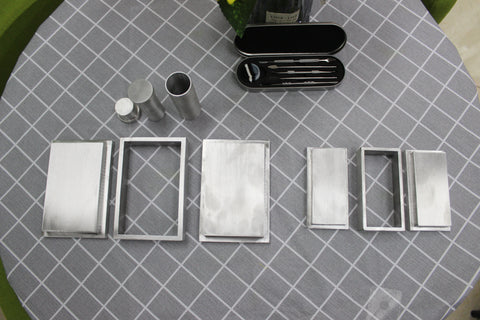 Machined from solid stainless steel

The mold is anodized into a silver color for getting a smooth surface

Easy to use

Superior strength and design

Has a perfect workmanship

Presses your flower with ease

Free lifetime warranty


Remove excess stems from flowers.

Use less material in your filter bag.

Preheating your material first to get it melty before you begin to apply pressure.

Apply the pressure more slowly.