ECO Farm grow light came with Samsung LM301B LEDs, higher light intensity, less light decay, better lumens and PAR values than ordinary lamp beads. It runs at a lower temperature and can bring higher energy conversion and longer life. This grows light is a full-cycle lighting solution for all growing environments including wet situations and is ideal for greenhouse supplemental lighting or indoor sole-source lighting. Full Spectrum 301B White Light + Osram 660nm Plant Red Light.
No fans no noise and waterproof function. Lots of heat sinks and hollow body ensures maximum heat dissipation. No additional fan zero noise. Otherwise, the plant grows light uses an advanced waterproof power supply which is installed outside of the light and it is easy to be replaced. The light board adopts sealing technology, so the whole plant grow light can reach IP44 water-resistant level. No need to worry about the humid planting environment to damage the plants lightly.



Power
200W
400W
LED Quantity
60pcs /Bar

(55pcs Samsung 301B 3500K+5pcs Osram 660nm)

120pcs/Bar (55pcs 3500K+5pcs 660nm)
120pcs /Bar

(110pcs 3500K+10pcs 660nm)

PPF(380-780nm)
436μmol/S
872μmol/S
1308μmol/S
Lumen
28,000LM (140lm/w)
56,000LM (140lm/w)
89,294LM (140lm/w)
Irradiation Area
4ft×3ft
6ft×4ft
6ft×4ft
LED Driver
Meanwell Driver
Meanwell Driver
Meanwell Driver
Dimension
L:600mm x H:304mm x W:74mm
L:1200mm x H:304mm x W:74mm
L:1224mm x H:450mm x W:78mm
HPS Equivalent
600W
1000W
1500W
Net Weight
5.4KG/PC
10.35KG/PC
7.1KG/PC
Input voltage
100-277VAC 50/60Hz
LED chip Brand
Samsung LED chip White 3500K + 660nm
Color/Spectrum
Full spectrum white light +660nm Plant red light
Working Environment
-237~55℃,45%~95%RH
Storage Temperature
-40°C~+80°C,45%~95%RH
Materials/Data
Aluminum + PC (White Housing, 120°Beam Angle ,CRI>75,PF>0.9)
IP & Lifespan
IP54 & >50000Hours
Suggest Height
≥ 6" (15.2cm) Above canopy
Supplementation time
16-20 Hours per Day



1.Color: Samsung full-spectrum white light + 660nm Plant red light, mainly for medical lighting.
2. Wide input voltage AC100-277V and can use for world market.
3.Best heat sink to get the best heat dissipation
4. Easy to install and operate
5. Energy-saving, Instant start, NO flickering, NO humming, long service life, increase plants output.



200W LED Light:

400W LED Light: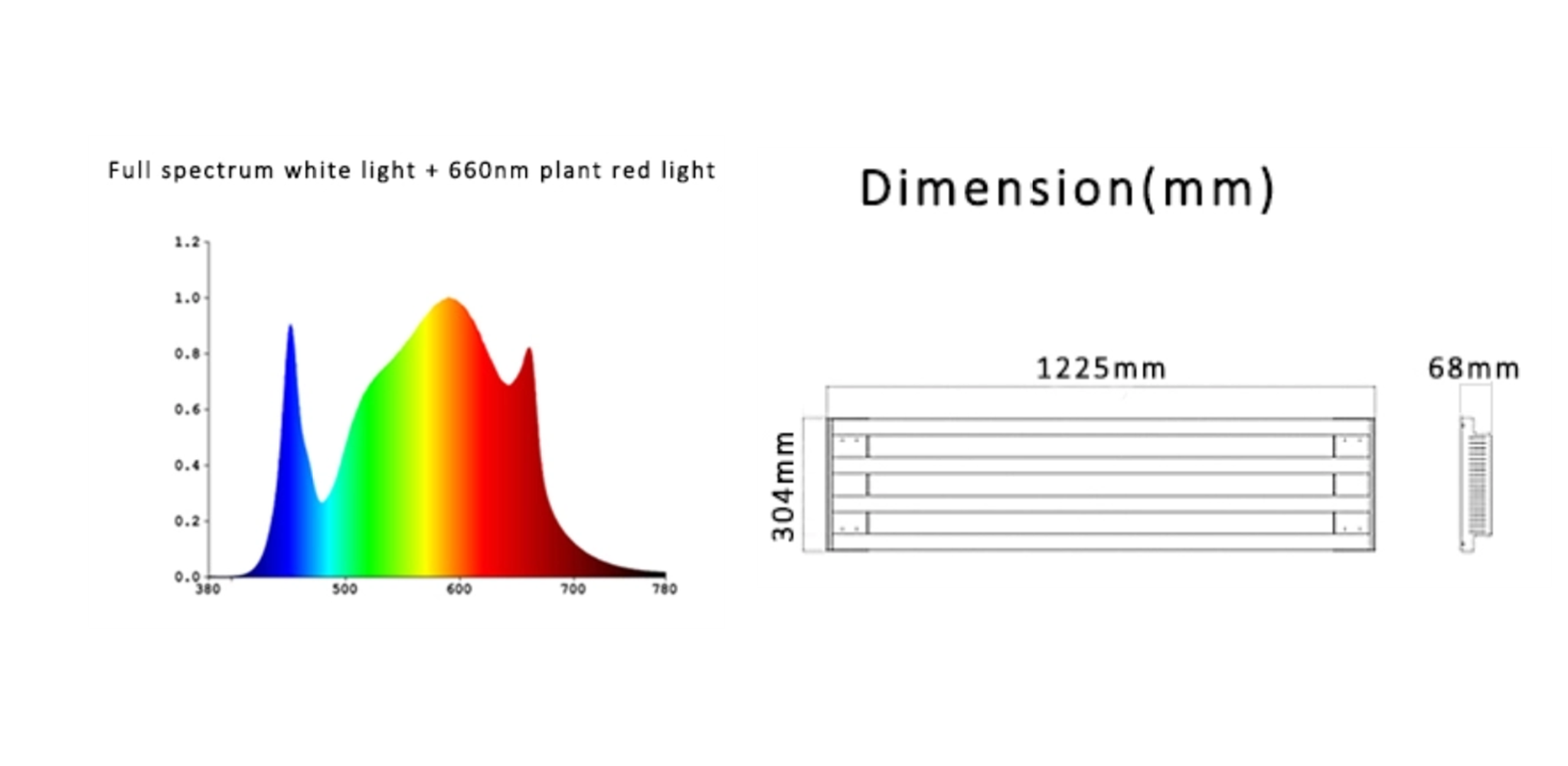 600W LED Light: