What Is The Difference Between A Grow Light And A Regular Light?
If plants need light to grow, then why don't your indoor plants flourish under the everyday lights you use to light your way each evening? The answer is actually quite simple: not all lights are created equal, and many are specific to certain wavelengths of light. These wavelengths are what makes up the light spectrum, some of which are explicitly used by plants to help them grow and produce, while others are simply to help you find your way. If you have ever wondered about the specific differences between a grow light vs a regular light, then your explanation can be found below.
Grow Lights Pros & Cons
PROS
Supports photosynthesis
Specific to light spectrum wavelengths
Use low energy draws
Choices that are cooler to the touch

CONS
Can be damaging to the eye
More expensive
Regular Lights Pros & Cons
PROS
Energy efficient
Long lasting
Inexpensive
Easy to find

CONS
Narrow spectral wavelengths
Usually does not support photosynthesis
Emit high amounts of heat
Grow Lights: Feed Your Plants
Grow lights create an artificial light source that is specific to a light spectrum to help support the chemical process of photosynthesis. Photosynthesis is the chemical process in which light energy is converted within a plant to energy a plant can use to grow and produce. Grow lights are found in situations that require certain ranges of heat and light wavelengths to support vegetation both indoors, and out. They also are generally found within a specific set up or light panel that helps concentrate their light output, although certain types can be bought as individual bulbs.
Grow lights are easy to use and can plug into an electrical outlet. Often you have choices surrounding their specific uses in relation to plant health, and also may need to be changed out depending on what you need them for. They also are often strong in nature and may emit light that is harmful to your eyes, so care must be taken when using them.
Who They Are Used By
Grow lights are used specifically by any person, hobbyist or commercial grower, who needs to provide parts of the spectrum specifically emitted by the sun that encourages and support vegetation. Producing plants, whether flowers, herbs, or produce, are often the most in need of a grow light in order to get well established, and to provide the crop they will eventually be harvested for.
Grow lights are also very helpful to get seedlings started prior to planting, and are also popular in greenhouses and commercial grow tent in order to ensure healthy looking plants prior to planting or display.
ECO Farm 320W/480W/650W/1000W/1200W LED Grow Light With Samsung 301B Chips Full Spectrum Commercial Light Easy To Set Up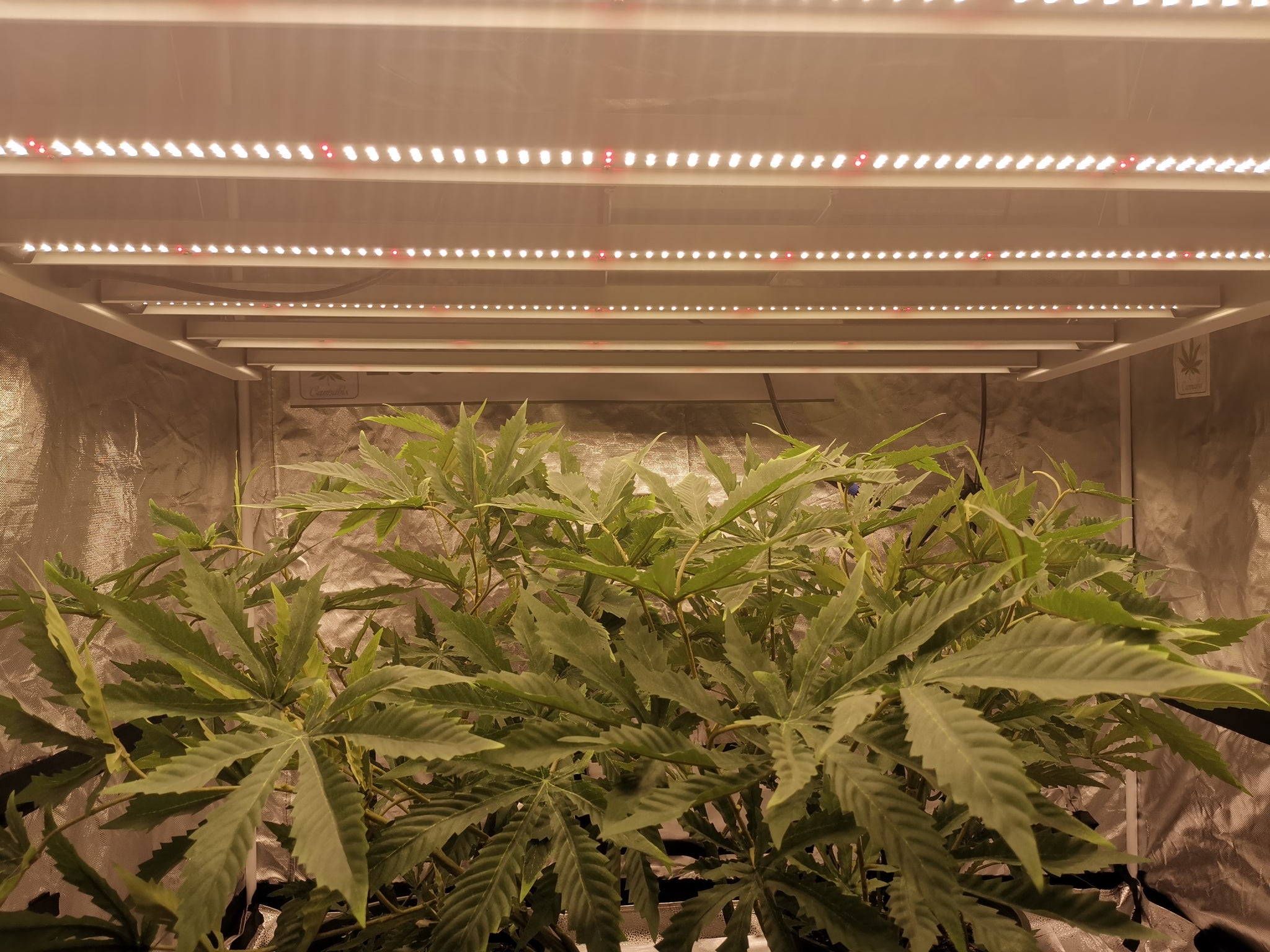 Description:
ECO Farm LED light strip is a full-cycle spectrum optimized for rapid growth and complete plant development. Tailored for growing plants from propagation to senescence (germination, clones/cuttings, mothers, vegetative and flowering applications) in indoor environments.

ECO Farm upgrades LED is a high-performance, full-cycle top-lighting solution for commercial horticulture cultivation, with the power to scale from vegetative growth to higher light intensities in bloom. It was designed for commercial growers to push the envelope with high-PPFD cultivation practices along with sophisticated CO2 supplementation.

Designed with Samsung 301B chip, higher light intensity, less light decay, better lumens and PAR values than ordinary LEDs. It runs at a lower temperature and can bring higher energy conversion and longer life. This grows light is a full-cycle lighting solution for all growing environments including wet situations and is ideal for greenhouse or indoor lighting.

Flowering period: turn on the light for 12 hours, the humidity is 45-50%.
 ECO Farm 100W/240W/330W Quantum Board With Samsung 301B/Samsung 281B Chips Multi-Channel Dimming LED Grow Light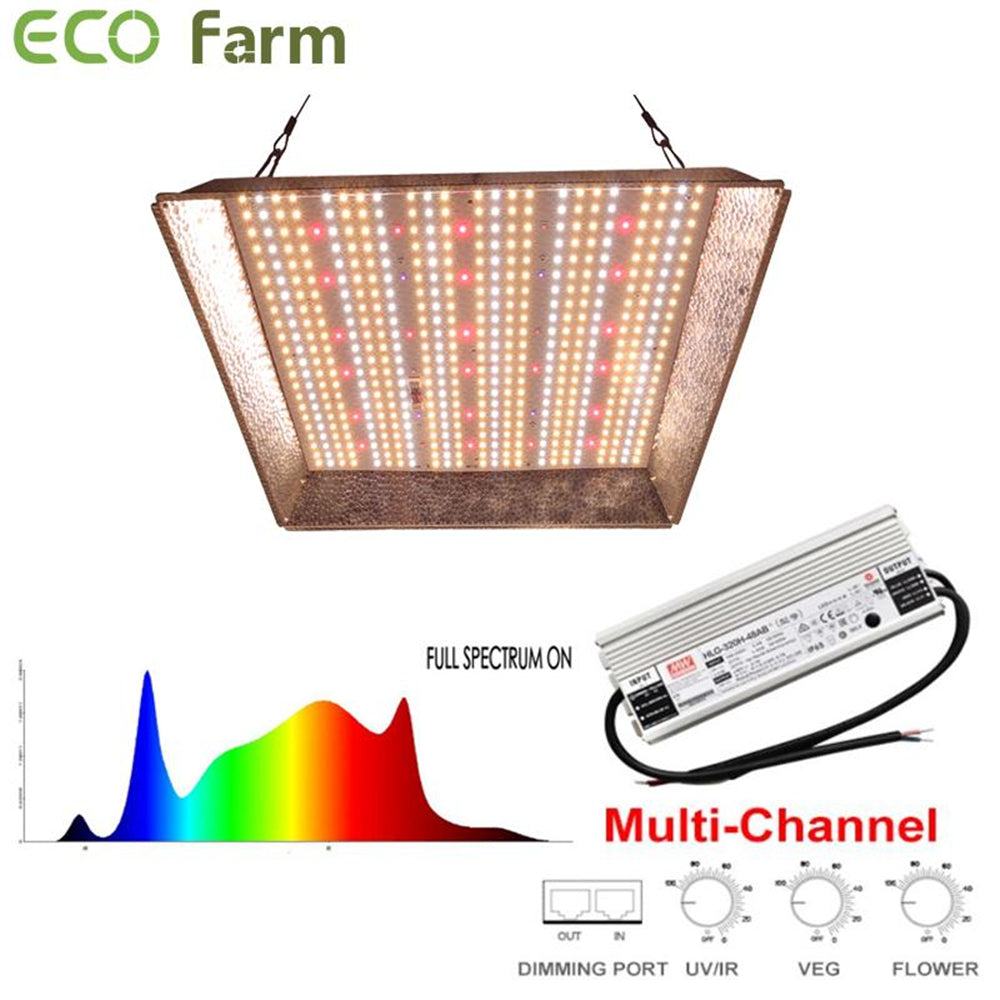 Description:
High-efficiency Samsung LM301B/Samsung LM281B chips, separately control UV ir match your different demand.
Passive heat dissipation, quiet and cool.
More effective coverage area than any reflector series lights.
3-year warranty, 50000 hours long working lifetime.
IP65 waterproof grade
New 3 channels quantum board (Except 100W, 100W was 0-10V

 

dimming one 

with sonsen driver

)
Channel 1 for Bloom
Channel 2 for Veg
Channel 3 for UV IR
ECO Farm 240W/320W/480W/630W Separately UV IR Control Dimmable Quantum Board With Samsung LM301B/ LM301H Chips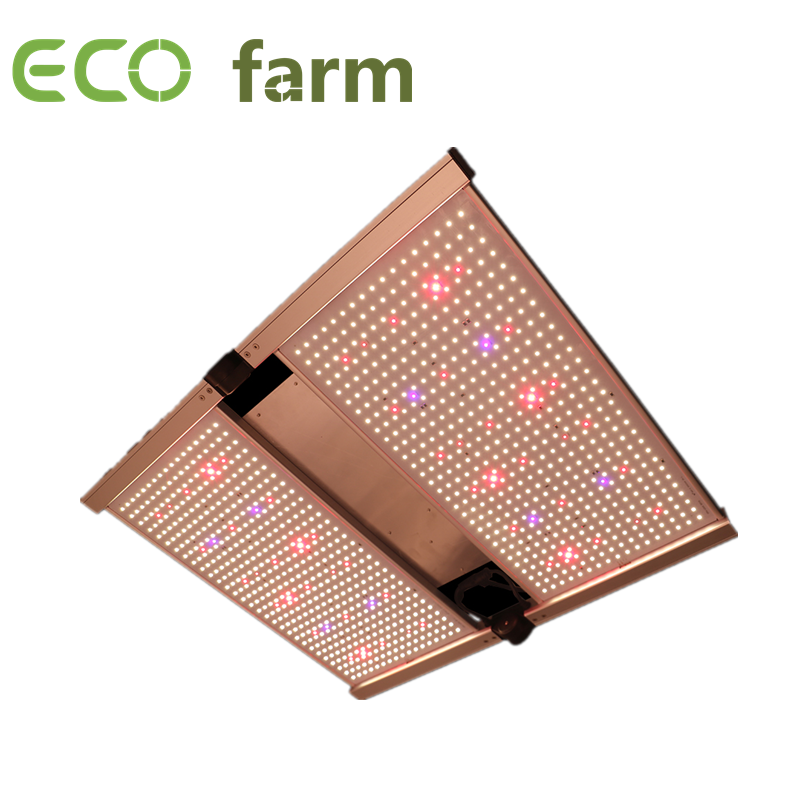 Description:
1) Ultra-thin and ultra-light design with high heat dissipation aluminum heat-sink board.

2) Dual-channel spectrum control, with controllable UV IR switch, smart control.

3) Whole light IP65 waterproof grade, endure wet planting environment, longer life span.

4) 2 options using methods, hang or stand based on your requirement of planting.

5) Inventronics or Sonsen driver optional.
That's all I want to introduce to you today. Hope it can help you. If you are also interested in other grow tips, welcome to visit our official website: ecofarm.ca
Our emails address is: business@ecofarm.ca
Contact:
WhatsApp: +1 206 581 5521
Leave a comment