What grow lights do professional growers use?
LED grow lights have come a long way in recent years. Thus indoor medicinal plant growing is now easier than ever. With the right light or fixture, you can achieve the optimal yield, whether in the dead of winter or during the bright summer months. These grow lights are uniquely designed to stimulate photosynthesis and offer the correct color spectrum for plant growth and bud production. In essence, high-quality grow lights can effectively substitute natural light.
Different grow light varieties exist, and each offers its specific characteristics and strengths. When you make the decision to invest in your indoor grow, you'll definitely want to learn about the best LED grow lights.
What makes the best LED grow light?
The best LED grow lights have a few things in common - a uniform spectrum, efficiency, high-power, and reliability/durability.
Spectrum/uniformity
The best LED grow lights have a uniform spectrum, so if you have the type of plants under your light, they all get the same spectrum.

Its important to reiterate that the best spectrum consists of not just red and blue light, but also infrared (IR) and Ultraviolet (UV).

Full spectrum LEDs allow you to grow from seed to harvest with the same light, as opposed to having to replace bulbs or use different grow lights for veg/flower.
Power
The more light your LED actually gives off, the bigger yields you'll get (for the most part). So, the best LED grow lights need to be incredibly powerful.

Efficiency
In general, LED grow lights are very efficient. But, the best LED grow lights tend to also be the most efficient. Operating at a high level, producing high power, and maintaining a low cost to run is very important.

Reliability/Durability
Given the cost of LED grow lights, they need to be seen as an investment. Obviously, your investment needs to last you a long time for it to show a return.

Therefore, the best LED grow lights are reliable and durable, standing the test of time.

All of the lights we will be listing are from the most reputable brands and include some sort of warranty. This will give you peace of mind when you purchase, knowing you are protected.
ECO Farm MB4 880W Master/Station Version Spectrum Tunable Samsung +Osram Chips LED Grow Light Strips +UV IR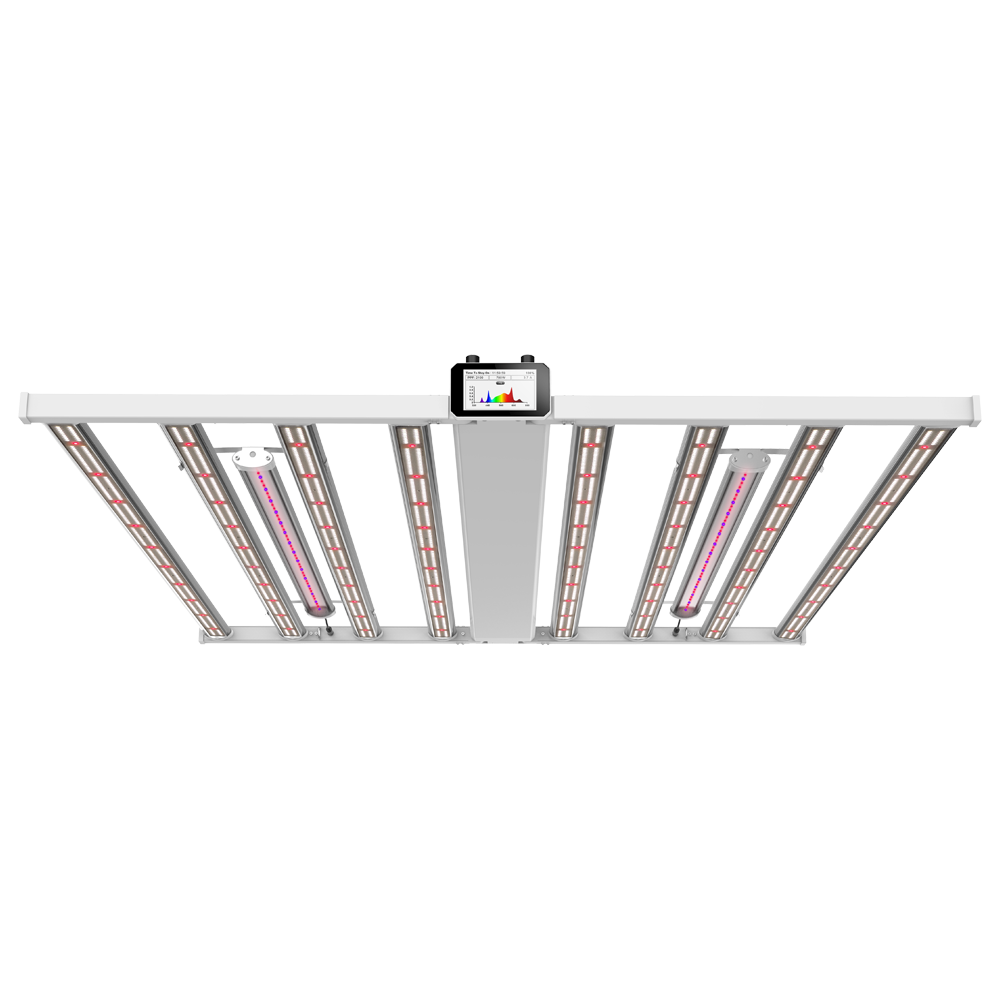 ECO Farm Master/Station version foldable LED fixture, with 8 bars, could evenly cover 4'X4' and 5X5' area.
Actual 880W light, provide powerful and quality light to the plant.
High-efficiency full spectrum light strips: Using Samsung white chips and Osram red chips, could up to 2.8 μmol/J, PPF up to 2184 μmol/s.
Master version light with built-in LCD color screen, showing the detailed status of the fixture and its group members. Such as
dimming percentage, wattage, amps, PPF value, spectrum, timer status.
Highlight: Built-in a control system on Master, with a step-less dimmer and five-step timer. One Master can control up to 50pcs of Stations. In other words, any changes made in Master will sync across all the connected Stations.
Spectrum Tunable. There are four types of spectrum built-in this fixture, it provides a suitable spectrum for different stages of medicinal plant growth, such as V1 for VEG stage, F1 for the flowering stage, FS for the last two weeks of flowering.
UV/IR enhanced bars was easy to install/uninstall from the fixtures. Item was our most creative mechanism design that enables you the most time-saving and convenient way to install the fixture.
Note: Our lights contain UV IR by default
ECO Farm 600W Assemble Led Lights With Samsung 301H Chips MeanWell HLG-600H-48B Driver Dimmable Full Spectrum Light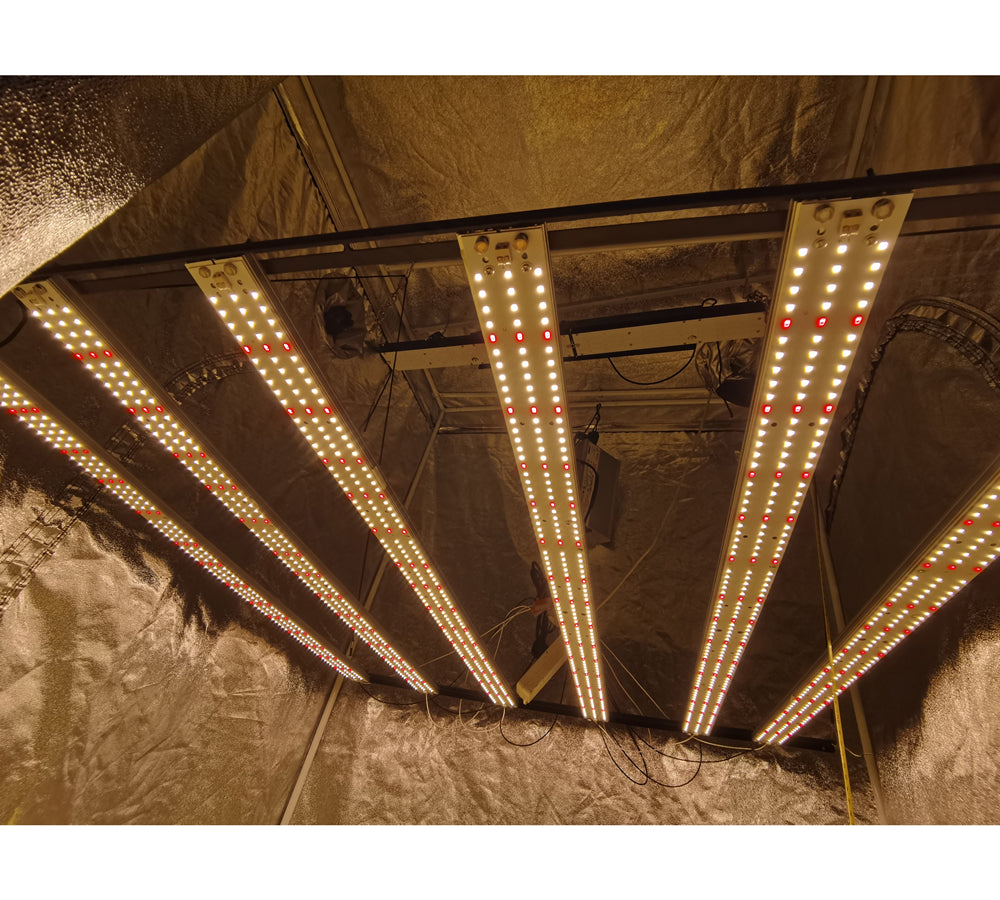 ECO Farm 600W led grow light can be adjusted according to the growth cycle and the area covered.

More than 50% higher in PPFD compared with HID lamps

Really Full Spectrum - Suitable for All Growing Stages from Seed to Harvest

Best grow light for medicinal plants.
Better heat dissipation than other brand power driver
Certification: CE, EMC, FCC, LVD, Warranty(Year): 3-year
Meanwell HLG-600-48B configuration assembled light bar
ECO Farm 600W LED light is a high-performance top-lighting solution for commercial horticulture cultivation. Designed for growers to push the envelope with high-PPFD cultivation practices.
PhotonTek XT 1000W Pro High Effiency LED Grow Light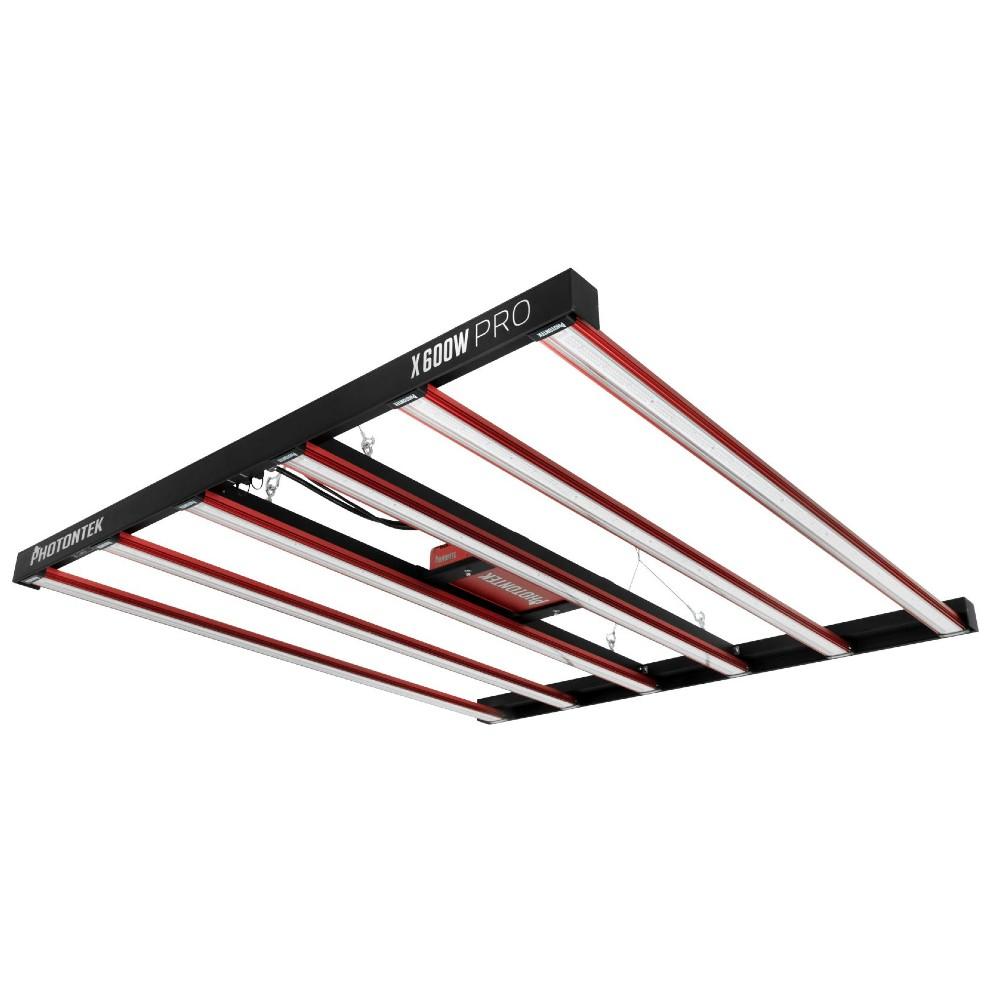 The XT 1000W CO2 Pro LED is built using high quality and durable PHOTONTEK drivers and top bin LEDs from Osram and Lumileds Philips generating an optimized full-spectrum light source ideal for veg and flowering stages.
The XT 1000W CO2 Pro LED is designed with both vegetative and flowering growth periods in mind and the LED may be dimmed, allowing you to adjust PPFD levels produced without losing efficiency.
Creating better light for growers
Only the highest-grade materials and components are used in PHOTONTEK's LED fixtures. Delivering safe, dependable light PHOTONTEK fixtures have industry leading performance. By perfectly balancing a high quality, full spectrum light with highest intensity PPFD delivered through a multi-bar, Linear design. PHOTONTEK Creates the ultimate ceiling of light for the entire plant growth cycle, making these LEDs the smartest option for a higher and faster return on investment.
Stunning features with high quality components
Producing extremely high levels of PPF output of 2925 µmol/s and a Photon Efficacy (fixture efficiency) of 2.9 µmol/J, XT 1000W CO2 Pro LED creates a homogeneous light spread at close distance from the crop canopy, resulting in outstanding results when used in 5'x5' coverage indoor grow areas with Supplemental CO2 use.
The use of CO2 with this unit is not imperative, but if you choose to run it without it, then we recommend a longer canopy distance to the fixture, ensuring the optimal PPFD levels recommended to the grow stage. Utilizing this last method the expected coverage area gets to 6'x6' but with lower levels of PPFD intensity concentration.
Supplementation use of Carbon Dioxide (CO2) in your controlled environment can significantly improve the yield of your crop if used correctly. A good rule is that once you exceed 1000 µmol/s/m2 PPFD levels, you should be 1:1 with CO2 PPM – up to 1500. So at max PPFD = 1500 µmol/s/m2, CO2 would be 1500 PPM (a little lower, 1400 PPM may be the safest to start).
When compared to regular similar wattage High Pressure Sodium solutions the XT 1000W CO2 Pro LED can achieve 30-40% less HVAC capacity and increased yields of up to 30-60%.
Conclusion:
We hope this top 3 list of the best LED grow lights can help give you the information you need to finally make that purchase for a new grow light. With so many options on the market today, it can get overwhelming when making such an important purchase. Please use this list as guide to get you started in the right direction for the purchase of your new Led grow light for your home, or commercial grow.
If you have more issues with your plants, do not hesitate could contact us freely.
Our emails address is: business@ecofarm.ca
Contact:
WhatsApp: +1 206 581 5521
Leave a comment