Tricks For Keeping Plants In A Small Living Space
Tricks For Keeping Plants In A Small Living Space
The scientific benefits of surrounding yourself with greenery are many; plants calm us down, help air quality, and may even boost life expectancy. If you live in a tiny city apartment or a cheap basement while you're grinding and hustling, though, it can feel tricky to get your dose of greenery time. Who has space for huge house plants when you can barely fit in a TV, a bed, AND somewhere for your clothes? Fear not; there are a lot of space-maximizing techniques for introducing plant life into tiny living areas.
Never heard of "green walls?" They're the big new thing in architecture and interior design, and they're perfect for people who don't have a lot of floor space. They involve an interconnected system of plants that hangs vertically; you'll often see them on the sides of buildings, but they're also available for people on a much smaller budget.
You can make your own green wall with a bit of DIY, some plants and a planter system from a hardware store, or buy an indoor planter kit. If you do buy a kit, make sure that the materials won't leak onto your walls, and obey the watering instructions perfectly.
Have vertical space but nothing on the ground? Not a problem. Hanging planters can hang multiple plants in one string in ways that look chic and also maximize space efficiency. We also have tips on how to DIY your own, but remember not to over-water ,and take expert advice on the best plants for hanging planters.
No light at all, or very little? That's OK; you can use LED grow light to offer sunlike light to your plant. Here I want to introduce you several grow lights for indoor plants.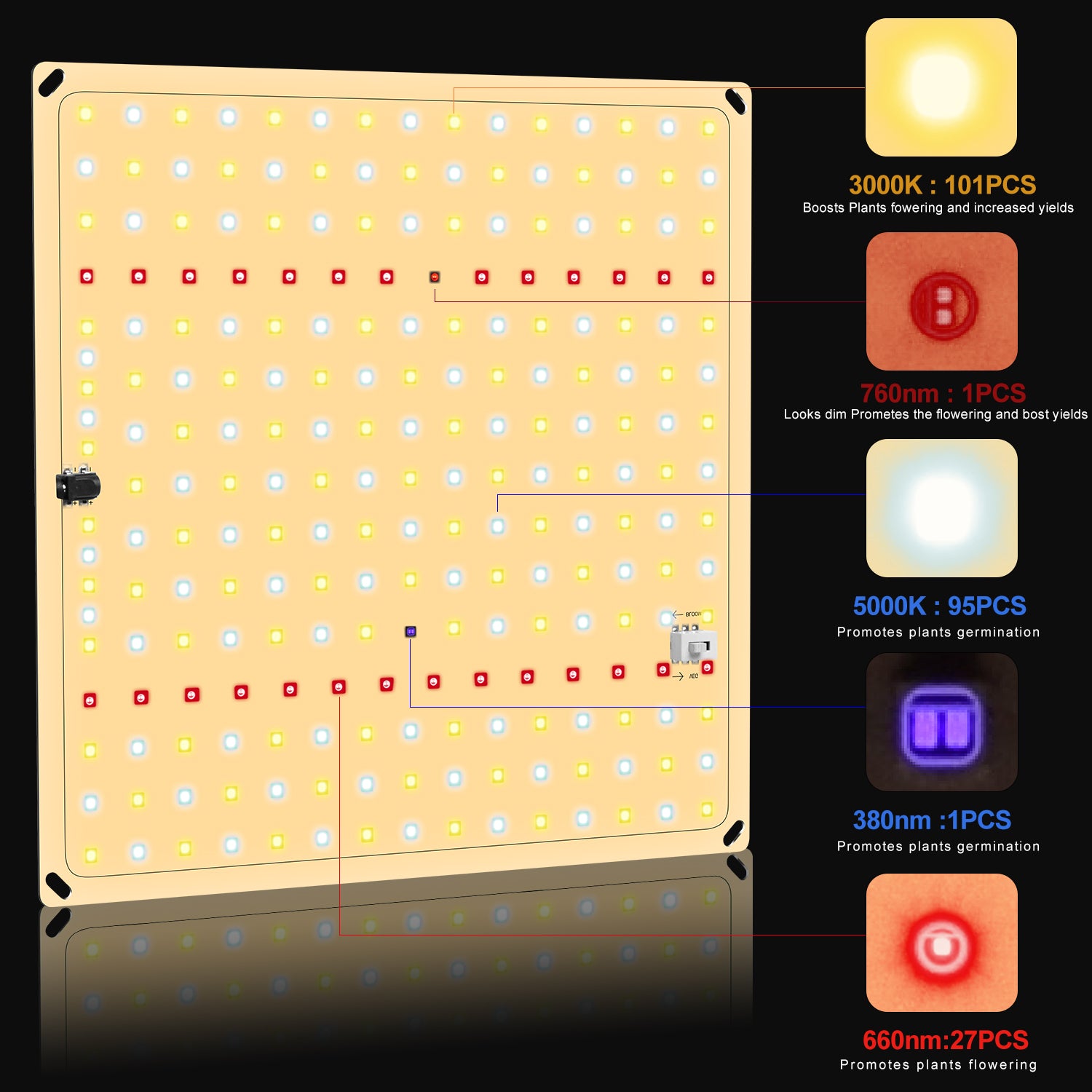 Advantages:
High efficiency with lower energy consumption:

 

ECO Farm Mini 65W quantum board for indoor plants uses Samsung new LEDs Chips which proved to be more effiency as other chip,and the same PPF,high quality.
Increase yield and crop quality, ideal for all growth stages:

 

ECO Farm 65W led light with

 

224pcs LEDs, it contains warm white light(3000k) + blue light(5000k) + red light(660nm) + IR light(730nm)+ UV light(380nm).  Our quantum board targeted light spectrum tailored to optimize a plant's growth in indoor environments from seeds to harvest (germination, clones or cuttings, mothers, vegetative,and flowering applications).it's good for accurately monitoring plant health. 

Noise free-fanless led mini quantum board:

 

No Fan Noise Free design will make your growing life easy and quiet,large areas of solid aluminium quickly heat dispersing reducing light lost to aisles and walls, increase the light intensity, allowing your plants receive more energy and without burning your plants for maximum headroom.
 Sale Price: $39.99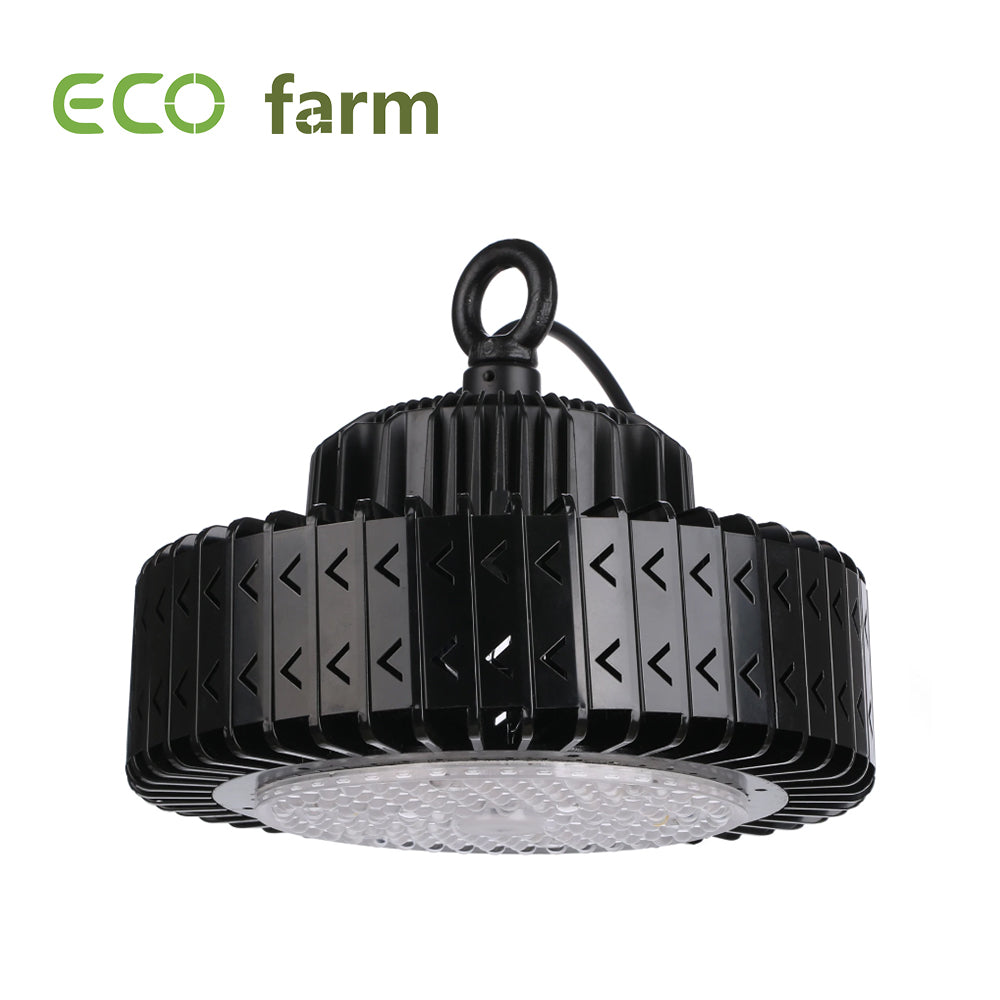 Advantages:
ECO Farm full spectrum light with maximizes red and blue nm wavelengths to allow for optimal chlorophyll A and B absorption with a balance of green wavelengths to allow much deeper canopy penetration.Specifically formulated for indoor grow environments, this spectrum fosters photosynthesis in all stages, from propagation to flowering.
• Lower your carbon footprint and improve your quality by introducing affordable,energy-efficient LEDs.
• LEDs have been significantly reduced in the purchase price and save thousands of dollars in operating costs each year of use
• LEDs have been proven to increase yield, improve medical plants quality, and increase the speed and number of crops per year
• LEDs lower water and energy consumption rates and contain no harmful elements, leaving them safe to dispose of.
Sale Price: $84.55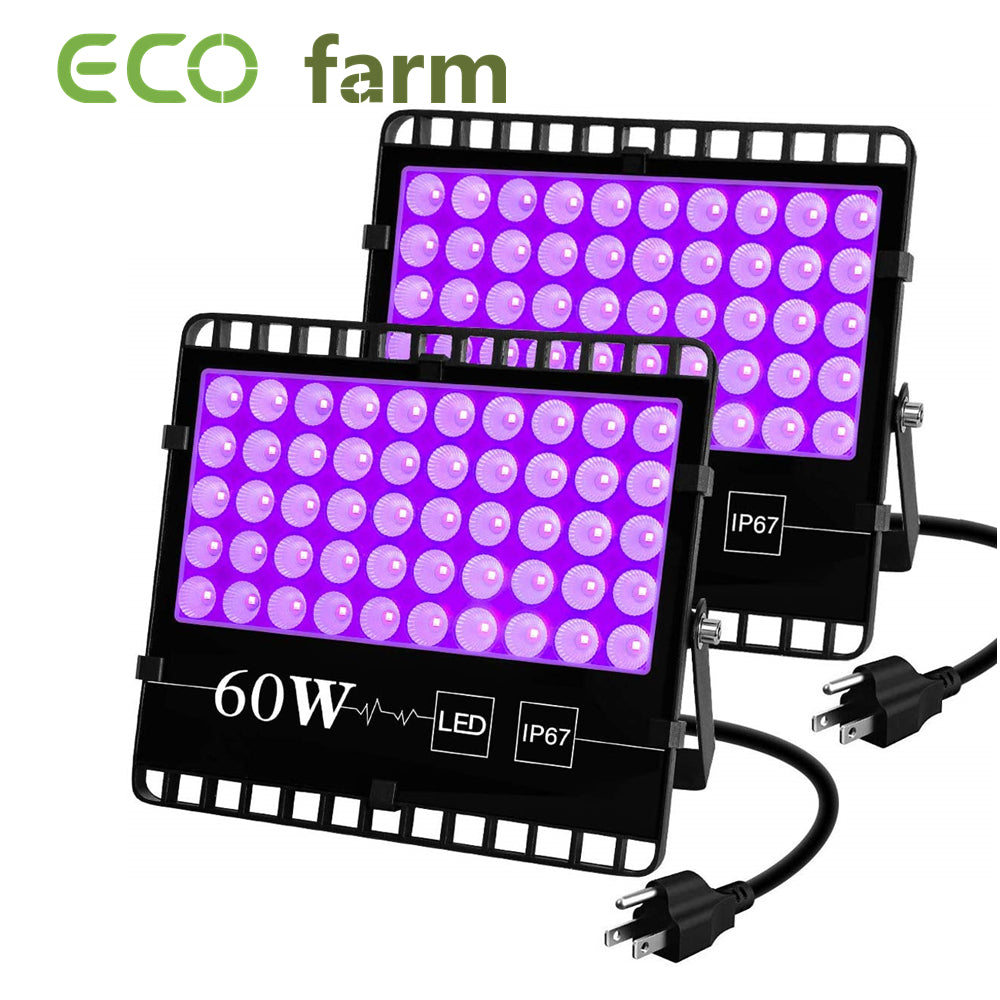 Advantages:
395-400nm UV-A level LED blacklight. No UV-B/UV-C harmful wave length. SPRCIAL and SCIENTIFIC DESIGN: Each LED chips of led uv black light has their owns reflectors, our ultraviolet blacklights can offer more concentrated, stable and uniform lighting effect.
Can effectively inhibit the bacteria & insect in the air, the soil and the surface of plants etc.
UV LIGHT has 6ft long cord and ON/OFF Switch that make this UV lights safer when using it. You can adjust the length of cord to match your need and turn on/off the UV flood lights via switch instead of removing the power cable frequently. This UV LED floodlights has stand that easy to be fixed on the wall or ground. Easy to position with adjustable bracket.
This LED floodlight lighting made of aluminium case that shock and erosion resistant. Meanwhile, as unique thermal control technology and cooling structure design, to ensure lower heat and longer life for LEDs chips.
Sale Price: $71.95
A miniature greenhouse might be the a great way to take advantage of lots of heat and light. The Spruce is a fan of miniature greenhouses that focus heat on sun-loving plants like cacti and succulents, and they're easy to buy; ECO Farm all grow tents that are perfect for indoor greenery. If you're starting a herb garden, this is a great place to keep your seedlings when they're first sprouting and need fuss and light.
Bathroom get steamy? It's a good place for an indoor humidity-loving plant. "As a rule, the thinner the leaf, the greater its need for humidity," Lauren Camilleri and Sophia Kaplan of Leaf Supply told Vogue Australia in 2018. "Tropical plant pals like ferns are the number one fans of humid air. If you live in a naturally dry environment, a fern will make a happy home in your bathroom as well an exotic addition to your decor." Find something that rejoices in the droplets of showers and hot baths, and watch it flourish. And if you like this kind of plant, but don't want to put them in bathroom. You can also use plant humidifiers.
Modular furniture is a great idea for people with limited space — but what about furniture that has space built in for plants? Some pieces are automatically built for plant storage alongside their normal functions; The Spruce, for example, highlights bar carts as possible indoor garden spaces. Furniture that's marketed as plant-friendly is still pretty rare, but you can still get creative; use one tier of a glass side table for keeping plants, for instance, or get plant stands with space for books and storage.
Need to keep things extremely small? Micro-plants are an option. Many growers highlights the smallest available house plants, from teeny succulents and cacti to air plants, Chinese money plants, lucky bamboo and snake pearls. Whatever you get, do your research on what size it'll actually grow in the future; if it's tiny now but will eventually outgrow its pot by two-thirds, it may not be the best plant for a tiny indoor environment.
If your main focus in your small space is your bed, a plant canopy might be the best one for you. People with beds that already have posts and canopies may have seen this proliferate on Instagram; vines that can be trained to go up bedposts, or air plants that dangle down from overhead.
If you don't have bedposts, no worries; DIY canopies are actually pretty easy and cheap. You can even make your own out of PVC pipe. From there, it's relatively easy to find the right low-maintenance plants to drape and arrange all over it; just make sure you don't get anything that needs a lot of watering, and don't get tangled in vines when you get up. Bonus: bedposts and canopies can also become storage spaces and hangers.
Conclusion: Introducing greenery into a small living space isn't too tricky, as long as you have a little ingenuity, some spare cash and a willingness to read up about plants. Prepare to live the lush life. If you are very interested in greenhouse grow, welcome to visit our website: https://www.ecofarm.ca/
Our emails address is: business@ecofarm.ca
Contact:
WhatsApp: +1 206 581 5521
Leave a comment