PhotonTek XT 1000W Pro High Effiency LED Grow Light VS ECO Farm ECOZ Pro Light
Recently our team has done a survey and found that PhotonTek XT 1000W pro high effiency LED grow light and ECO Farm ECOZ Pro light are the two most popular led grow lights. They are all have powerful function and high quality. So today I will compare these two led grow lights.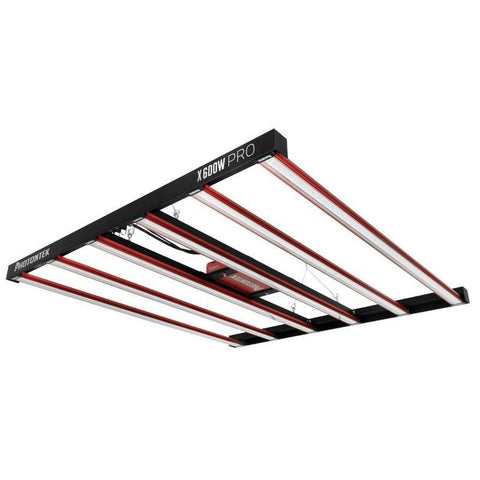 With the perfect balance of quality and quantity, the XT 1000W will deliver the best light spectra on the market combined with ultra-high PPFD levels. Designed for a 5'x5' space with use of CO2 supplement for maximum performance, the XT 1000W gives growers the opportunity to massively boost yields without the need to increase space.
The XT 1000W CO2 Pro LED is built using high quality and durable PHOTONTEK drivers and top bin LEDs from Osram and Lumileds Philips generating an optimized full-spectrum light source ideal for veg and flowering stages.
The XT 1000W CO2 Pro LED is designed with both vegetative and flowering growth periods in mind and the LED may be dimmed, allowing you to adjust PPFD levels produced without losing efficiency.
Increasing the output and improving light maintenance
This dynamic, highly efficient and low powered LED fixture configuration, with ten 100W 2.9 LED bars reduces the temperature of the LEDs increasing the output and improving light maintenance.
Choose to run anything from a single light bar to the full 10 line-up at any intensity you need by simply adding or removing the desired amount using the fixtures' innovative smart and easy, click-magnet design. The driver can also be detached from the fixture and used away from the fixture for your convenience.
In addition, the XT 1000W CO2 Pro LED fixture can be externally controlled with a PHOTONTEK Digital Lighting Controller featuring light timing, automated dimming (1% increments), temperature safety control, Sunrise & Sunset Mode for up to 100 fixtures per controller.
Universal Control Systems Compatibility
PhotonTek Pro LED Fixtures can be fully controlled with either the PhotonTek Digital Controller or with any other Control System that utilizes 0-10V output signal. Even if your Universal Controller has an RJ port interface, you can still run our LEDs by using a signal converter  RJ to 0-10V control adaptor.
ECO Farm LED grow lights are always the high quality grow lights and very popular between growers. ECOZ Pro series was the latest trend and most popular for its good design and ease of use. It is a perfect top-lighting solution for commercial horticulture cultivation, or a full-cycle top-lighting solution for home hobbyists cultivating.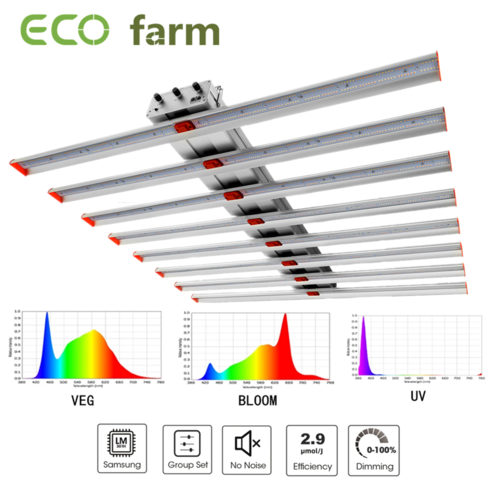 It has many advantages:
Save 100%-200% on lighting compared to other brands;
Industry top efficacy and light output - 2.9 μmol/j ;
Reduce HVAC and electricity costs by 50-60%;
Make you get 30% Higher Yield compare the traditional lamps, Increases revenue with better quality flower,s and higher yield(maximize crop yield by growing vertical).
Using high efficient and more reliable Samsung LM301H & Osram Chip horticultural LEDs.
3 Channel Dimmers, VEG switch, Bloom switch, UV switch separately controlled, Freely adjust the lamps according to different growing stages; VEG dimmer to control white light 5000K, one Bloom dimmer to control white light +red light ( 3000K+660nm), and UV dimmer to control UV 395nm.
Plug & Play design, horticultural can be easier!
Application: All those products are widely used in grow tents, house gardens, pot culture, hydroponics, greenhouse cultivation, etc.
Tailored spectrum can meet all your various application needs, easy for full growth cycle.
Perfect heat management, cool to touch.
Above is the comparison about PhotonTek XT 1000W pro high effiency LED grow light and ECO Farm ECOZ pro light. If you are also interested in Samsung chips led grow lights, welcome to visit our official website: ecofarm.ca
Our emails address is: business@ecofarm.ca
Contact:
WhatsApp: +1 206 581 5521
Leave a comment