LED Light VS HPS Light Yield / Watt, Which One Is Better?
Are you wondering whether to use HPS or LED grow lights in your grow? If so, you're not alone. This is one of most common medicinal plants cultivation questions. There have been a lot of misconceptions over the years as to which option is the superior choice. You'll find advocates on both sides of the spectrum. Hence all the confusion. The reality is that technology has changed dramatically. Growing lights have improved leaped and bounds, even within the last five years. So what was true in the past may not be the case today. Both HPS grow lights and LED lights have their advantages and drawbacks.
HPS Grow Lights
HPS, or High Pressure Sodium lights are capable of producing a huge quantity of light. In fact, a lot of farmers preferred HPS lights for years because of this. Light is crucial during the flowering stage and has been known to increase yield at harvest. The high intensity of HPS grow lights can create an ideal environment for medicinal plants flowering. HPS lights are also comparatively cheap to set up. However, on the flipside, the high intensity output of High Pressure Sodium lights generates a lot of heat. In many cases, using HPS grow lights requires additional ventilation for sufficient airflow. This can increase costs significantly. In addition, the high intensity light consumes a huge amount of energy, driving up costs while also causing more environmental damage.
Advantages of HPS Grow Lights
HPS grow lights are capable of producing an intense amount of light, which can increase medicinal plants flowering.
There are a wide variety of HPS grow lights available, so options have become more standardized.
The initial start-up costs are lower with HPS grow lights than LED lights.
Drawbacks of HPS Grow Lights
HPS grow lights require more power and are less energy efficient than LED lights.
HPS grow lights have a shorter shelf life in comparison to LED lights.
The intense lighting of HPS makes adequate airflow and ventilation essential.
Setting the optimal temperature can be challenging, particularly in confined spaces.
HPS grow lights increase costs substantially in the long-term
LED Grow Lights
LED, or Light-Emitting Diode, grow lights have increased in popularity over the years. Advancements in technology have changed the grow game. In the past, HPS lights were essentially the only option. But today you will find LED lights at some of the largest commercial medicinal plant grows. In comparison to HPS lights, LED grow lights are incredibly energy efficient. High quality LED grow lights can produce equivalent yields to HPS grow lights using significantly less energy. Therefore, many medicinal plabts growers consider LED lights to be an environmentally friendlier option for indoor cultivation. They also happen to be cost-efficient. Although LED grow lights tend to have higher upfront costs than HPS lights, they offer long-term savings. The extended life span of LED lights means you will not be constantly shoveling your money into replacements.
Advantages of LED Grow Lights
LED grow lights are more energy efficient. They produce the same amount of light as HPS lights but consume substantially less energy.
LED grow lights do not produce as much heat as HPS lights, avoiding the need for additional ventilation or airflow systems.
LED grow lights are smaller than HPS lights, maximizing grow space.
LED grow lights feature an impressive shelf life.
Drawbacks of LED Grow Lights
LED grow lights require a higher upfront investment. However, they can reduce costs in the long run due to their extensive shelf life.
LED grow lights may not produce enough heat as HPS lights for colder climates
LED lights lack standardization, which makes comparing options more challenging. However, we've compiled a list of the top quality and best priced LED grow lights for you!
Which Option is Better?
Should you be using HPS or LED grow lights? Both options have merit. There are pros and cons of each. However, unless you are growing in frigid temperatures, you're better off using LED lights. There are simply more advantages. LED lights offer long-term savings, energy efficiency, and do not require extra equipment. While the upfront cost of LED lights does tend to be higher than HPS lights – you may be shocked by just how affordable high quality options have become. The market has expanded enough that you'll find a wide variety of options available. With the long-term savings, investing in a quality LED lighting system is the way to go. Whether you need LED lights for a large-scale grow or small operation, we have something to fit your needs!
The following are three best LED grow lights:
ECO Farm 480W/640W/800W/1000W Dimmable LED Grow Light With Samsung 301 Chips+UV+ IR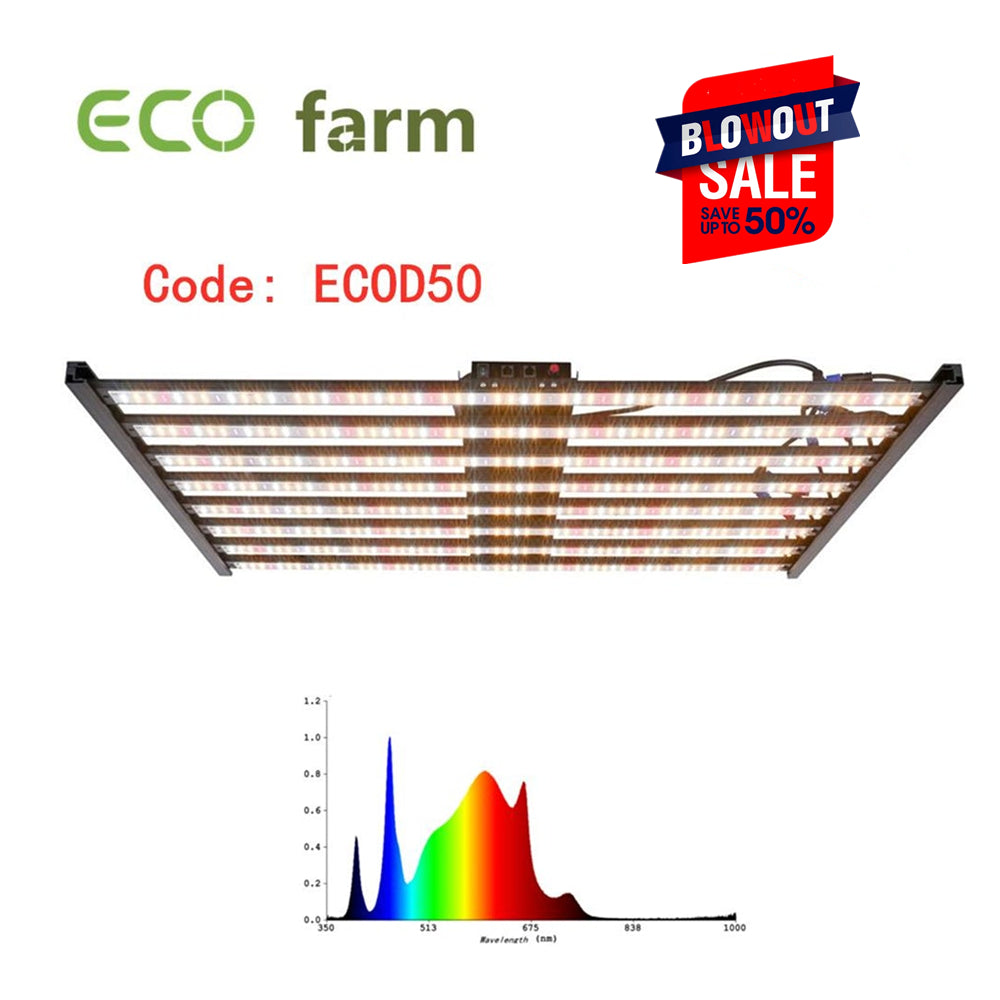 The ECO Farm Samsung LED grow light features a balanced spectrum for superior growing power with best possible LED diodes available.
This fixture provides you with total control over everything. With onboard dimming function, growers can set the ideal intensity at any stage of plant growth for optimal photosynthesis activation.
PPF & Par Efficacy
The ECO Farm Samsung LED grow light produces a PPF output of 1514.7μmol/s and a PAR efficacy of 2.8 umol/J making this fixture incredibly efficient compared to other commercial fixures.
Energy Output
The ECO Farm Samsung LED grow light provides its users with an average 40% reduction on energy and costs. This is the ultimate combination of increasing the amount of light energy reaching your plants while also shrinking costs.
The ECO Farm Samsung LED grow light allows for even light distribution, and is precisely designed to deliver uniform levels of photosynthesis flux density, or PPFD.
Spectrum
The specially deployed full spectrum fills the negligence of the main photoreceptors and pigments outside the 730nm IR and 395nm UV range, and it is suitable for reproduction to aging in indoor environments.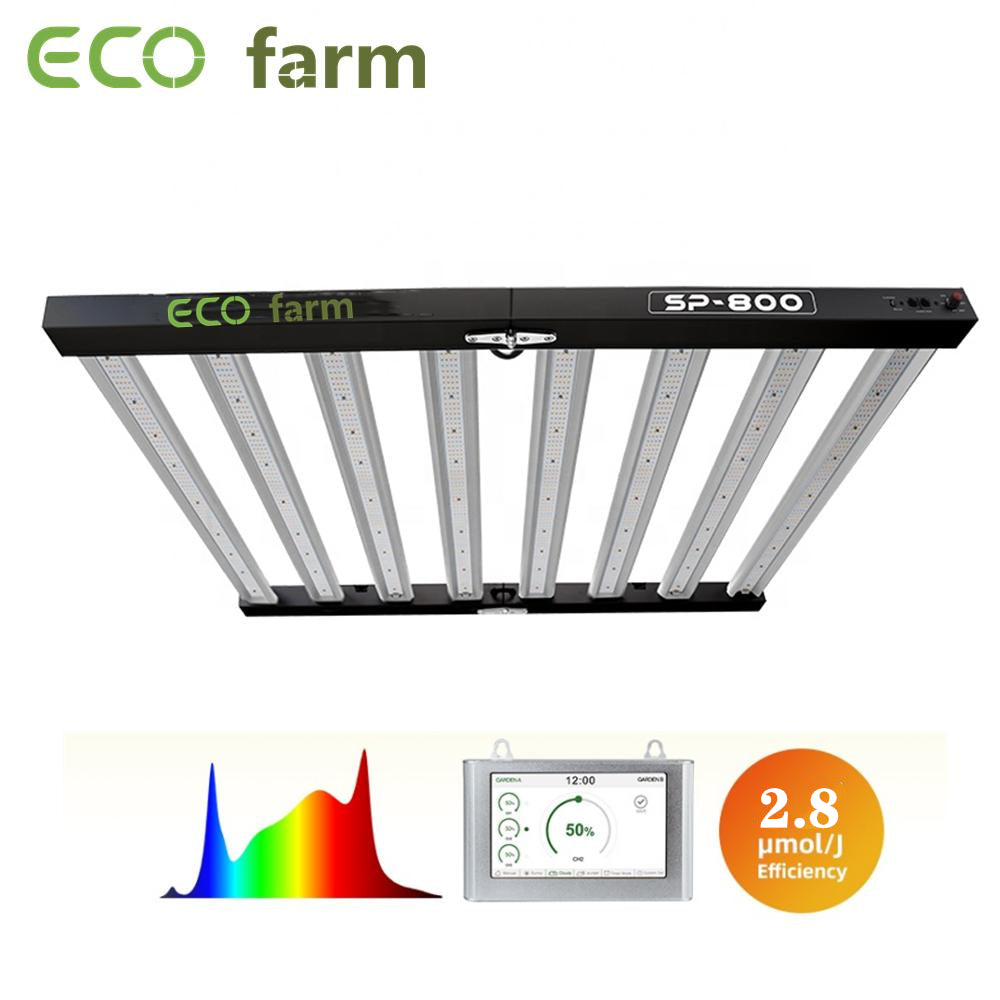 Full Spectrum light with highest yields-The SP-600 grow light use 1632 pcs high efficient Samsung LM281B LED chips, boast the market-leading efficiency to 2.6 µmol/J and 2.5g yield per wattage with 30% higher Average PPFD, the actual power is 630 watt, it can cover 6x6ft growing area in Veg stage and 5x5ft for flower stage; SP-800 grow light use 2176 pcs high efficient Samsung LM281B leds, boast the market-leading efficiency to 2.6 µmol/J and 2.5g yield per wattage with 30% higher Average PPFD, the actual power is 840 watt, it can cover 7x7ft growing area in Veg stage and 6x6ft for flower stage;
DIMMABLE AND FULL SPECTRUM- The led plant grow light have Samsung LM281B leds(3000k+5000k) +RED 660nm+IR 730nm +UV 395nm, provides the plant with the full spectrum from seeding to flowering. Ideal for indoor plants all stages growing, rapid plant response from seed to flower, speeds up flowering time and boost yields
Best passive cool management- No fans no noise, the light case is a whole aluminum radiator, Low energy consumption SP-400, SP-600,sp-800 growing light with 6bar and 8bar passive-cooled bars, aluminum heat-sink , excellent performance in heat dispersing & lifespan, dropping 50% in electricity bill than HID lights
Deepest canopy penetration rate
All in one design, build-in driver, free assemble, save time and labor.
Optional Touch Screen Controller, an idea for Group Control (max 100 lights) &Timing and Dimmable Function.

Extreme lifetime, 3 Years Warranty: Make sure give you need from high-quality grow lights – at a price that is affordable. For any questions, feel free to e-mail us and we will help you resolve it. Quality backed by our ironclad!!!
ECO Farm 400W/650W/800W G3 Series LED Grow Light Strips With Samsung LM301H/ LM301B/LM281B Chips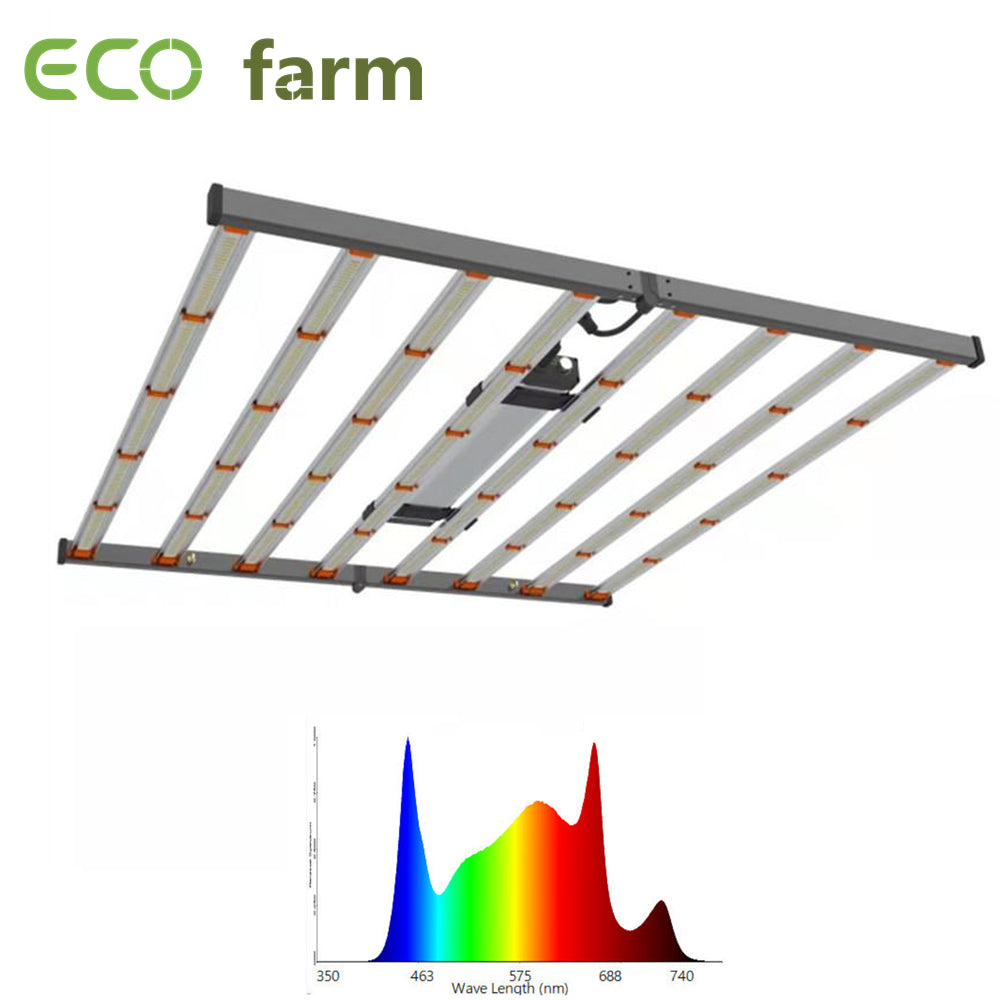 ECO Farm grows light just consumes about 400W/650W/800W power. High-efficiency PPF LEDs make your cost less but get more.
It has a long using lifetime, which is up to 50000 hours.
Re-defined & Wide coverage light design, benefit your plants everywhere and let your plants get higher yielding.
Real full-spectrum(sunlight) for plants from veg growth to bloom, no need to change your light source.
Pre-installed light bars for plug and play directly.
5-Year standard warranty
The dimming design makes it easy to choose the right light for your plants at different stages.
Powered by Samsung LM301H/ LM301B/LM281B+OSRAM
If you are also interested in other grow equipments, welcome to visit our website: ecofarm.ca
Our emails address is: business@ecofarm.ca
Contact:
WhatsApp: +1 206 581 5521
Leave a comment