Top 3 Best Full Spectrum LED Grow Lights for Indoor Plants (Review 2021)
Many LED lighting suppliers will say that full-spectrum LED grow lights are the best option for growing plants because they mimic the natural light from the sun. The argument goes:
"Plants have grown under sunlight for millions of years. Why would we want to change what mother nature knows is best?"
Well, we want to let you know that there is no such thing as a full-spectrum LED grow light.
There, we said it.
But before we get a flood of messages from concerned growers wondering what all the confusion is about, let's first uncover what full spectrum means. Then we'll let you in on the truth about full-spectrum LED grow lights so you can make the best grow light choice for your facility.
What is a Full-Spectrum LED Grow Light?
A full-spectrum LED grow light is simply a marketing term that implies that your grow light closely resembles light from the sun. This marketing term comes from the concept of "full-spectrum light," which in recent years has been used to refer to electromagnetic radiation from the UV to infrared wavebands.
The History of the Full-Spectrum LED Grow Light
The full-spectrum LED grow light is the newest evolution of an already confusing term. Originally, full-spectrum light described the only real full-spectrum light source, the sun.
Over time, the term began to take on other characteristics of sunlight. The commercial lighting industry began using the name "full-spectrum" to sell lights that produced a Color Rendering Index (CRI) over 90. Humans perceive colors more accurately under light sources with a CRI over 90, much like how we see colors in our natural world under daylight. This was a beneficial feature for human environments such as offices, outdoor spaces, and others.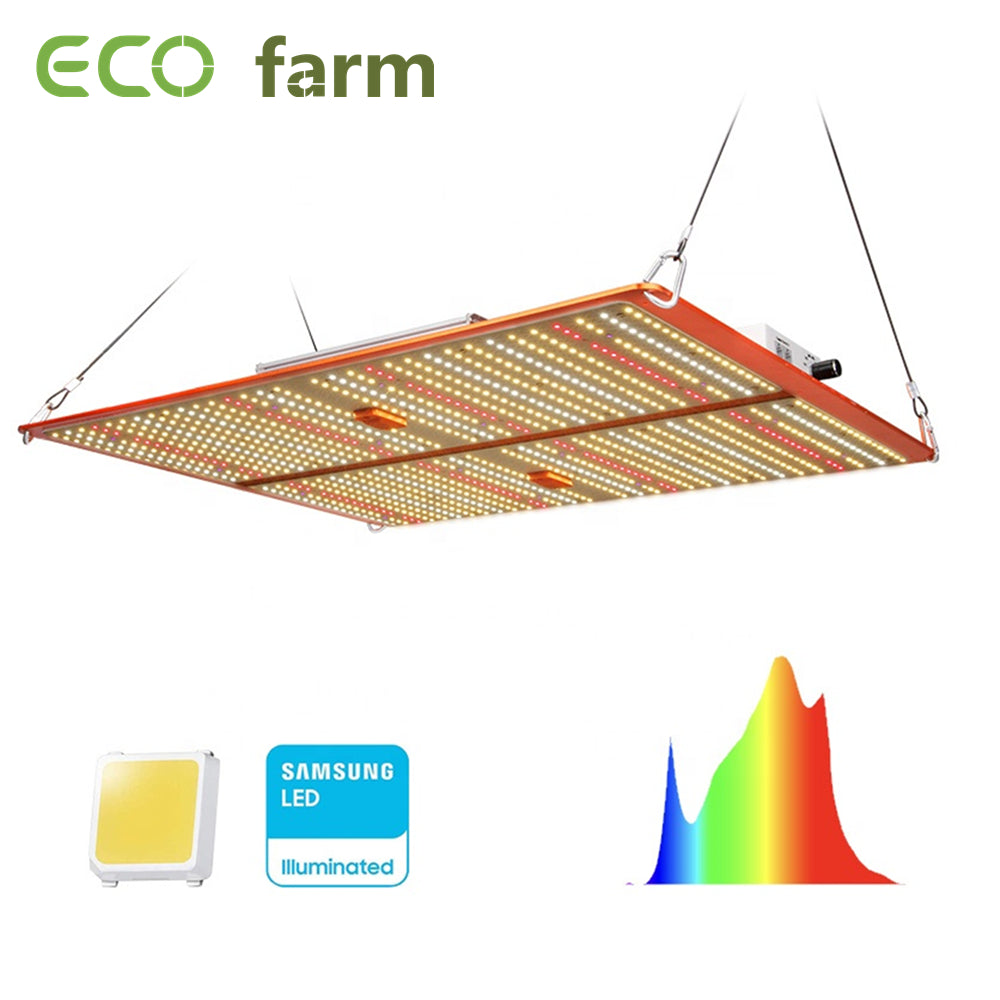 Description:
High-

efficiency

 

top-bin Samsung LM301H 3000k & 5000k 660nm and IR 760nm & 395nm UV;
ECO Farm Upgraded ECOT quantum board growing lights have a dimming knob and light switch & Rj Port for group control. Can be adjusted the light intensity at liberty. Especially beneficial for a large area of indoor growing and commercial planting.
Full Spectrum White and 660nm Red and IR & UV.
Reliable passive-cooled design.
Better canopy light penetration with diffused light.
3-year manufacturer's warranty.
Quality components mean the light lasts longer, but they also save you money.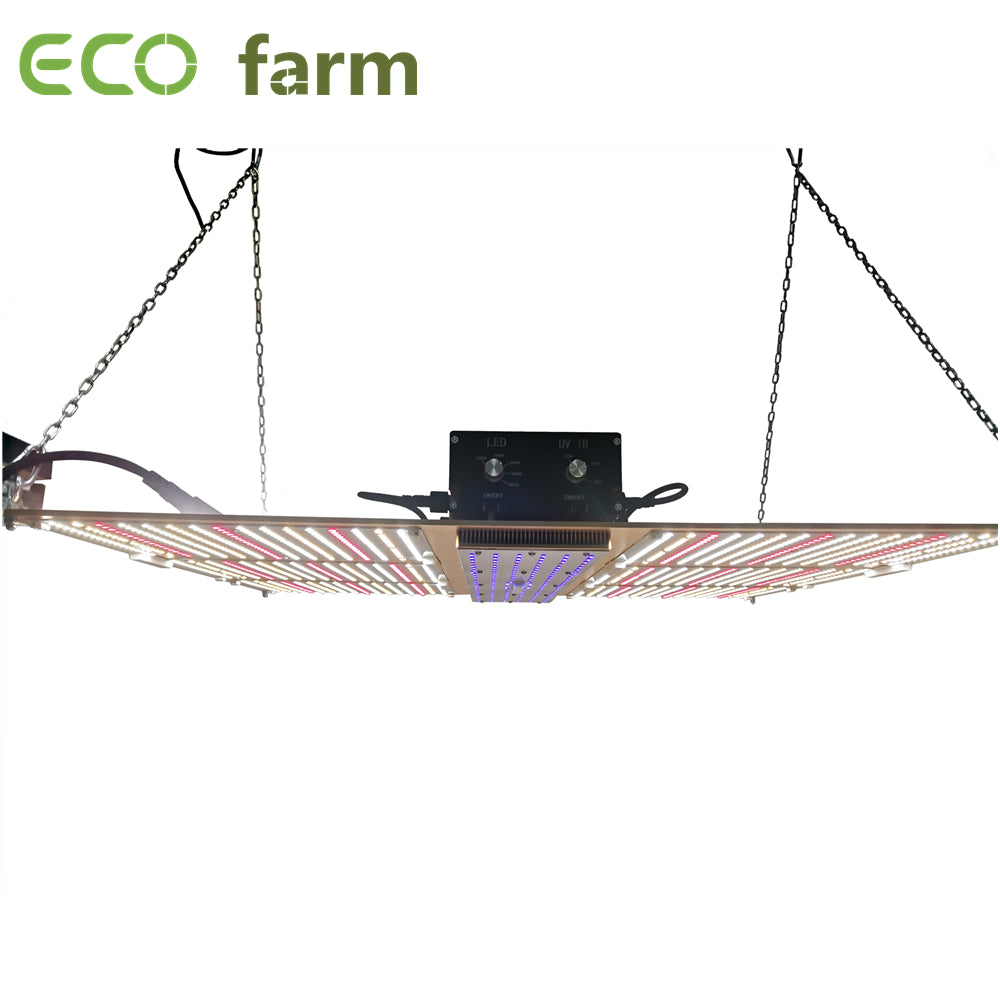 Description:
High-efficiency quantum boards

· Full-Spectrum light for better results

· Better canopy light penetration with diffused light

· Perfect performance for veg and bloom

· Dimmable
· IR UV are independently controlled
· Cycle Timing design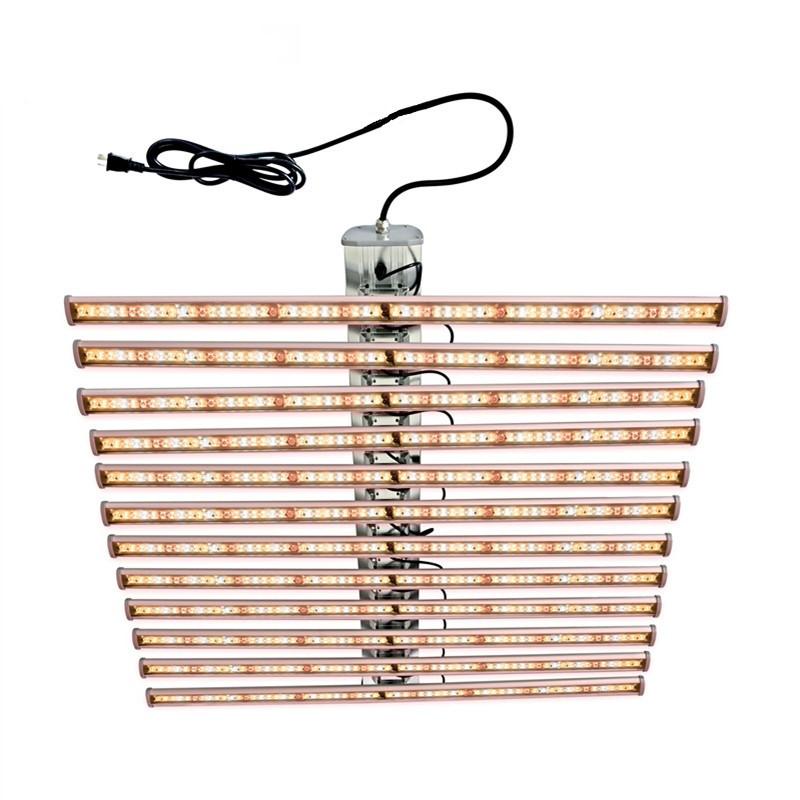 Description:
1. Full Spectrum LED Grow Light for Indoor Plants, Vegetables and Flowers. Performs. Extremely Well in All Stages of Growth.
2. Get Higher Yields With Quality LEDs
3. Full Spectrum and Color Select Feature
4. 1m x 1m Optimal Coverage
5. High Efficiency and Low Heat Output
What is the Best Light Spectrum for Plant Growth?
By now you must be wondering:
"If I can't mimic sunlight, then what light spectrum should I use?". The answer is both simple and quite complex.
Plants only require PAR light for photosynthesis. So, if your grow light is optimized within the PAR spectrum, you're going to get the most bang for your buck when it comes to minimizing electrical costs while maximizing plant health.
Beyond PAR, it's important to choose a light spectrum that's:
best for the environment you're growing in (greenhouse or indoors) tailored to your plant's growth phase (propagation, vegetative, flowering, or finishing) or specific to the cultivar being grown Full Spectrum LED Grow Lights vs Other Grow Light Options.
It should be clear by now that there are no real standards around full spectrum LED grow lights. Full-spectrum is simply a term used to sell you a simple idea.
Although you cannot mimic sunlight, you can use light spectrum to your advantage.
Luckily, there are many grow lights available with designs intended to do just that. So, let's uncover your options so you can pick the best grow light for your cultivation. 
If you have any other question about hydroponics system, welcome to visit our website: ecofarm.ca
Our emails address is: business@ecofarm.ca
Contact:
WhatsApp: +1 206 581 5521
Leave a comment