LED Gorw Light Stands 3 Key Features Need To Consider
LED lighting is fundamentally different from conventional light sources such as incandescent, fluorescent, and gas-discharge lamps. An LED uses no mercury, no lead, no gas or filament, it has no fragile glass bulb, and it has no failure-prone moving parts. LED sources are super green! They do not contain mercury (as do CFLs) or lead (as do incandescent lamps). LED lighting is more efficient, durable, versatile and longer lasting than incandescent lighting. … In a well-designed product; LEDs are basically cool to the touch and emit visible light as specific colors.
LED Gorw Light Stands 3 Key Features Need To Consider
Wavelength output
Within the PAR range, experiments have shown that certain wavelengths promote plants to grow vegetation and/or flower, and some wavelengths may also hinder growth in some species of plants. Scientific experiments demonstrated that red and blue light wavelengths are especially important. So, until Isamu Akasaki, Hiroshi Amano, and Shuji Nakamura invented the blue Light Emitting Diode (LED)—for which they were awarded the 2014 Nobel Prize for Physics—we simply could not make horticultural lighting with LEDs alone. And, we continue to learn: for example, we now have research showing the physiological importance of light throughout the spectrum (including some wavelengths outside of the PAR region).

When shopping for LED grow lights, the wavelengths emitted are critical. An LED light sold for a shop light or lamp (for human lighting) was designed to work well for human vision, not to emphasize the blues and reds that we know plants need or necessarily include the whole PAR spectrum.
Understanding Watts
Watts tell us how much energy input a light requires. When most all lighting was incandescent bulbs, then Watts were a useful measure because the electricity input was directly related to the total light intensity output, which is measured in lumens.

However, the light output of an LED light is not simply a function of Watt input. Instead, it is determined by the quality of its components and overall design, including the particular LED chip used, chip density, optics used, heat sink, and the driver. In fact, LEDs become less efficient as wattage increases because increased temperatures in the electronic circuit board containing the LEDs (the backplane) cause significant decrease in LED efficiency. In other words, an LED driven at 3 Watts emits about three times less light than the same LED driven at 1 Watt!
Lumens, PAR, and Lux
Lumens are a unit of measure describing the total quantity of light from the visible spectrum that is emitted from a source of light (in all directions). But what matters most isn't how much light a grow light can emit—it's important to know how much light will actually reach your plants. Illuminance is the measure of the quantity of light that reaches a surface and is defined as lumens per meter squared or lux. However, lux is a human eye measurement and not recommended for plant applications–though there are conversion factors that can be used to convert it to micromoles (and other light units).

Key is the difference between how humans sense light intensity (measured in lumens) and the way plants absorb and use light. This difference is why we really have to measure the light output from grow lights with different types of meters than those used to measure the light output from lights intended for humans. PAR photon irradiance (often abbreviated as just PAR) is the measurement that gives us the most useful information for comparing grow lights. The recommended units of measurement for PAR, µmol m-2s-1.

So, if an LED grow light describes output only in terms of lumens, know that you're only getting some of the information that is useful for choosing a grow light.
Then I will introduce some ECO Farm LED grow lights for you.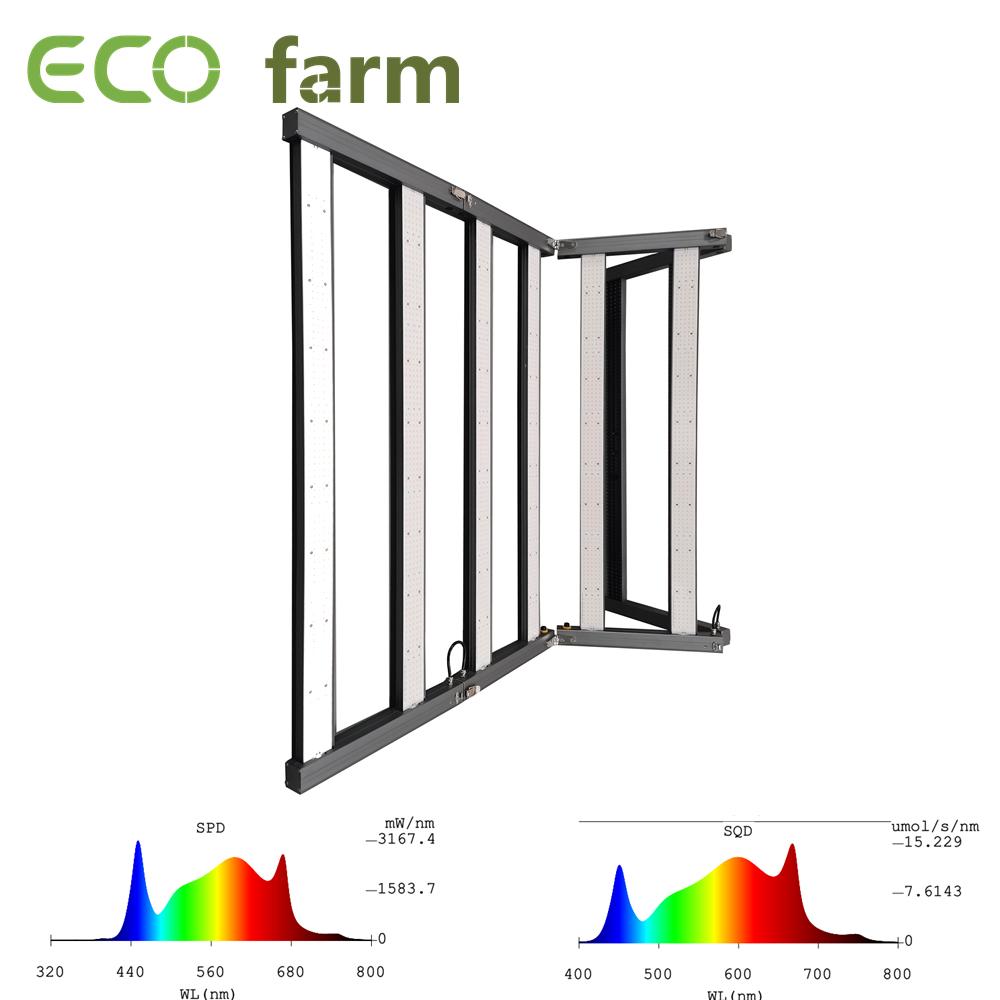 Desrciption:
Low Power Consumption & High Energy Efficience: ECO Farm 780W/960W led grow light is composed of Philips customized 3030 full spectrum 418pcs, Optical macro chip 660nm16pcs, Epistar chip 740nm3030-2pcs, Epistar chip 395nm3030-2pcs,438pcs*6 2628pcs,
This plant light is specially developed for indoor plants/greenhouse/hydroponic plants. The best planting range for a single light is: 4' x 4' to 5' x 5' feet when working at 100% power. The grow lamp can bring1770 umol/㎡ of micromole (the test result was got at a height of 18 inches). In ideal conditions, you will get harvest four times one year.
Full Spectrum Grow Light: We produce a full spectrum light through Philips customized 3030 full spectrum 418pcs. The plant light is composed of 660nm/740nm/395nm LED chips.This grow light can be used in the seedling, flowering, and fruiting stages of your plants. Without any exaggeration that you can look upon it as a small sun.
Controllable Power Output: Indoor plants need different Luminous efficiency output in different growth cycles. Our grow lights are equipped with a dimmable knob switch. You can adjust the height of the grow light or adjust the power of the plant lamp to achieve the best energy output. This design helps us do easier shipment packing, and you can store it easier.
It has a 120° wide beam angle to provide excellent light distribution and cover a large area.
Combined with 3 or 4 even-sized parts, each part can be folded.
With manual dimming knob and controllable dual-network port R14, suitable for smart light controllers to connect up to 200 LED lights
Warranty: 5 Years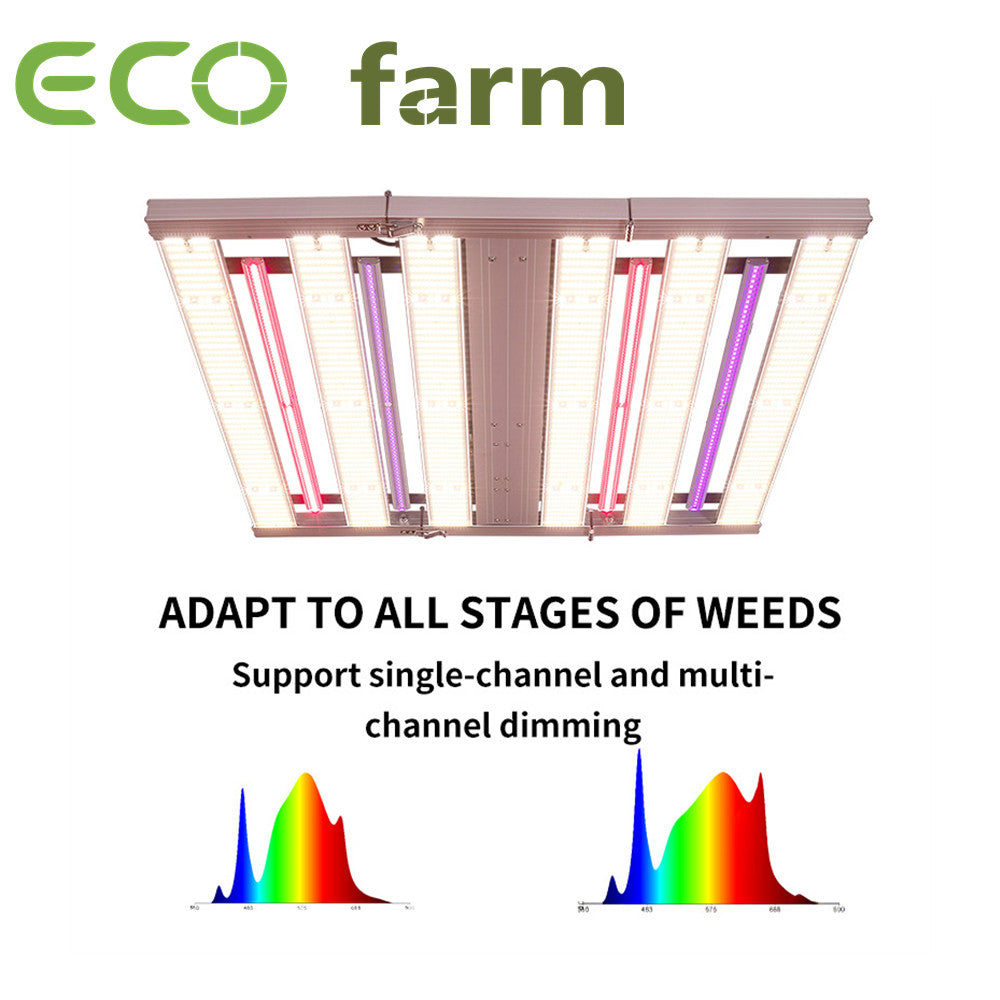 Description:
ECO Farm 740W LED grow light uses customized full-spectrum LED plant lamp beads + Sonseng power supply, with higher PPFD and PAR, and high efficiency. Born for big buds, rapid plant response from seed to flower speeds up flowering time and boosts yields. Easy dimming design meets the needs of indoor plants at different stages of growth.
It is made of high-purity refined aluminum anodized and processed, using physical heat dissipation, running quiet and cool, better heat disappear and stay cool while enabling even light spread. Save you a lot at ventilation and exhaust, which greatly extends the service life of the light.
Detachable ultraviolet and infrared light-emitting modules and folding design and detachable solution make it more convenient to use.
Using the three-way dimming design of the knob and controller, the light components can be adjusted separately to adapt to different growth stages of plants.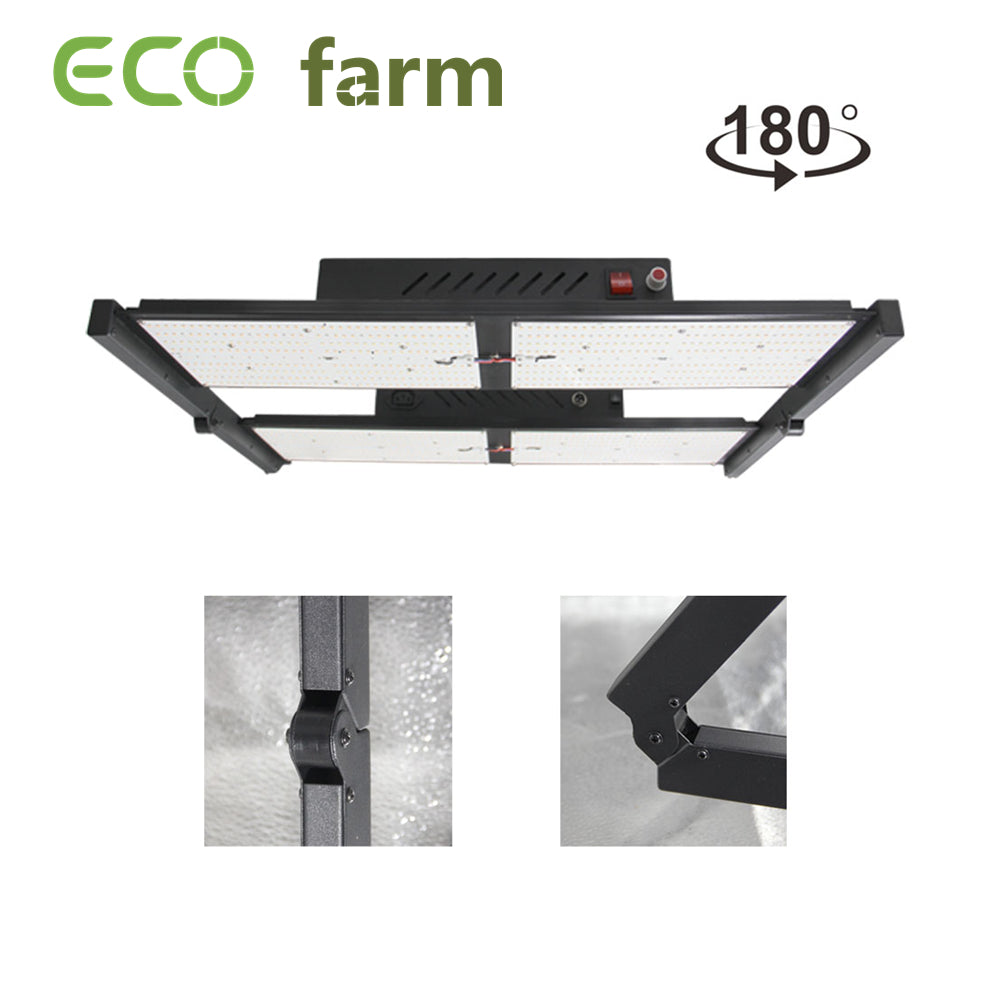 Description:
ECO Farm 480W quantum board with Samsung LM301B / 301H chips series adopts beautiful case and double switch, suitable for VEG and Flower grow stage. 
Reliable passive cooled design (no cooling fans required)
Dimmable high-efficiency Meanwell driver
High-quality original diodes from famous brands
Prolonged and thickened heatsink
Full-spectrum mixing the most vital extra wavelength 660nm 730nm 395nm for both veg and flower
Adding high-quality driver box makes it safer
Separate IR, UV switches designed for all growth stages
If you are also want to buy other grow equipments, welcome to visit our website: ecofarm.ca
Our emails address is: business@ecofarm.ca
Contact:
WhatsApp: +1 206 581 5521
Leave a comment