How & When to Transplant Medicinal Plants
Why is Transplants Your Medicinal Plants Important?
Unlike with hydroponics, growing in a solid medium like soil or coco makes transplanting into bigger pots necessary as your plants grow. Why is that?

As the roots expand into the substrate and seek out nutrients, their network will grow to encompass as much space as possible. When the roots have completely filled out the volume of the pot, running circles around the inside perimeter of the container, growers refer to these plants as "root bound". Vegetative growth will slow down, ultimately limiting the potential of your yields as well.

By transplanting to bigger pots early on, we can prevent this from happening. Transplanting ensures the roots always have space to grow freely and vigorously.
How Often Do You Need To Transplant?
Plants grow faster in smaller pots but are more susceptible to overwatering and overfeeding. When you start in small seedling pots or solo cups, the risk of fungus and other growing problems is largely mitigated, but new problems arise once your soon-to-be vegetative plants want to establish a strong root system.

A good way to go about transplanting is to keep your babies in seedling containers until they've each developed at least three nodes. At this point, you can transplant your specimens into larger pots until they double in size. Eventually, you'll want to move your plants to their final, largest containers where they can truly flourish.

Typically, you will transplant a (photoperiod) plant 2–3 times. Re-potting more frequently isn't recommended as transplanting causes significant stress.
When To Transplants Your Medicinal plants
Let's run over a list of visual indicators that can help you determine if your plants need to be moved to larger pots!

• Size of the plant: If a plant has visibly outgrown the pot, it's time to transplant. Look to the number of nodes as a guideline.

• Speed of growth: If you see your plant's growth accelerating in a too-small pot, transplant before growth becomes stunted. As a hint, the more fan leaves your plants have, the more they can photosynthesise, and the bigger they will become.

• Root development: If plants are rootbound or roots are coming out of the pot, they need to be transplanted.

• Problems with watering: Your growing plants are thirsty! If the pot dries out too quickly, it's likely your ladies need a larger vessel.

• Growing problems: If you observe slow growth or a sickly appearance from plants in undersized pots, it could be due to the size of their container.
How to Transplant Medicinal plants?
The most important rule to keep in mind when transplanting is that transplant shock causes a lot of stress to your plants. Be extremely careful; the less root damage, the better! This is not a process to rush.

Another important factor is cleanliness. Ensure your working area is clean, and wash your hands before you handle your plants. Better yet, wear gloves.

Do not transplant during the day in the bright sun or under an intense grow light. To avoid exposing your roots to undue light, transplant at night.
Transplanting: Step-by-step Guide
1. When transplanting your seedling, water them 1–2 days before transplanting. The soil should be moist but not wet. For later transplants, a drier soil will help the root ball stick together.

2. Prepare the new pot by filling it with good-quality soil. Don't fill it all the way up and don't overpack. Water the new pot. Dig a hole in the centre large enough for the new plant.

3. With your hand, cover the soil in the old pot (with your plant) and carefully flip it over. The plant should stick out between your fingers.

4. Carefully slide out the root ball and remove the old container. If the root ball doesn't come right out, gently squeeze and pat the sides of the pot to loosen the soil. If still stuck, lay the pot horizontally on the floor and try to slide out the root ball. If it still won't come out, use a knife and cut around the outer rim of the soil to free it (use this only as a last resort). Do not grab the plant and try to pull it out with force!

5. When the plant is finally freed, keep a hand under the root ball and transfer the plant to its new hole in its new container. Use extra soil and fill in the gaps. Pat down the soil just slightly to keep your plant in place.

6. Lightly water the plant to help it settle into its new home. This is a good time to use a root stimulator. Root stimulators help ease transplant shock and promote root development.
Here are the best LED grow lights for indoor plants.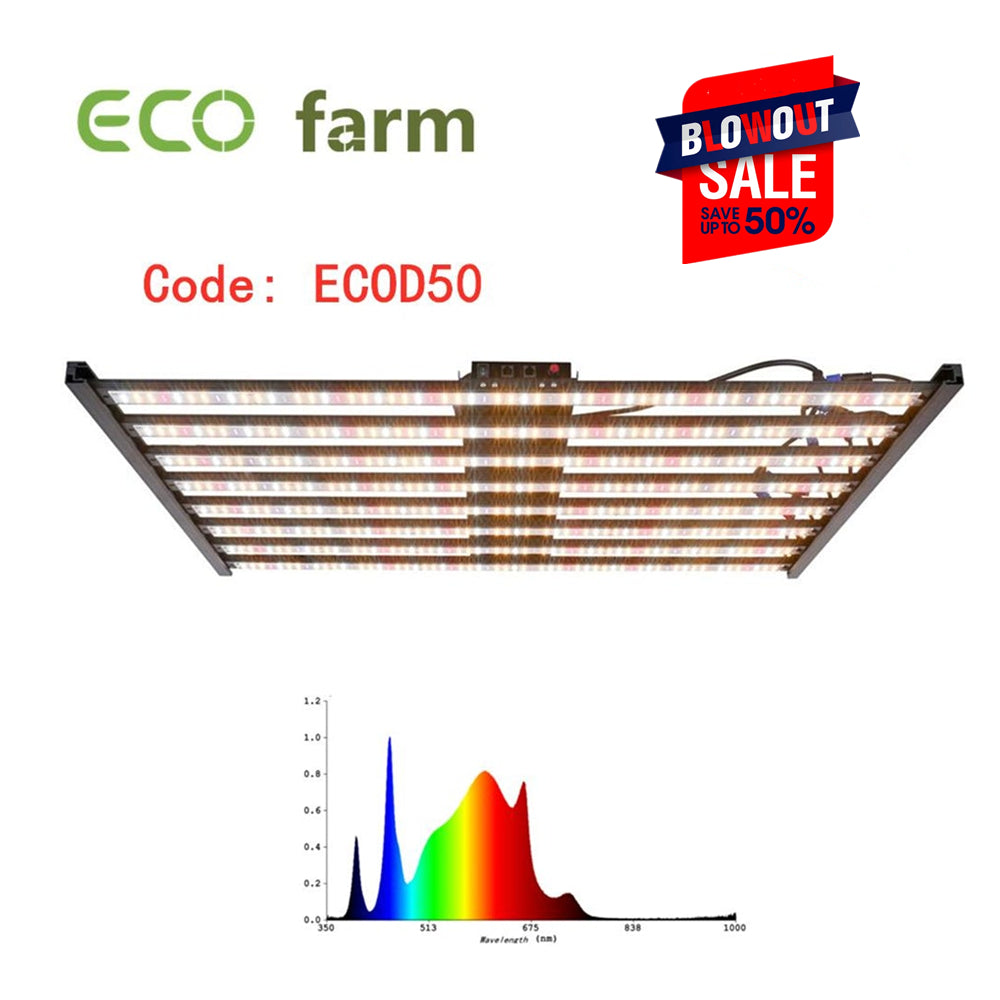 Description:
The ECO Farm Samsung LED grow light features a balanced spectrum for superior growing power with best possible LED diodes available.

This fixture provides you with total control over everything. With onboard dimming function, growers can set the ideal intensity at any stage of plant growth for optimal photosynthesis activation.

PPF & Par Efficacy
The ECO Farm Samsung LED grow light produces a PPF output of 1514.7μmol/s and a PAR efficacy of 2.8 umol/J making this fixture incredibly efficient compared to other commercial fixures.

Energy Output
The ECO Farm Samsung LED grow light provides its users with an average 40% reduction on energy and costs. This is the ultimate combination of increasing the amount of light energy reaching your plants while also shrinking costs.

The ECO Farm Samsung LED grow light allows for even light distribution, and is precisely designed to deliver uniform levels of photosynthesis flux density, or PPFD.

Spectrum
The specially deployed full spectrum fills the negligence of the main photoreceptors and pigments outside the 730nm IR and 395nm UV range, and it is suitable for reproduction to aging in indoor environments.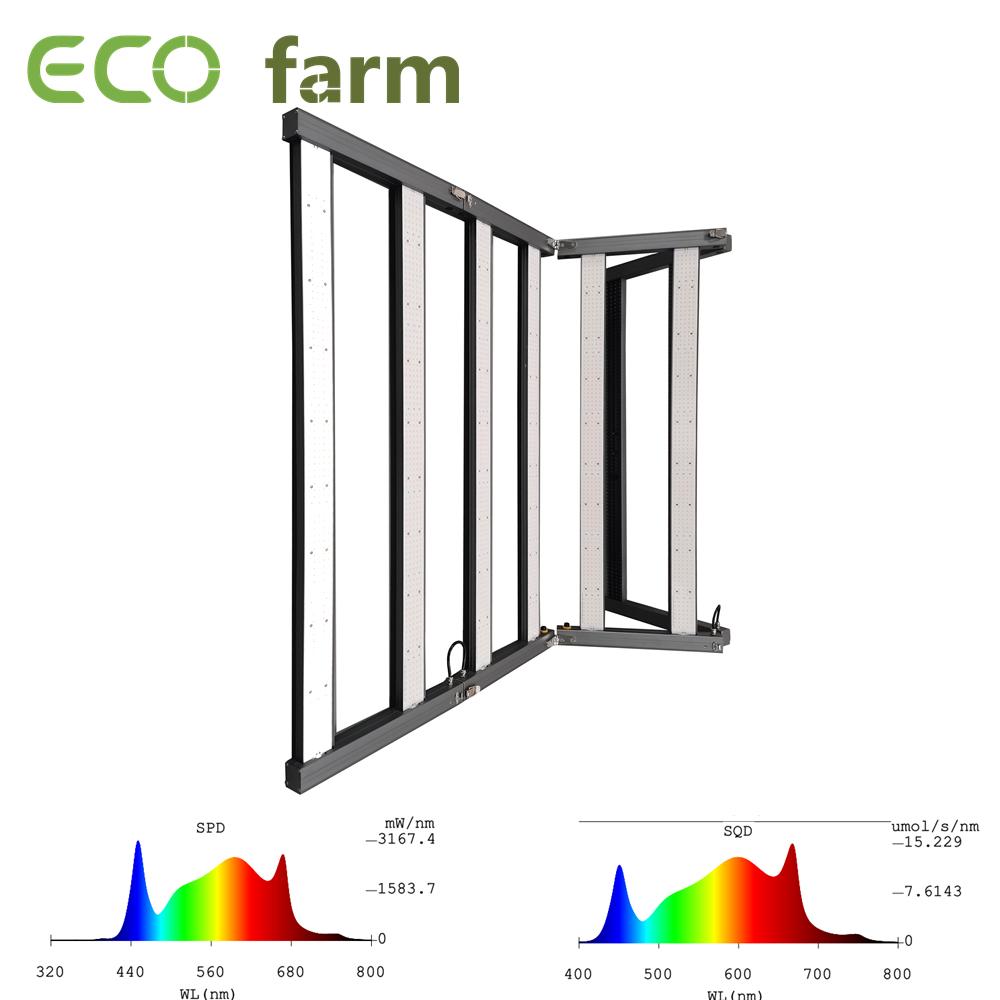 Description:
Low Power Consumption & High Energy Efficience: ECO Farm 780W/960W led grow light is composed of Philips customized 3030 full spectrum 418pcs, Optical macro chip 660nm16pcs, Epistar chip 740nm3030-2pcs, Epistar chip 395nm3030-2pcs,438pcs*6 2628pcs,
This plant light is specially developed for indoor plants/greenhouse/hydroponic plants. The best planting range for a single light is: 4' x 4' to 5' x 5' feet when working at 100% power. The grow lamp can bring1770 umol/㎡ of micromole (the test result was got at a height of 18 inches). In ideal conditions, you will get harvest four times one year.
Full Spectrum Grow Light: We produce a full spectrum light through Philips customized 3030 full spectrum 418pcs. The plant light is composed of 660nm/740nm/395nm LED chips.This grow light can be used in the seedling, flowering, and fruiting stages of your plants. Without any exaggeration that you can look upon it as a small sun.
Controllable Power Output: Indoor plants need different Luminous efficiency output in different growth cycles. Our grow lights are equipped with a dimmable knob switch. You can adjust the height of the grow light or adjust the power of the plant lamp to achieve the best energy output. This design helps us do easier shipment packing, and you can store it easier.
It has a 120° wide beam angle to provide excellent light distribution and cover a large area.
Combined with 3 or 4 even-sized parts, each part can be folded.
With manual dimming knob and controllable dual-network port R14, suitable for smart light controllers to connect up to 200 LED lights
Warranty: 5 Years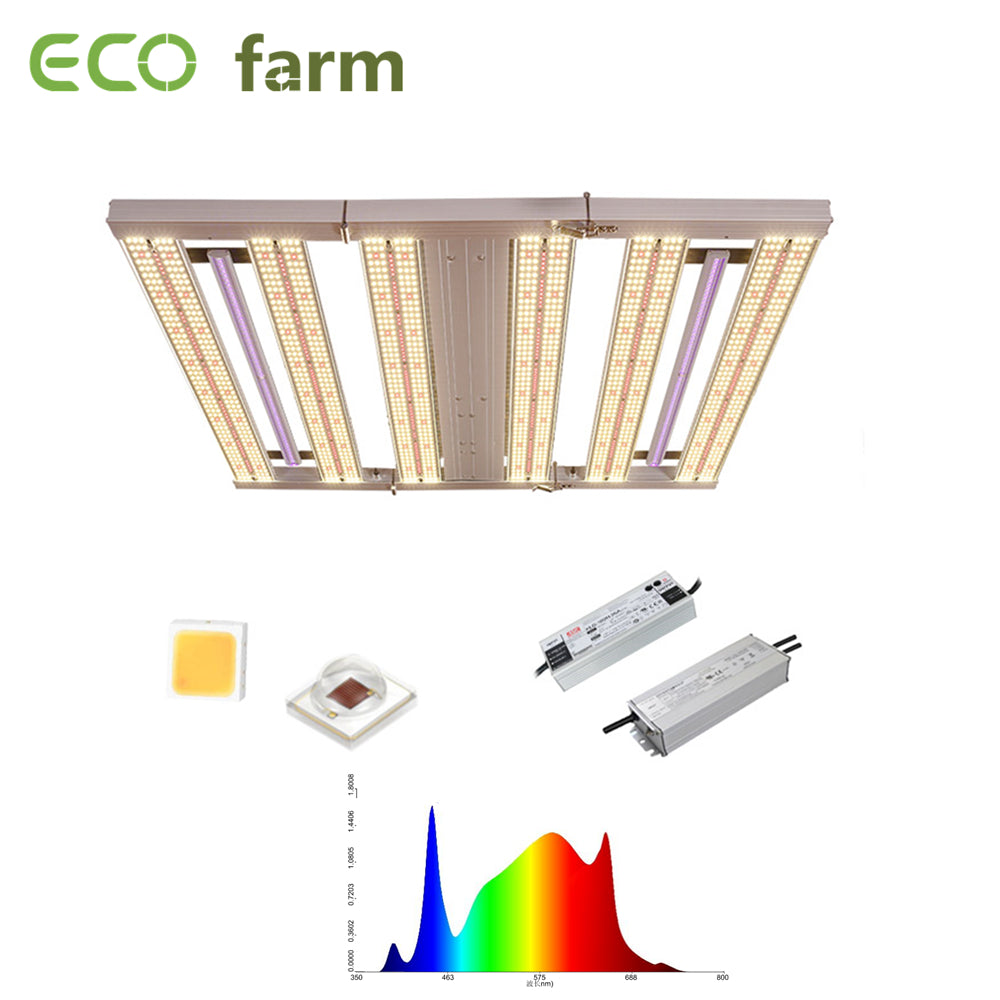 Description:
ECO Farm 690W LED grow light has higher PPFD and PAR than the conventional full-spectrum, and is also more efficient. It provides sufficient growth light for plants, increases plant yields, and helps plants grow healthily.
The surface is made of high-purity refined aluminum anodized and processed by physical heat dissipation, which greatly prolongs the service life of the lamp, and is energy-saving and environmentally friendly.
The detachable ultraviolet and infrared light-emitting modules are added, and the unique folding design and detachable solution are more convenient to use.
Using the three-way dimming design of the knob and controller, the light components can be adjusted separately to adapt to different growth stages of plants.
If you are also interested in other grow equipments, welcome to visit our website: ecofarm.ca
Our emails address is: business@ecofarm.ca
Contact:
WhatsApp: +1 206 581 5521
Leave a comment