How to Choose an True Wattage LED Grow Lights 2021 Update
For someone just starting out with grow lights, navigating the process to buy the correct light is not always a simple task.
‍This post will tell you everything you need to know about grow lights before making a buying decision.
What Are You Growing?
Before you decide on an LED grow light, you must consider your crop. All full-cycle, quality LED lights sold on the market will grow a plant from seedling to flower. But some lights are designed for specific types of grows.
2. What is the size of your grow space?
The size of your grow space will dictate the size and number of an LED units you purchase. A good rule-of-thumb for LED grow lights is 32 watts of actual wattage per square foot of growing space for flowering medical or other large flowering plants. For example, if you measured your growing space to be 16 square feet, you would want to purchase at least a 500-550 watt grow light (assuming the plants are congregated in a single area and you are flowering a plant that requires a lot of light. Vegetative growth for high-light plants need about half this wattage.).
Below is a quick reference chart designed to help you determine the desired wattage based on your grow space. If you have a larger grow space, you can scale up from these numbers. Remember: 1 sq ft of grow space requires about 32 watts of actual wattage.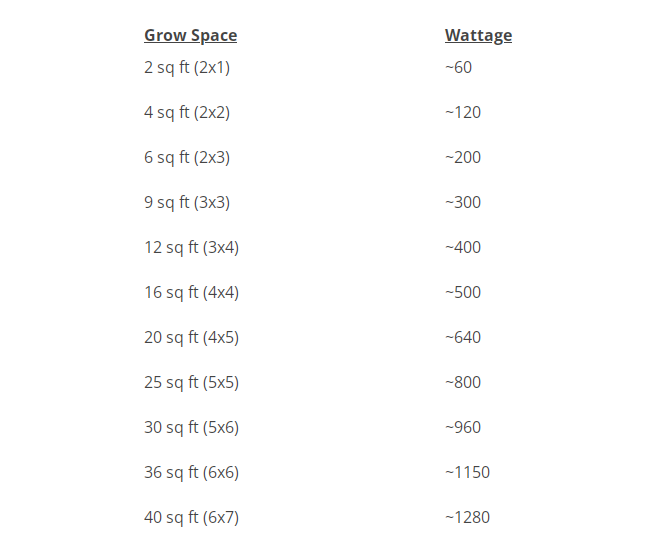 3. Types of LED grow lights
By now, you might have an idea of what LED grow lights would be best for your crop and how many watts are required for your grow space. Now, you will discover the different LED unit options available to you.

If you are growing plants from seedling to flower you will want to purchase a full cycle LED light. 

Lights designed for high-light plants and vegetable growth/flowering have many different options including single-channel lights (on or off); 2 channel lights that have a veg and bloom mode; and programmable lights that allow you to set light schedules, customize spectrums, and alter intensities.

The programmable lights are by far the most advanced LED grow lights that will make for an almost effortless grow. It is safe to say that the LED grow light industry is moving in the direction of fully automated panels.

In addition, there are different shaped LED grow lights available, including panels, bars, and bulbs. There are even LED tubes that will replace T5 or T8 fluorescent lights.

DIY kits have even recently become available for those who would like to assemble their own light.
Then I want to introduce you some high quality LED grow lights.
ECO Farm Ecoz 250W/510W/700W/1000W LED Grow Light Strips With Samsung 301H Chips Separately UV+IR Control
Description:
Save 100%-200% on lighting compared to other brands;
Industry top efficacy and light output - 2.9 μmol/j ;
Reduce HVAC and electricity costs by 50-60%;
Make you get 30% Higher Yield compare the traditional lamps, Increases revenue with better quality flower,s and higher yield(maximize crop yield by growing vertical).
Using high efficient and more reliable Samsung LM301H & Osram Chip horticultural LEDs.
3 Channel Dimmers, VEG switch, Bloom switch, UV switch separately controlled, Freely adjust the lamps according to different growing stages; VEG dimmer to control white light 5000K, one Bloom dimmer to control white light +red light ( 3000K+660nm), and UV dimmer to control UV 395nm.

 

Plug & Play design, horticultural can be easier! 
Application: All those products are widely used in grow tents, house gardens, pot culture, hydroponics, greenhouse cultivation, etc.
Tailored spectrum can meet all your various application needs, easy for full growth cycle.
Perfect heat management, cool to touch.
ECO Farm Spliced 100W/200W/300W/400W/500W/600W Quantum Board Full Spectrum Green Type With Samsung 281B Chips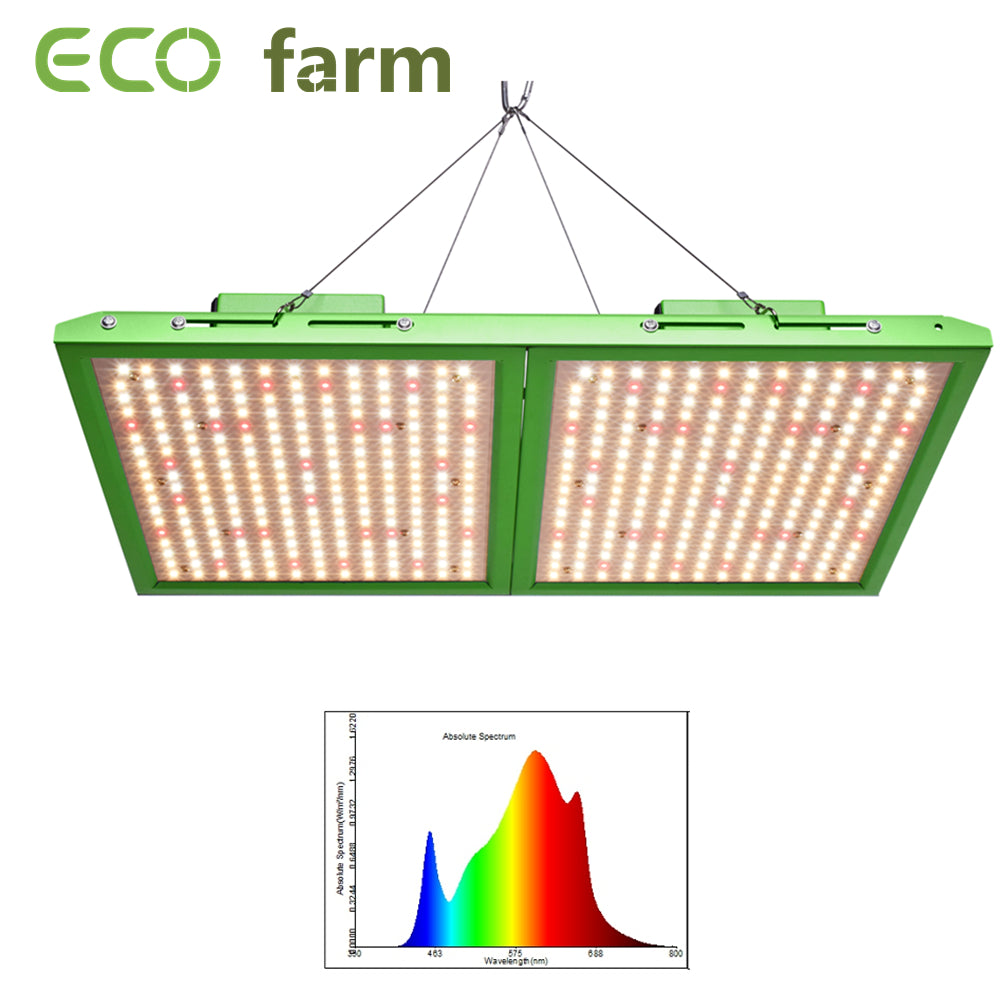 Description:
Input voltage: AC 100-270VAC
LED Chips: using Samsung 281B chips with luminous efficiency up to 2.5umol/j
Driver: select high-quality UL certified power supply
Spectrum: Full Spectrum 3000K, 5000K, 660NM, 730NM, 380NM
Splicable, small size, high power, support for input series connection
Warranty: 3 years
Certification: CE RoHS FCC
Heat dissipation performance: 4.0MM thick aluminum plate radiator, fast heat conduction, low temperature
Application environment: can be used in dry/humid greenhouse
That's all our way to about how to choose  an true wattage LED grow lights, if you have other question about led grow light, welcome to visit our official website: ecofarm.ca
Our emails address is: business@ecofarm.ca
Contact:
WhatsApp: +1 206 581 5521
Leave a comment