How Much Light (PPF) Do You Need for Indoor Plants? 2021 Update
The Optimal PPF for medicinal plants:
PPFD is a density measurement which is expressed as micromoles per square meter. To convert PPFD into a quantity measurement, we multiply it by the area in square meters. Since the optimal average photon density is 700 µmol/m2 (PPFD), the optimal number of photons is 700 µmol Usable PPF per square meter. This converts to 65 µmol Usable PPF per Square Foot. To calculate the total amount of light that you need for your grow space in Usable PPF, simply multiply the square footage by 65 (Sq. ft x 65 = µmol Usable PPF).

Usable PPF

Usable PPF is the measurement that matters to us as growers. Usable PPF describes the number of PAR photons that arrive to the canopy of the plants. It is the value that we care about because it describes the number of photons that are available for photosynthesis. Usable PPF is measured in a field setting that simulates a grow tent. Accurate measurements depend on careful testing with specific protocols. To learn how we measure Usable PPF in our grow light tests, read our Grow Light Testing Protocol.

Total PPF

Total PPF describes the total amount of light emitted by a fixture. Total PPF measurements are taken in a device called an "integrating sphere" which measures all the photons produced by the fixture. However, even in ideal grow set-ups, 10-15% of these photons will be lost to radiance or reflection. As a result, Total PPF is always higher than Usable PPF.

Calculated PPF

Manufacturers often don't report PPF data at all. When they do report it, it is usually a "Calculated Value" and not an actual measurement. Calculated values are determined based on the diodes in the fixture and assume 100% efficiency. As a result, calculated values are typically significantly higher than Total or Usable PPF.

Estimating Usable PPF

Often the only PPF data that are available are calculated values. This creates a need both for more independent testing and for some way to estimate the Usable PPF from the calculated values provided by manufacturers. We have analyzed test data from dozens of fixtures to create formulas to make these estimates. In our Grow Space Calculator below, you can see the Optimal Usable PPF along with our estimates for Total PPF and Calculated PPF for any size grow space. You can then match these to the type of data that is available for different fixtures.
About Our Product Recommendations
ECO Farm Z6/ Z8 Series 600W/800W LED Grow Light Strips UV IR Separately Control Light With Samsung 301B Chips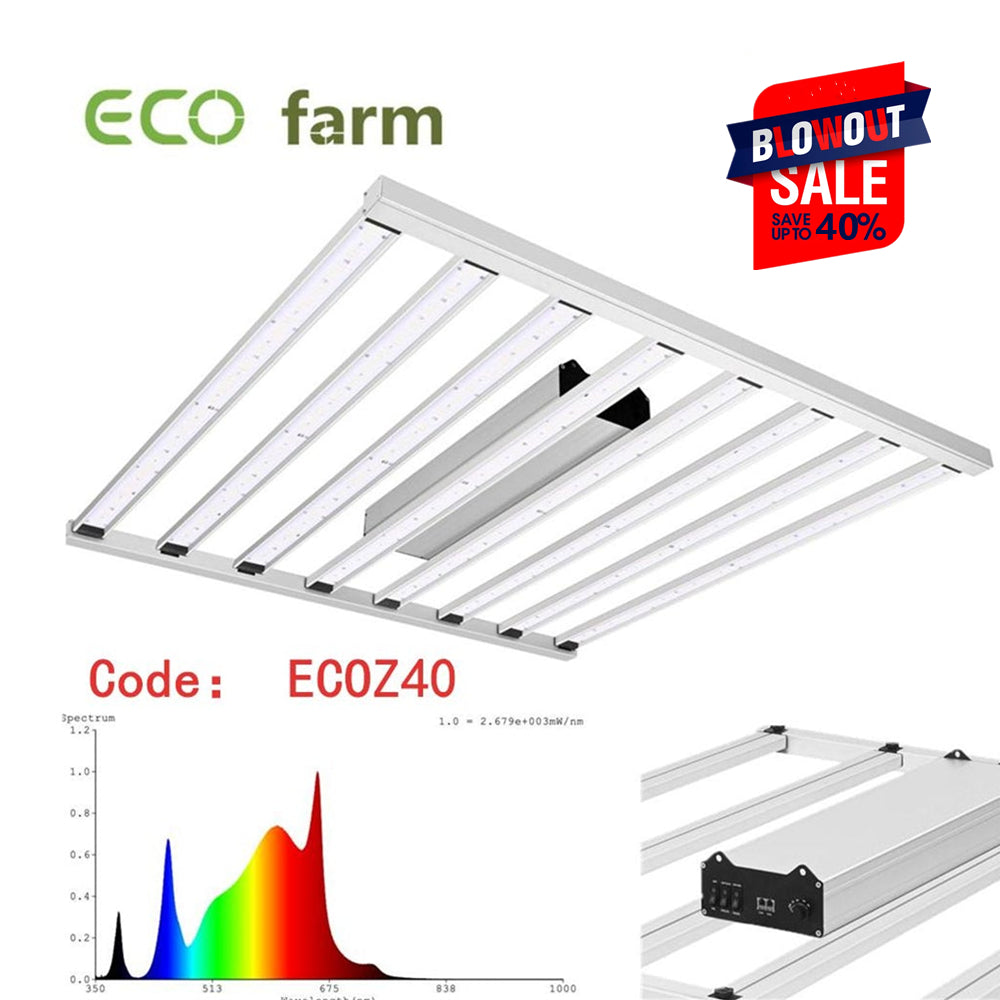 Description:
The emitted ECO Farm Z6/Z8 series lights are the most average, just like sunlight, which can provide the corner plants lights as much as to the center plants.
Independent 3 channels spectrum control. Our UV IR are separate switch control. UV IR separate switch control can optimal growth, which could improve flower quality and yield.
The changeable spectrum is suitable for different scenes, as well as different plant growth periods.
ECO Farm Z-series light features full-spectrum white Samsung LM301B diodes, 660nm Deep Red diodes, 730nm IR diodes, 395nm UV diodes.
Removable and replaceable lightbars, modular installation
Passive cooling design
Good for tent & vertical & greenhouse & commercial grow.
Maximize every inch of your garden with ECO Farm Z6/Z8 series light on the market, corner to corner.
- IR is used when decides to switch the plant from the VEG stage to the flowering stage.
- UV is recommended to turn on in the last two weeks of the flowering stage.
ECO Farm 690W Three Channel Dimming LED Grow Light With Samsung 301B/ LedStar Chips 180° Foldable Design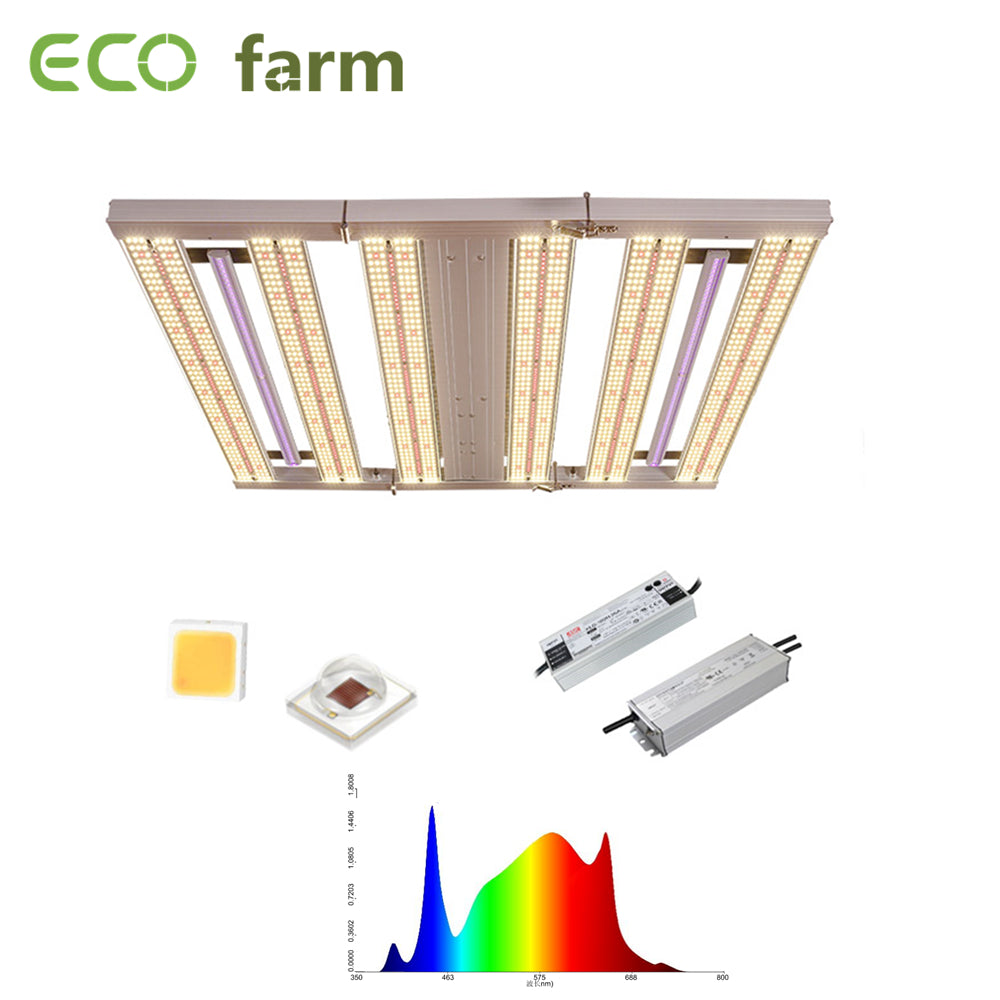 Description:
ECO Farm 690W LED grow light has higher PPFD and PAR than the conventional full-spectrum, and is also more efficient. It provides sufficient growth light for plants, increases plant yields, and helps plants grow healthily.
The surface is made of high-purity refined aluminum anodized and processed by physical heat dissipation, which greatly prolongs the service life of the lamp, and is energy-saving and environmentally friendly.
The detachable ultraviolet and infrared light-emitting modules are added, and the unique folding design and detachable solution are more convenient to use.
Using the three-way dimming design of the knob and controller, the light components can be adjusted separately to adapt to different growth stages of plants.
ECO Farm 240W/320W/480W/660W Waterproof Light Strips With Osram Chips Full Spectrum Foldable LED Light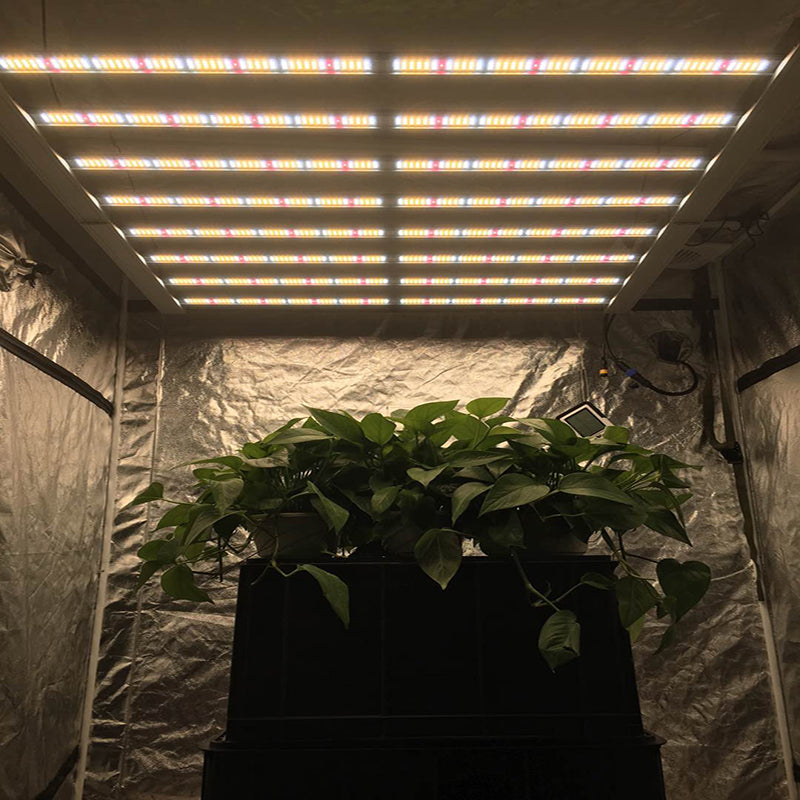 Description:
Fanless Design
IP65 Waterproof
Dimmable: 0-10V Dimming
Lights can be connected in series
2 versions available
Input Voltage:100-277V ; 200-480V
Slim design and 180 degrees foldable
Uniform PPFD distribution
If you are also want to buy other grow equipments, welcome to visit our website: ecofarm.ca
Our emails address is: business@ecofarm.ca
Contact:
WhatsApp: +1 206 581 5521
Leave a comment