How Much Heat Do LED Grow Light Produce?
The primary reason that LED grow lights produce heat is slight imperfections in the crystal structure of the diode. The electricity that passes through the diode that doesn't get turned into light gets turned into heat.

The second reason LEDs produce heat is internal reflection within the diode. For extremely efficient LEDs, about 80% of the electricity gets turned into light and about 80% of that light makes it out of the diode (leaving a total of roughly 60% of the light to exit the diode). The light that doesn't make it out gets turned into heat when it is re-absorbed by the diode.

The final reason we'll discuss that LED lights produce heat is another form of light absorption. Much of the light that leaves your LEDs will get turned into heat when it eventually gets absorbed by some object in your grow space. This is what we meant above by a "closed system." Assuming none of the light the LEDs produce will exit in your grow space, it will almost all eventually turn into heat.

According to the Law of Conservation of Energy, energy can neither be created nor destroyed, only change forms. So, when light is absorbed by the objects in your grow room that energy doesn't disappear, it either gets converted into chemical energy stored by your plants in the form of sugars or it eventually turns into heat.
Ideal Temperature for Growing Plants Indoors with LED grow lights.
This depends on what you will be growing, whether you use supplemental CO2, and what stage your plants are in their development, but our recommendation for flowering/generative growth to have the daytime ambient air temperature around 83-850 F (28-29.50C). The nighttime temperature should be about 10 degrees lower than your daytime temperature.
Managing Indoor Grow Room Heat
While the heat from one or two LED grow lights is quite manageable, air circulation and ventilation are essential tools for you as a grower.   Irrespective of heat, here are some things that will happen to your plants if you don't ventilate and circulate your air: dust will settle on your plants and reduce their photosynthetic efficiency, humidity will rise reducing transpiration and increase mold pathogens, and carbon dioxide levels will drop lowering your photosynthesis rate.  Not only should you ventilate and circulate your air, but filtration is also recommended to reduce smells, dust, and the exchange of pathogens.
 ECO Farm ECOZ 250W/510W/700W/1000W LED Grow Light Strips With Samsung 301H Chips Separately UV+IR Control
Description:
Save 100%-200% on lighting compared to other brands;
Industry top efficacy and light output - 2.9 μmol/j ;
Reduce HVAC and electricity costs by 50-60%;
Make you get 30% higher yield compared the traditional lamps, increase revenue with better quality flower,s and higher yield(maximize crop yield by growing vertical).
Using high efficient and more reliable Samsung LM301H & Osram Chip horticultural LEDs.
3 Channel Dimmers, VEG switch, Bloom switch, UV switch separately controlled, Freely adjust the lamps according to different growing stages; VEG dimmer to control white light 5000K, one Bloom dimmer to control white light +red light ( 3000K+660nm), and UV dimmer to control UV 395nm.

 

Plug & Play design, horticultural can be easier! 
Application: All those products are widely used in grow tents, house gardens, pot culture, hydroponics, greenhouse cultivation, etc.
Tailored spectrum can meet all your various application needs, easy for full growth cycle.
Perfect heat management, cool to touch.
Eco Farm 8*8FT (96*96*80 Inch/ 240*240*200 CM) Reflective Mylar Indoor Hydroponic Grow Tent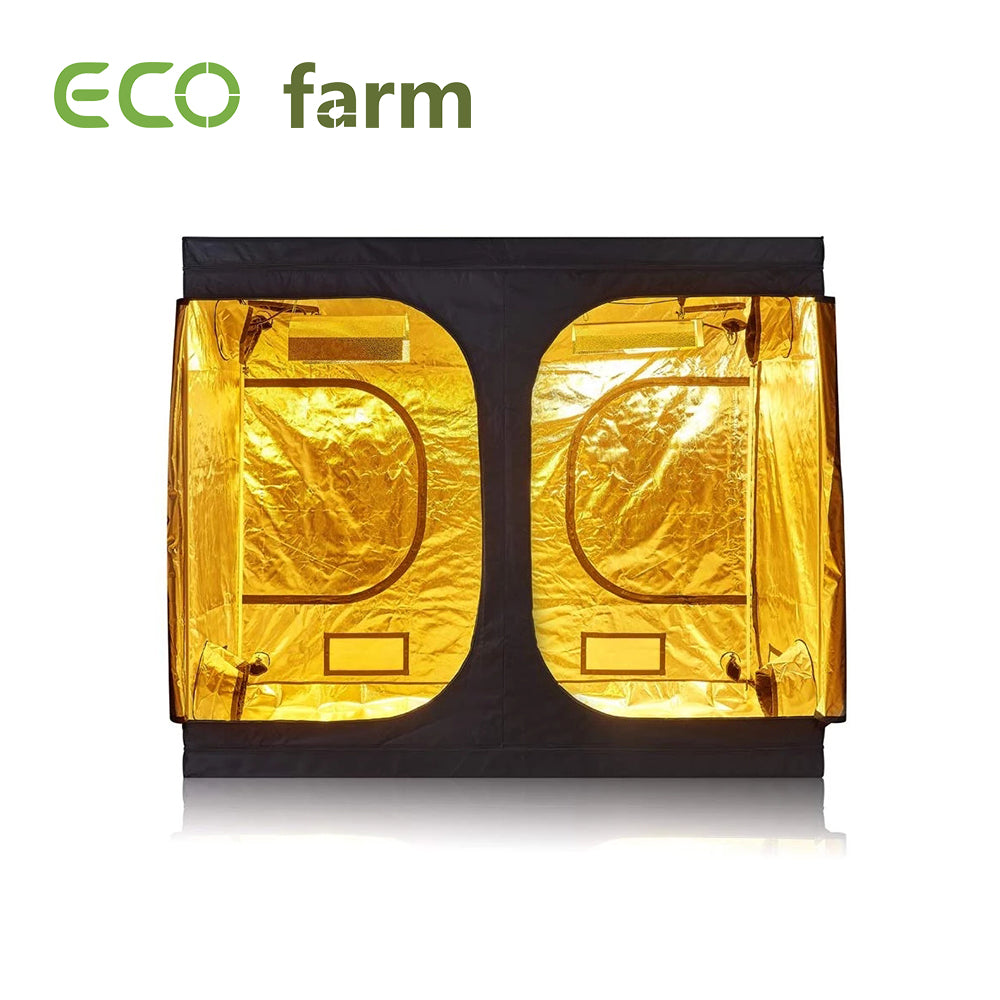 Description:
Compact size and space-saving.
Plastic connector and metal connector both available, well welded, no sharp edge.
Oxford fabric, using PEVA,PVC free, pass RoHS and REACH test,eco-friendly.
All metal framework, the thickness of poles is at least 0.8mm, the diameter is at least 16mm, maximun is 28mm, sturdy steel, with white powder coating.
This 8* 8 ft grow tent enables you to grow a wide variety of plants, fruits, indoor growing plants s, flowers and vegetables indoors effectively and easily without having concern about the changing weather.
 ECO Farm 6" Ducting Hydroponic Ventilation Kit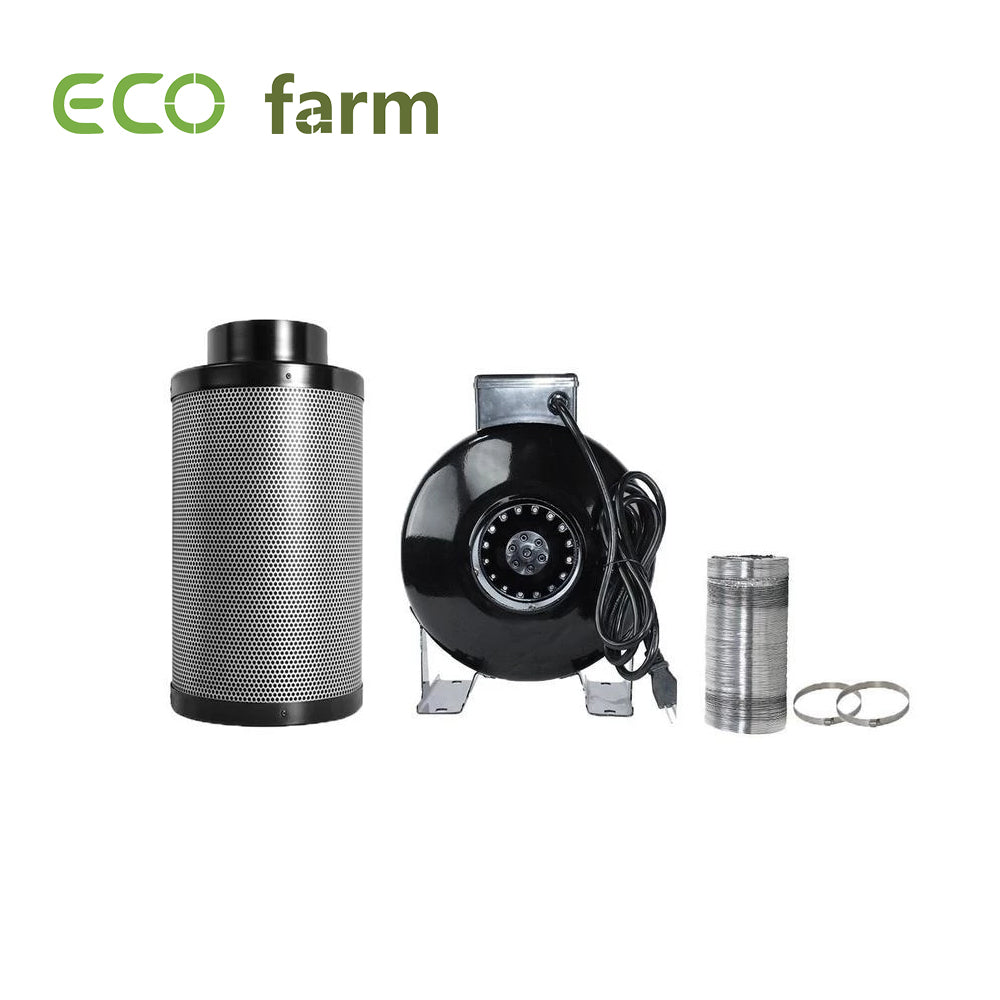 Description:
Overall size: see picture
6" flange: 18"H x 10"D
Lodine adsorption value: 950 (high efficiency)
Carbon layer thickness: 1.5 inches
Specific surface area: 900-1000

 

m

2

 

/g
Max endurable temperature: 400

°

 

(safer)
Operating environment temperature: -20 to 65°
Zinc-anodized steel housing mesh
Use coal based activated carbon
Changeable velcro pre-filter with 2 black elastic bands
Thick carbon layer for higher absorption and performance
Reversible filter flange and base for longer life
Exceptional odor control for better privacy
Inner and outer mesh provides 53% open area allowing increased air flow
Machine packed carbon enables 100% filtered air flow
1~1.5 years in life expectancy
If you are also want to buy other grow equipments, welcome to visit our website: ecofarm.ca
Our emails address is: business@ecofarm.ca
Contact:
WhatsApp: +1 206 581 5521
Leave a comment