How Many Grow Lights Do I Need For 8X8 Grow Tent? 2021 Update
Grow up to 24 medium to large plants or 30 smaller plants in our 8x8 portable grow rooms. These monstrous grow tents will require a spare room or garage to be set-up in due to their large size. The 8x8 footprint of this these tents will need about four or so 600 watt or equivalent grow lights to fully cover the space. These easy-to-assemble grow tents are great for managing the growing environment, maintains any mess created from the grow process, and helps keep your plants free of any outside pests or contaminants from outside.
The average LED grow light draws about 32 watts to cover 1 sq ft for flowering. 
Quick Guide (watts per coverage area)
1' x 1': 32 watts (~30 to 40 watts)
2' x 2': 128 watts (~120 to 140 watts)
2' x 4': 256 watts (~240 to 300 watts)
3' x 3': 288 watts (~250 to 300 watts)
4' x 4': 512 watts (~500 to 650 watts)
5' x 5': 800 watts (~700 to 900 watts)
4' x 8': 1024 watts (~900 to 1100 watts)
6' x 6': 1152 watts (~1000 to 1200 watts)
So let's look at some powerful LED grow lights.
ECO Farm 400W/650W/800W G3 Series LED Grow Light Strips With Samsung LM301H/ LM301B/LM281B Chips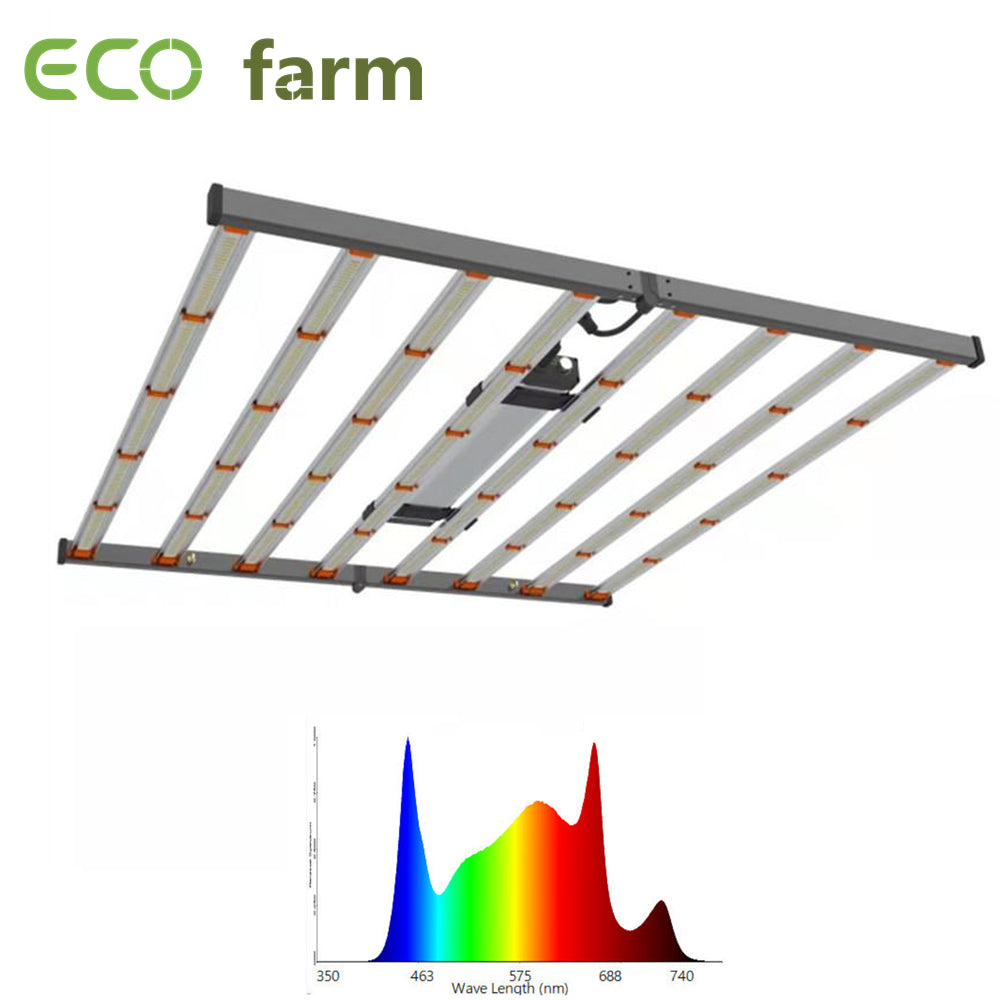 Description:
ECO Farm grows light just consumes about 400W/650W/800W power. High-efficiency PPF LEDs make your cost less but get more.
It has a long using lifetime, which is up to 50000 hours.
Re-defined & Wide coverage light design, benefit your plants everywhere and let your plants get higher yielding.
Real full-spectrum(sunlight) for plants from veg growth to bloom, no need to change your light source.
Pre-installed light bars for plug and play directly.
5-Year standard warranty
The dimming design makes it easy to choose the right light for your plants at different stages.
Powered by Samsung LM301H/ LM301B/LM281B+OSRAM
ECO Farm 780W/960W Foldable Full Cycle Dimmable LED Grow Light For Greenhouse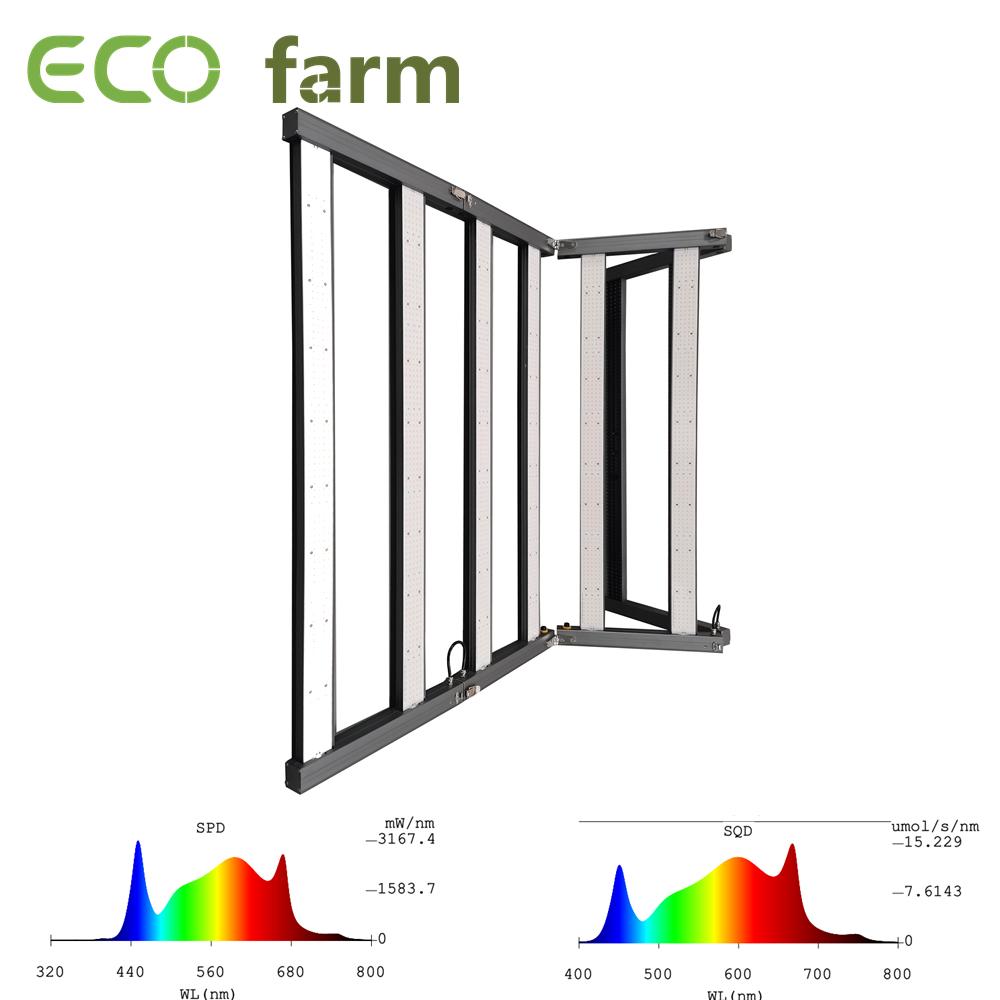 Description:
Low Power Consumption & High Energy Efficience: ECO Farm 780W/960W led grow light is composed of Philips customized 3030 full spectrum 418pcs, Optical macro chip 660nm16pcs, Epistar chip 740nm3030-2pcs, Epistar chip 395nm3030-2pcs,438pcs*6 2628pcs,
This plant light is specially developed for indoor plants/greenhouse/hydroponic plants. The best planting range for a single light is: 4' x 4' to 5' x 5' feet when working at 100% power. The grow lamp can bring1770 umol/㎡ of micromole (the test result was got at a height of 18 inches). In ideal conditions, you will get harvest four times one year.
Full Spectrum Grow Light: We produce a full spectrum light through Philips customized 3030 full spectrum 418pcs. The plant light is composed of 660nm/740nm/395nm LED chips.This grow light can be used in the seedling, flowering, and fruiting stages of your plants. Without any exaggeration that you can look upon it as a small sun.
Controllable Power Output: Indoor plants need different Luminous efficiency output in different growth cycles. Our grow lights are equipped with a dimmable knob switch. You can adjust the height of the grow light or adjust the power of the plant lamp to achieve the best energy output. This design helps us do easier shipment packing, and you can store it easier.
It has a 120° wide beam angle to provide excellent light distribution and cover a large area.
Combined with 3 or 4 even-sized parts, each part can be folded.
With manual dimming knob and controllable dual-network port R14, suitable for smart light controllers to connect up to 200 LED lights
Warranty: 5 Years
ECO Farm 480W/640W/800W/1000W Dimmable LED Grow Light With Samsung 301 Chips+UV+ IR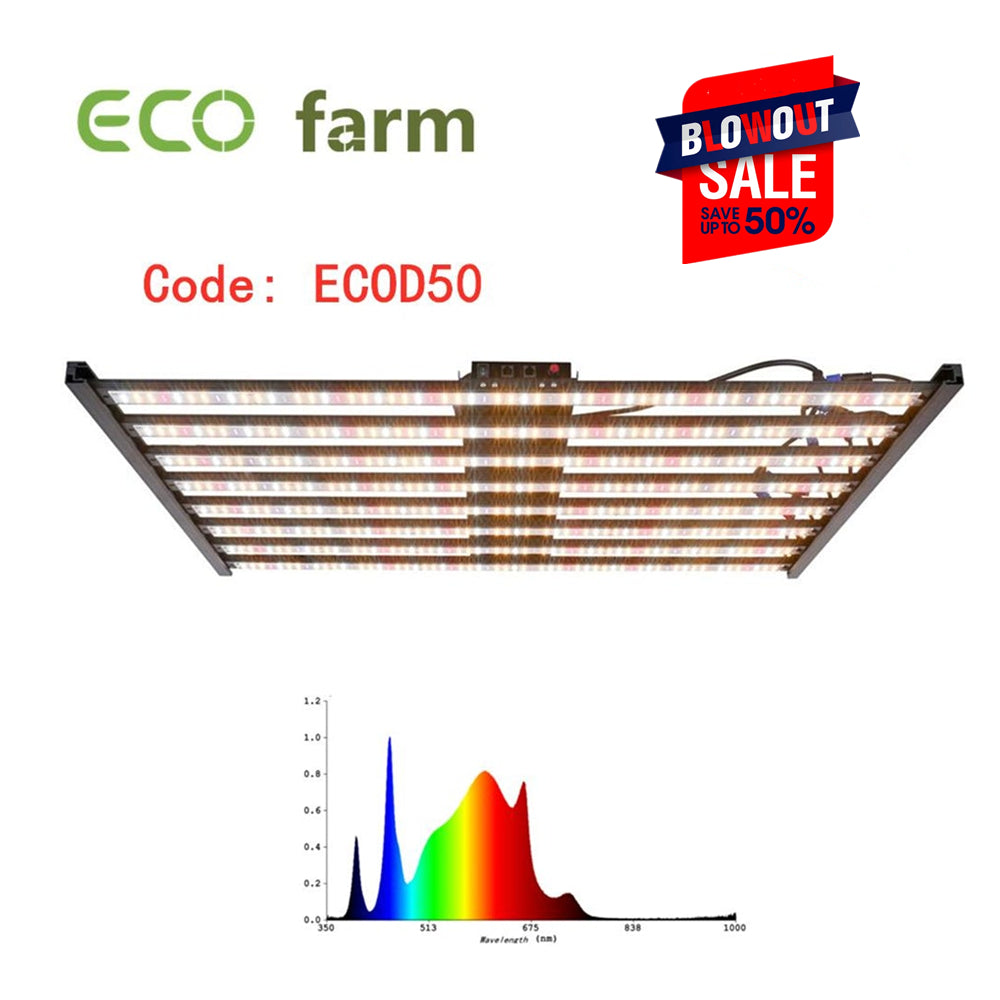 Description:
The ECO Farm Samsung LED grow light features a balanced spectrum for superior growing power with best possible LED diodes available.

This fixture provides you with total control over everything. With onboard dimming function, growers can set the ideal intensity at any stage of plant growth for optimal photosynthesis activation.

PPF & Par Efficacy
The ECO Farm Samsung LED grow light produces a PPF output of 1514.7μmol/s and a PAR efficacy of 2.8 umol/J making this fixture incredibly efficient compared to other commercial fixures.

Energy Output
The ECO Farm Samsung LED grow light provides its users with an average 40% reduction on energy and costs. This is the ultimate combination of increasing the amount of light energy reaching your plants while also shrinking costs.

The ECO Farm Samsung LED grow light allows for even light distribution, and is precisely designed to deliver uniform levels of photosynthesis flux density, or PPFD.

Spectrum
The specially deployed full spectrum fills the negligence of the main photoreceptors and pigments outside the 730nm IR and 395nm UV range, and it is suitable for reproduction to aging in indoor environments.
If you want to look more LED grow lights or buy other grow equipments, welcome to visit our website: ecofarm.ca
Our emails address is: business@ecofarm.ca
Contact:
WhatsApp: +1 206 581 5521
Leave a comment