Full Spectrum LED Grow Light Buying Guide
What exactly is full spectrum LED grow light and why is it important?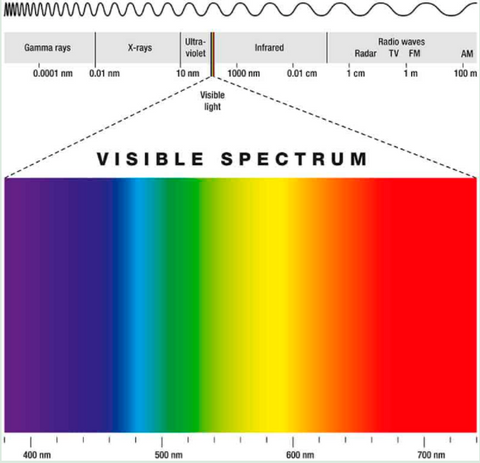 First, you must understand the light spectrum, or color wavelengths. It is the range of light colors we see or didn't see. Visible light that our eyes can see is between 380-740 nanometers. And similarly, the leaves of plants also enjoy these visible wavelength; the chlorophyll uses these light to manufacture food. The green light is an exception. Because chlorophyll only reflects green and they don't absorb it, that explains why plants' leaves are green. You can read more about these in this article.

So for the most parts, plants respond to the blue and red colors very well. These are the two most important wavelengths that plants need during their growth. Basically, plants need blue light for their vegetative phase and red light for the flowering period.

Understanding that, many grow light manufacturers have made it possible to produce the light colors plants need with their LEDs light. Many modern LED grow lights have a programmable setting to produce different color wavelengths. By this, you can control the type of lights at the different ratios for plants at different stages of growth in their life.

These types of LED lights with a very wide or full range of color wavelengths are called full-spectrum LED grow lights.

So two of the most important criteria that affect plant growth are light intensity (or the power of light output), and light colors (color wavelengths).

For light intensity, you can opt for the powerful light, but for light colors, you should choose one with a wide range of color wavelength (or full spectrum).

That's why within the scope of this article, I'll go into details all full-spectrum LED grow lights on the market, and help you pick the right one.
ECO Farm 660W/720W Foldable Full Spectrum Light Strips High Efficacy LED Light With Samsung 301B Chips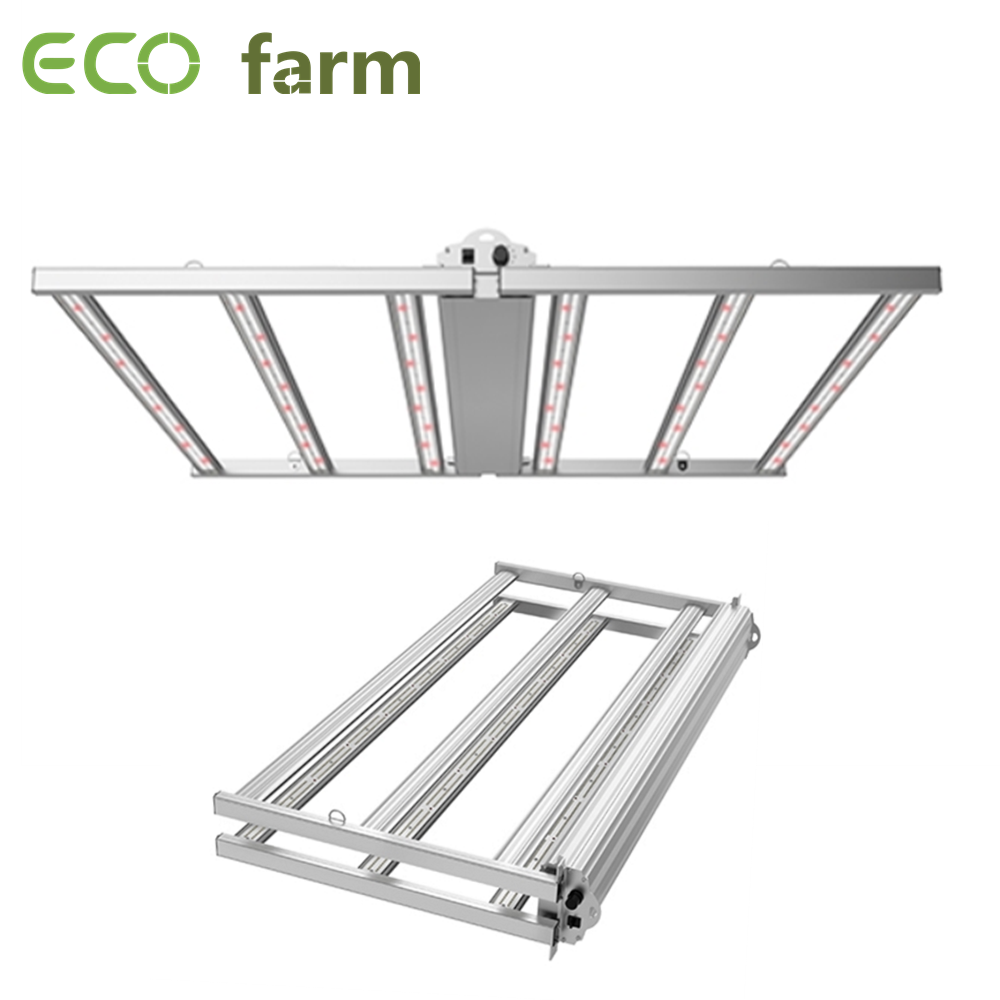 Using the highest output Samsung 301B LED chips with Osram 660nm chips, Efficacy is up to 2.7umol/J. High PPF is up to 1782μmol/s. Higher PPFD than Fluence/Gavita.
Full-spectrum with enhanced red for full-cycle grows.
Built-In Driver, just unfolds, plug, and play.
180°foldable, facilitate transportation and storage.
6 bars, more than 2160 LEDs distribute evenly; 
8 bars, more than 2880 LEDs distribute evenly.
Supporting the daisy chain and 0-10V dimming.
UL, DLC, CE, ROHS certified.
With a lifespan of over 50000h and comes with a 5-year warranty.
2112pcs LM301b 3030 White chips+48 Osram 660nm Red chips+4*165W Sosen Designed Driver
ECO Farm FLD Series 200W/320W Full Spectrum LED Grow Light Foldable Light Strips
1. Maximize harvest yield & energy-saving - ECO Farm FLD 200W/320W LED grow light with higher light intensity, less light decay, better lumens and PAR values than HPS/MH light. 
2. Flexible dimmable grow light & full spectrum: - The intensity of light can be adjusted according to the needs of plants. Light chips were consist of 3000K+5000K+660nm+730nm, provide full-spectrum results.
3. Foldable design & fanless zero noise - FLD LED grow light can be folded, installed and moved easily, save a lot shipping fee. 
4. Structure optimization and material upgrade make it more lightweight and easy to install and use. 
ECO Farm YT Series 720W/860W Foldable Full Spectrum LED Grow Light Strips With Samsung Chips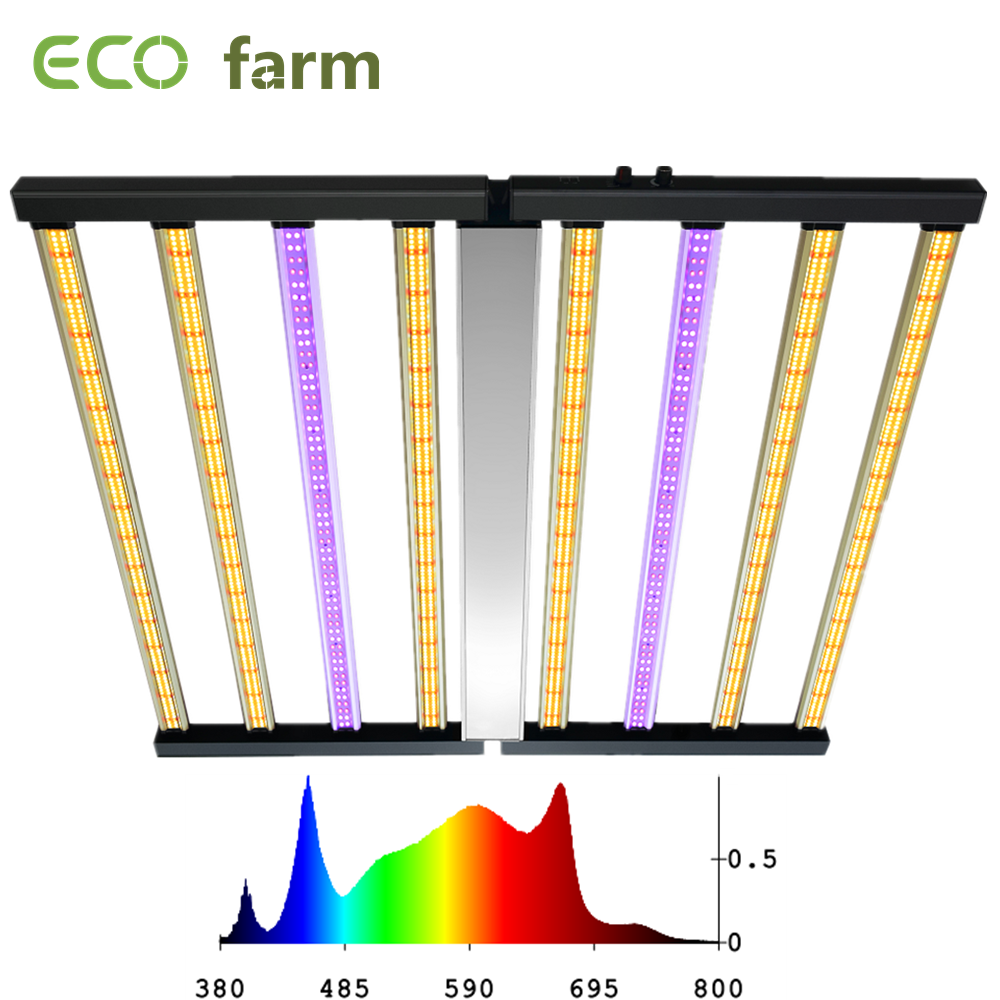 【Foldable Design】180 degree foldable, easy to hang, strong structure. 

【Easy Installation】Unbox, unfold, fixed and hang then it is done.

【High Efficacy】High PPF Efficiency up to 2.70 µmol/J.

【Daisy Chain Dimmable】Knob switch dimming+RJ14 signal cables daisy chain.
If you are also interested in other grow equipments, welcome to visit our website: ecofarm.ca
Our emails address is: business@ecofarm.ca
Contact:
WhatsApp: +1 206 581 5521
Leave a comment