Common Mistakes People Make When Pressing Rosin
There's never been a better time to jump into making your own solventless rosin. It's a simple and relatively easy process to perform, but despite that simplicity, there are still a number of mistakes first time rosin pressers will encounter. So let's go over the main offenders to help you avoid some classic noob rosin mistakes.
1. Using Poor Quality Starting Material
"You get out what you put in." You'll hear this saying a lot when it comes to rosin, and for good reason. That's because, one of the most common mistakes new rosin pressers make is to use any old bud. Unfortunately, the quality of your flower makes a huge difference to your final results, and pressing with mediocre material will always result in mediocre rosin.

Your best bet? Put in the effort to source the freshest, highest quality flower you can get your hands on, because fresh bud that's been cultivated to its full potential will always press better. Additionally, the strain of medicinal plants you use also matters.
2. Using a Makeshift Rosin Press
While it's true that the rosin process was invented by using hair straighteners, rosin tech has evolved enormously in the last few years, and it's absolutely worth investing in a press that's made for the job. Using rudimentary equipment is another common mistake new rosin presses make. 
While yes, it's certainly possible to make rosin using makeshift equipment, your results will suffer unless you use a decent rosin press. Mostly because, without accurate time, temperature, and pressure control, it's unlikely you will be able to achieve consistent good quality results with a high yield. We of course provide a number of affordable small home presses like the ECO Farm rosin press, which is perfect for the novice rosin maker looking to improve their game.
3. Time, Temperature, and Pressure Settings
Providing you're using high quality starting material and a decent rosin press, time, temp, and pressure settings are where all the magic of rosin making happens, and another common beginner mistake is to have a fire-and-forget attitude towards these parameters. There are general rules of thumb you can apply to rosin pressing, and these can be a great place to start.

However, it's important to note that different starting materials can behave differently under particular time, temp, and pressure settings. So, it's of critical importance to dial in your settings to suit your particular strain or starting material. Without a nuanced approach, you'll never extract the full potential of your flower, so be sure to check out our Rosin Tech Major Keys: Time and Temp to learn more.
Here are three best rosin press I recommend for you:
ECO Farm Rosin Press 6*12cm Manual Rosin Plates With 5 Ton Power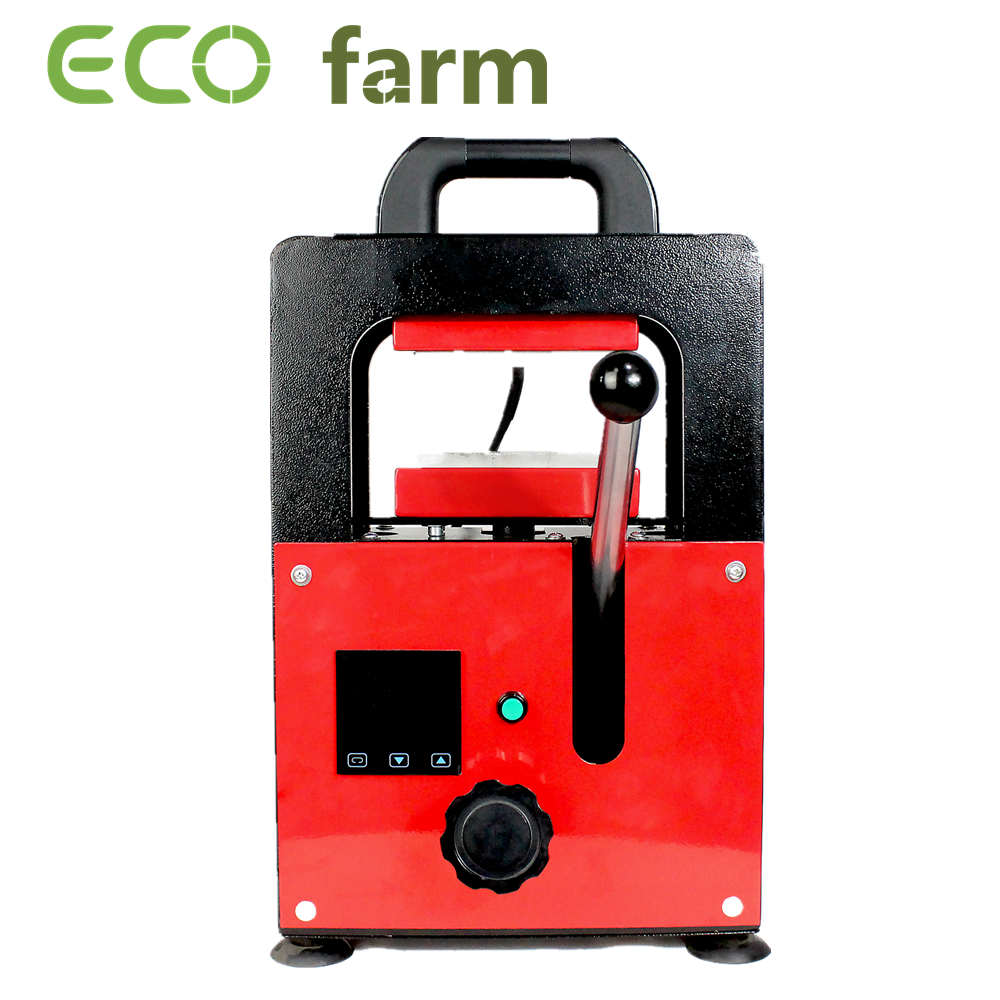 High pressure with 5 ton
MINI Size
Save shipping cost
Easy to move
Power: 600W
Double-sided heating, each heating board has a separate LCD time thermometer control
Fahrenheit or Celsius can be switched, even pressure
ECO Farm Rosin Press Machine KP1 and 16 Inch Leaf Bowl Trimmer Free Shipping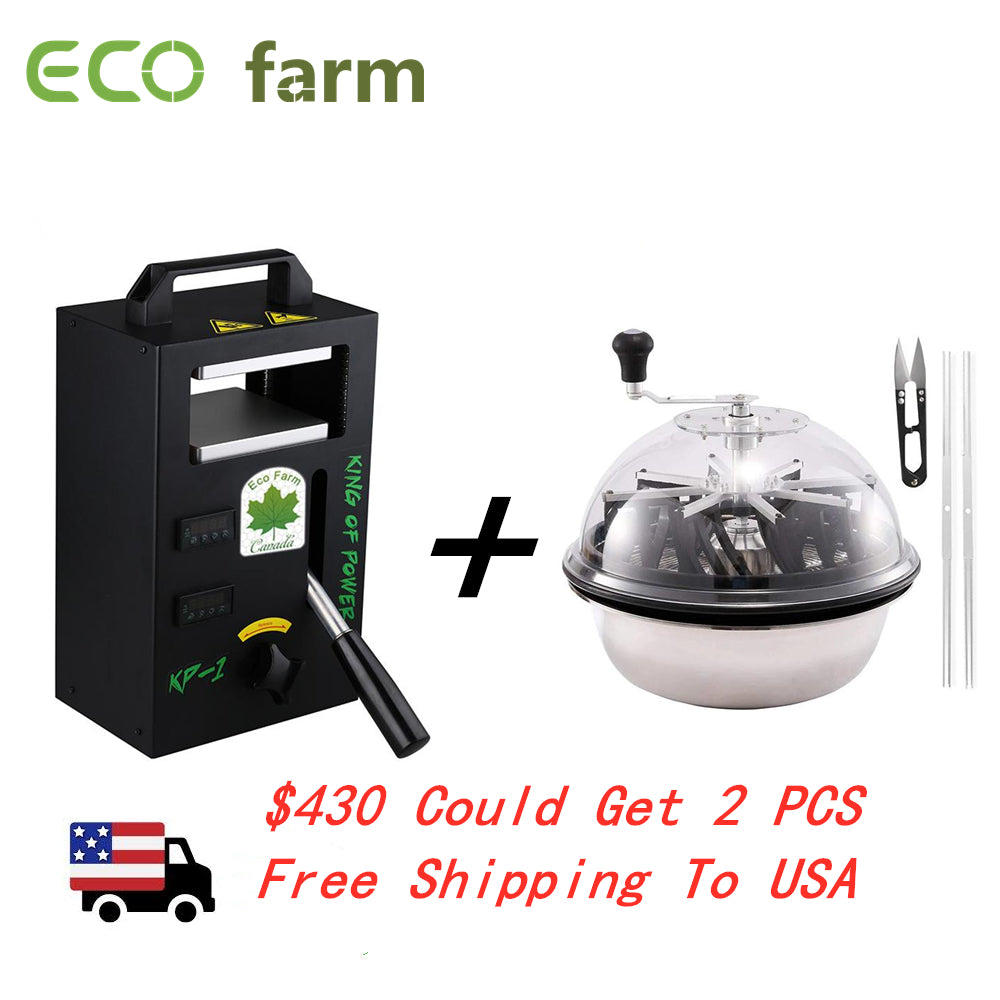 This personal heat press machine features sturdy construction, a locking lever mechanism, 115mm*120mm dual heating insulated solid aluminum plates, temperature controls located at the front of the press, and a convenient carrying handle.
Adjustable Maximum Pressure / Pressing Force Up To 4 tons.
This heat press machine is very lightweight (9.5KG only),super portable,perfect for personal desktop operating or use it during travel.
The recommended temperature is 220°F
This personal heat press machine arrives fully assembled and ready to use out of the box, No extra equipment required .
ECO Farm Rotating Dual Heat Plates 6 * 12 CM High Efficient Rosin Press Machine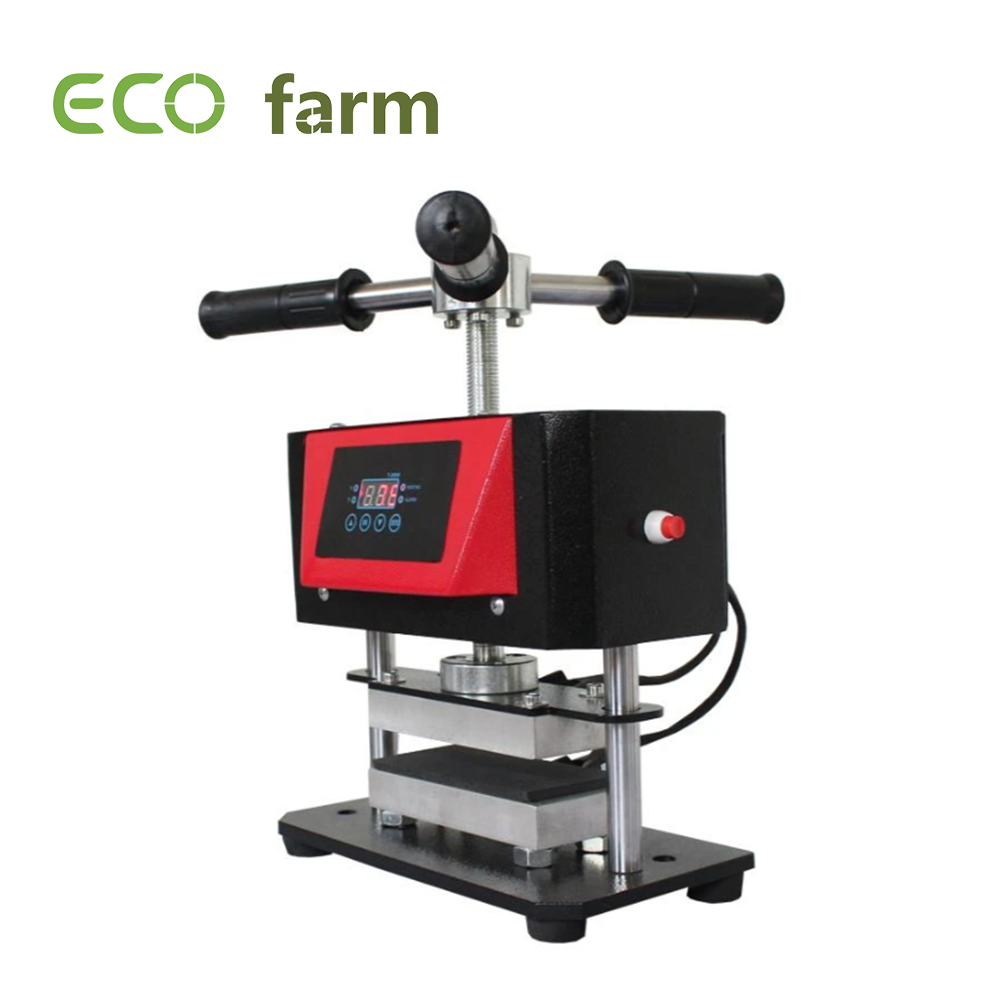 1. Easy to clean and non-stick dual heating elements with Teflon paint on the surface. Dustproof and do not need high-temperature cloth. Convenient to clean and oxidation resistance.
2. Customized-Micro processor precision heat and temperature gauge so that you can set your desired pressure, temperature and use the crank to press as hard as you need.
3. Heating-Electric heat pipe and plate body to pouring into an organic whole for even heating.
4. Intelligent-Firm construction with good quality, durable for years of trouble-free
5. Cast Aluminum Heating Plate, electric tube and board casting as one, heat uniform, durable 6. Using intelligent LCD display thermostat controller, temperature control accuracy (± 10 ℃).
6. Twist design to offer bigger pressure.
7. Thicker and stronger dual heating plates.
If you are also looking for other grow equipments, welcome to visit our website: ecofarm.ca
Our emails address is: business@ecofarm.ca
Contact:
WhatsApp: +1 206 581 5521
Leave a comment