Best Oscillating Fans For Grow Tent- Buyer's Guide
One of the important tools that a grow room needs is an oscillating fan. It helps in regulating the temperature for plants in the grow tent.
You could be looking for an oscillating fan to put up in your newly set up grow tent, or you want to replace one, and you are wondering how you are going to find the best.
In the market there are so many grow tent oscillating fans to choose from, finding the best is not easy.
Right, we know the joy of getting the best product for your money. That is why we have brought you this ​grow tent clip fans buyer's product guide for you.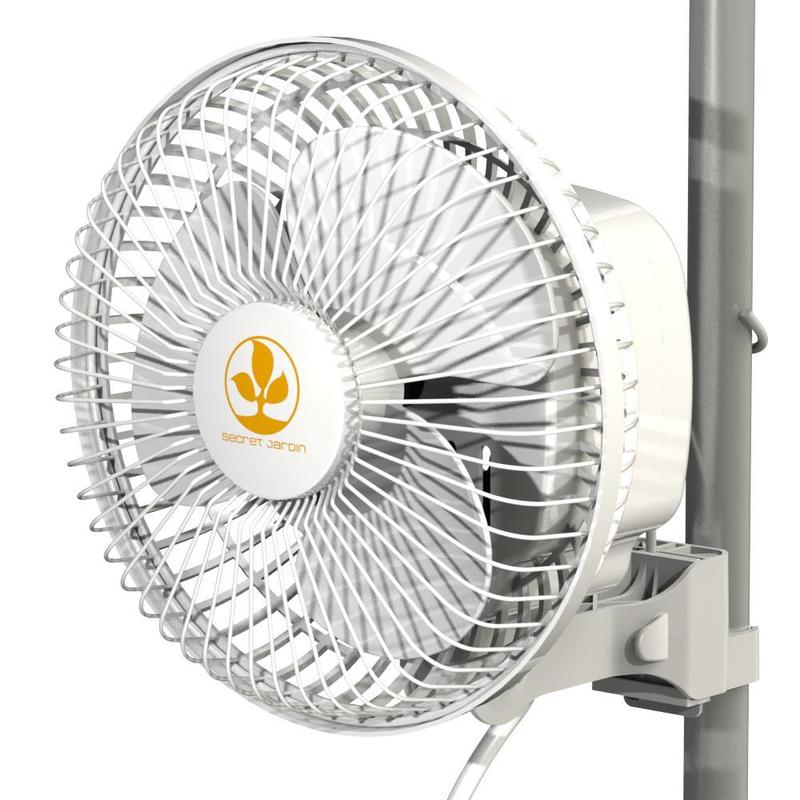 The best thing about this item is its robust construction. Its engine is made of 100 percent copper with no alloys.

This feature promises a more extended period of keeping your grow tent cool for your plants. Its blades, as well as the cover too, are durable. You might find this fan useful in keeping the temperature, and the humidity in your grow tent at optimum levels.

If you are looking for a budget-friendly fan for your grow tent plants, this fan can be your excellent fit. Its 16 watts power output is friendly. You can also assemble it conveniently without the need to find an expert.
PROS
​Lightweight – easy to reposition in grow tent​
​Easy to assemble
​Very easy to Use
The adjustable clips are great for mounting on poles of different diameters ranging between 0.63 and 0.83 inches.
​Affordable grow tent fan​ for your plants
CONS
This fan does not oscillate. However, you can easily reposition them.
Its 16 watts power output may not be enough for the needs of some tents.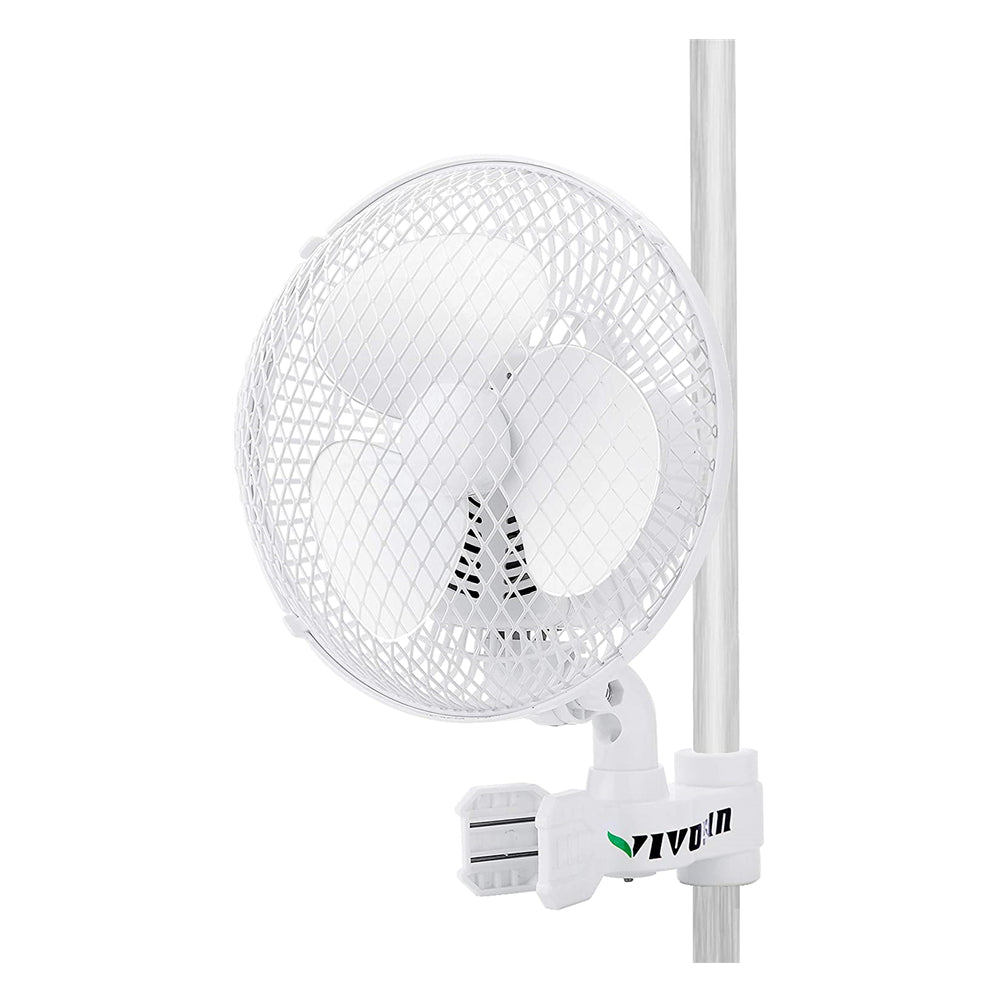 Here we have a clip fan that it actually designed especially for grow tents. This particular model, the VIVOSUN 6 Inch Clip on Oscillating Fan is designed to clip onto vertical grow tent poles with a diameter between 0.59 and 1 inch, which makes it the perfect choice for pretty much every grow tent out there.

The clip of this fan is made to be very tight and secure, so it does not slide down the poles in the grow tent. Once you mount it, it should have no problems staying in place.

This fan does have 2 different speeds, so you can accurately adjust the airflow based on the needs of your plants. Moreover, this model also allows for a 90 degree horizontal and 120 vertical oscillating range, which is actually quite impressive.

You can direct the fan as you see fit, or you can turn on the oscillation feature as well. 
Pros:

Sturdy construction
360-degree oscillation
2-speeds for convenient use
Adjustable head for full control of the fan
Easy to install on different surfaces
Quite in operation
Compact and lightweight fan suitable for small grow areas

Cons:

Many users say that it is quite loud, especially in the high speed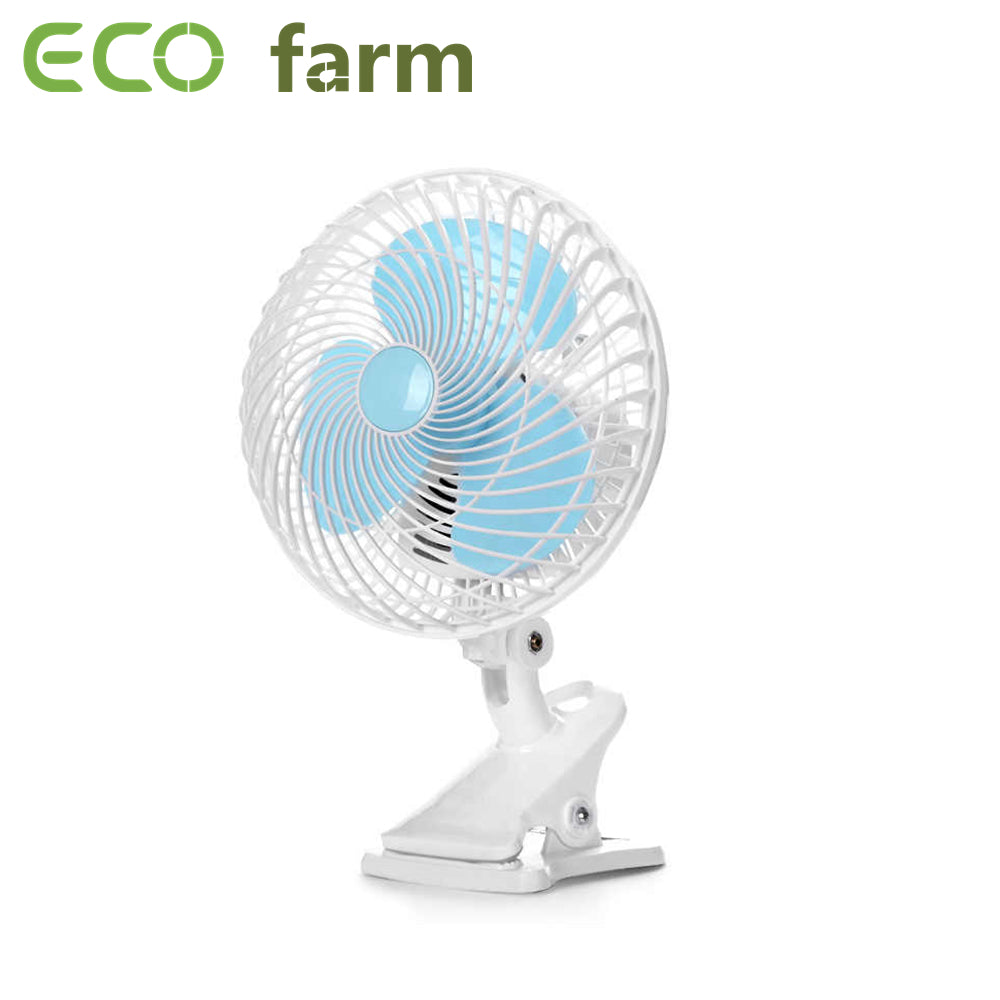 Here we have the last nice little clip fan from ECO Farm that is ideal for all kinds of grow tents. Yes, it is only a 6 inch fan, so it is fairly small, but this is good because it should be able to fit into even the smallest of grow tents with ease.

It also comes with a really easy clip system, one that is simple to use, plus it is pretty secure too, so it won't be going anywhere unless you decide to move it. The mounting clip opens up to 2 inches, which should be more than enough to mount in your grow tent.

ECO Farm oscillating fan is fairly lightweight, so that should not be a problem either. The head of this fan can tilt and swivel, so you can direct the airflow in whatever direction is best for your plants.
Pros:
Made of a durable construction

Very convenient to use with adjustable speed

Outstanding coverage area

Extremely quiet in operation

Excellent and strong grip clamp

It is very affordable

Adjustable head to easily direct the airflow
Cons:
If you want to know more about new grower guide, do not hesitate to contact us, the ECO Farm technician is always here to help you.
Our emails address is: business@ecofarm.ca
Contact:
WhatsApp: +1 206 581 5521
Leave a comment