2022 Best ECO Farm CR2047 7 Ton Rosin Press Review
Understanding how rosin press work
When extracting rosin, whether it be from fresh flowers or from dry sift, there are two main factors - heat and pressure.

They are inversely affected by one another. The more heat you use, the less pressure you need. Conversely, the more pressure you use, the less heat you need.
Characteristics of the best rosin press
Shape of the plates: Rectangular plates work best
The ideal plate structure of a rosin press is longer and narrower. This is because this shape maximizes the perimeter of your press.

There is some more science and math behind this, but for our purposes, all you need to know is that a rectangular plate will generally outperform a square one.
Your rosin press should have uniform heat distribution. The way heat works to extract rosin is by melting the trichomes and other essential compounds into a lower viscous form.

By playing with the temperature, you can change the consistency of the rosin to either a shatter, butter, or pull n snap.

Many cheap rosin presses don't have even heat distribution across their plates, and this leads to a lower quality rosin.
Rosin presses can get pretty pricey. So, it makes sense to only invest in a press that will last you years to come.
ECO Farm CR2047 7 Ton Rosin Press is the best one and very popular.
ECO Farm CR2047 7 Ton Rosin Press 6x12cm Dual Heat Plate New Upgrade Press Machine With Pressure Gauge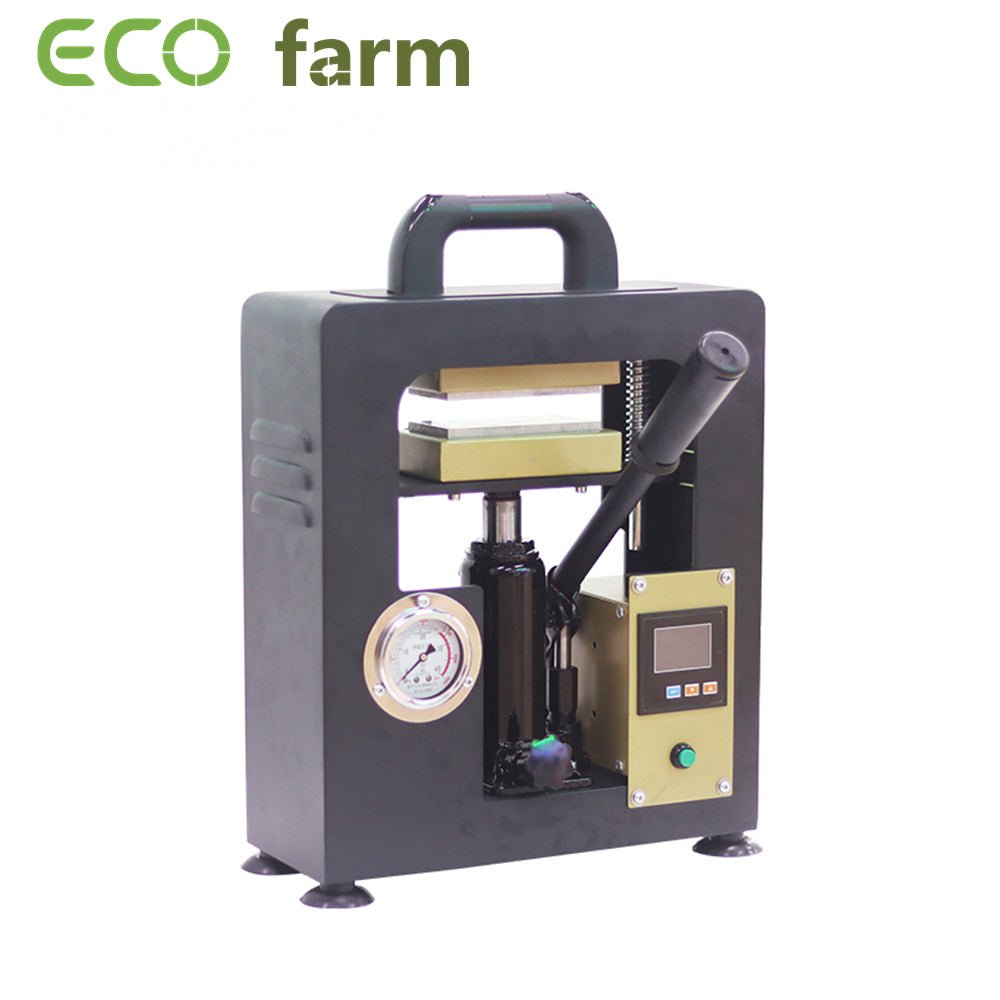 Description:
Rosin press machine is the use of temperature, pressure and a certain period of time to extract oil/squeeze rosin flowers and so on. CR2047 model is a hydraulic manual model with high pressure, high efficiency and good oil extraction.
Oversized heating plate: 6x12cm (2.3''x4.7'') inch heat plate, offer faster and more convenient to use. Faster heating speed.
Double heating: Double heating insulated solid aluminum plate, with the temperature control device and handle on the front of the rosin press, very user-friendly design, more convenient to use.
LCD display: With intelligent temperature controller, with LCD screen. The upper and lower heating plates can evenly heat the objects.
Portable: Easy to carrying and operating
Except this CR2047 7 Ton Rosin Press, let look at other two hot sale rosin presses.
ECO Farm 8 Ton Power Rosin Press Hydraulic Rosin Press Machine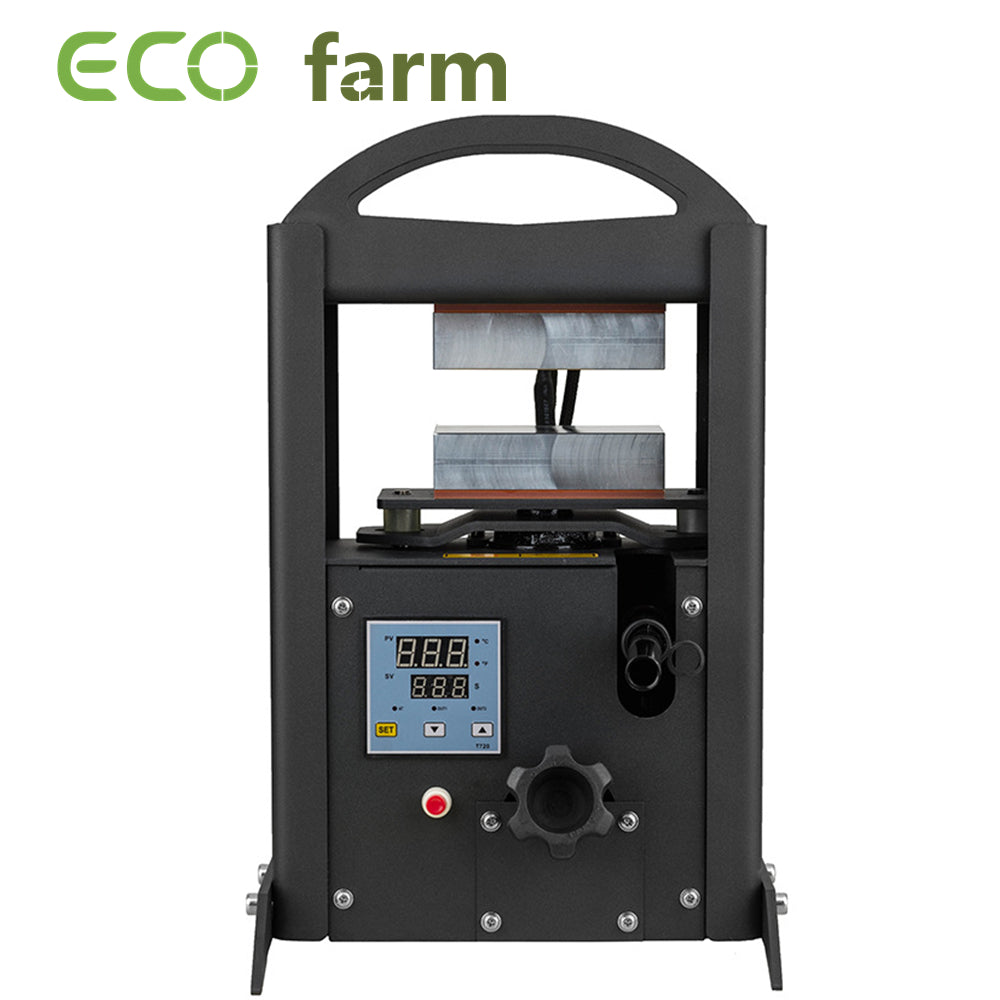 Description:
Lightweight But Powerful & Sturdy. Maximum Pressing Force Up To 8 Ton. 14000 psi Ram Hydraulic Jack Ensures Successful Pressing at Relatively Low Temperature.
5" x 2.5" Dual Heating Plates with Touchscreen Temperature Control & Press Timer. Fahrenheit and Celsius Temperature Scale Options
Easy to Operate. No Extra Equipment Required. Save Energy by Automatic Sleep/Wake Modes.
Ergonomic Handle Design Allows You to Move the Press Conveniently.
Suitable for many kinds of flated material, special for oil extraction.
Digital timer & temp controller - Preset desired time and an audible alarm will sound when time is complete.
Set the desired temperature (in Fahrenheit) and element will stop heating when preset temperature is reached.
Heating elements -Thicker heating plate with more even temp than other suppliers
Strong metal structure - Machine is heavy-duty, commercial-grade, super stable and built
ECO Farm 8 Ton Rosin Press New Upgrade Press Machine With Pressure Gauge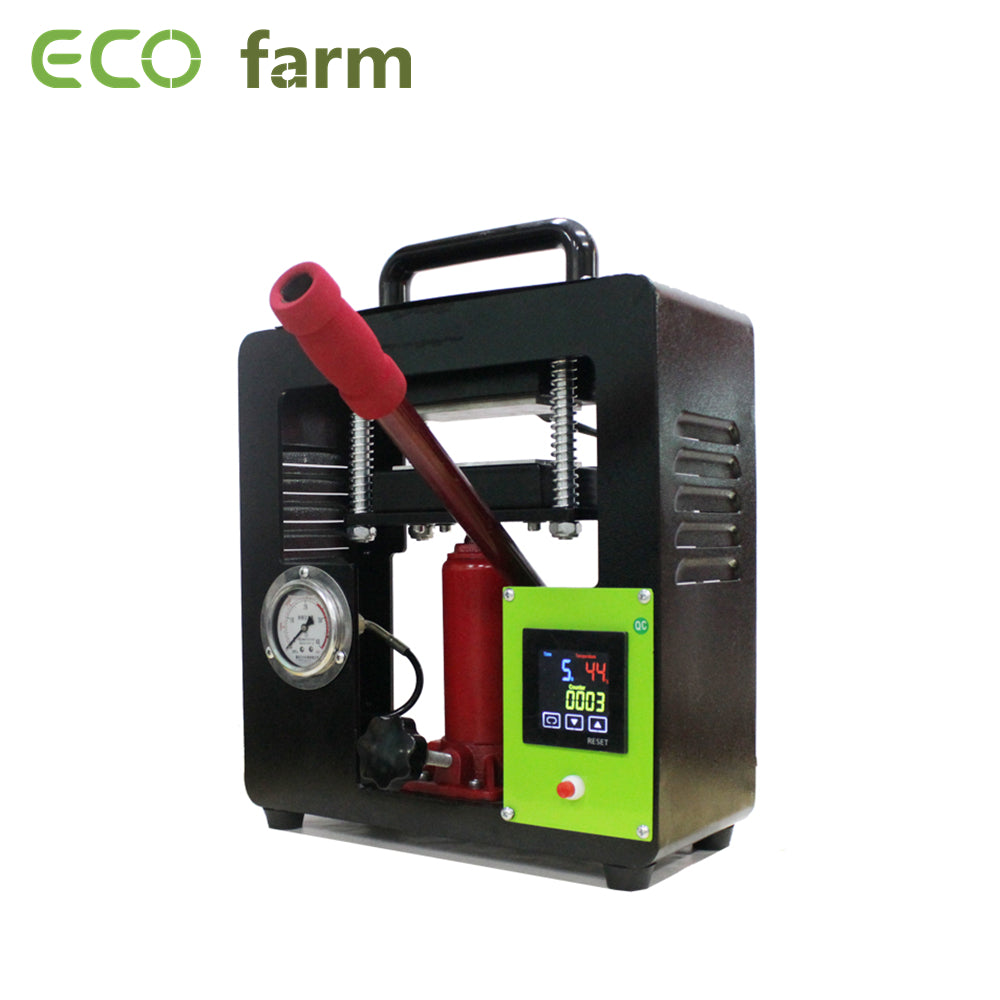 Description:
8 Ton hydraulic device gives better heat press efficiency

Upper and lower heat Plate Size: 6cm x 12cm(2.4"x4.7")

Time range: 0s-999s

Power: 600W


Working temperature range: 0-250 Celsius degree, 0-450 Fahrenheit degree

Heating plate material: aluminum

Shell material: three layers painted steel

Intelligent temperature controller with a cool LCD screen and timing button.With upper and lower heating plates so that objects can be heated evenly. 
If you want to look more about rosin press or buy other grow equipments, welcome to visit our website: ecofarm.ca
Our emails address is: business@ecofarm.ca
Contact:
WhatsApp: +1 206 581 5521
Leave a comment