---
What is a Full-Spectrum LED Grow Light?
A full-spectrum LED grow light is simply a marketing term that implies that your grow light closely resembles light from the sun. This marketing term comes from the concept of "full-spectrum light," which in recent years has been used to refer to electromagnetic radiation from the UV to infrared wavebands.
Why choose a full spectrum LED grow light?
Many LED arrays tend to only emit the spectrum that activates after the photorespiration period takes place (grow lights with dominant red and blue LEDs). This is the reason traditional LED lights sometimes finish cycles with immature plants that produce low yields. By supplying plants with only the limited "beneficial" spectrum (pink light) from traditional LED arrays, you are essentially putting them into a permanent chill mode.
You may end up with some healthy plants, but they will not have high yields or be as healthy as plants under a full spectrum LED grow light. It's obvious if you think about it — if red and blue light were truly all that plants needed, then why do HPS lights which don't have much of either color outperform them? The answer is intensity. Plants crave intensity first, followed closely by spectrum. When you give your plants both intensity and full spectrum grow light, as a LED fixture can provide, they will pay you back every time.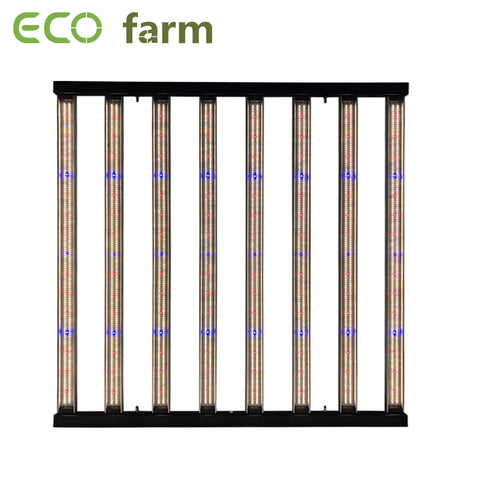 ---
Beyond PARN — UV & IR LEDs: UV lamps maximize trichome production and make plants more resistant to pests and diseases. Our LIV LEDs are laboratory proven to produce higher potency/active compounds (THC, CBD, terpenes, antioxidants/vitamins, and flavonoids). Infrared light increases photosynthetic efficiency (Emerson effect) Industry-leading 5-year warranty
The waterproof enclosure can be ceiling mounted, with the largest lighting footprint in the industry! Based on over 6 years of research and testing, the most efficient plant growth spectrum outperforms HPS, MH, CMH, induction, and fluorescence in isopower tests. The ideal spectrum for vegetable and flowering stages does not impede plant growth like switching from MH to HPS. Eliminate the need for separate grow lights and bloom lights, and reduce internode spacing to encourage flower and leaf growth, rather than stems.
All the highest quality lamp beads, including Samsung, Osram, LED, and nanomaterial primary coatings, ensure durability and cleanability while maximizing efficiency. high light intensity and high energy spectrum, the industry's best active thermal management is essential to maximize LED lifetime, efficiency,  and spectral stability. Largest heatsink in LED grow lights for excellent cooling and extended LED life, super-efficient LED 70,000+ hours rated life.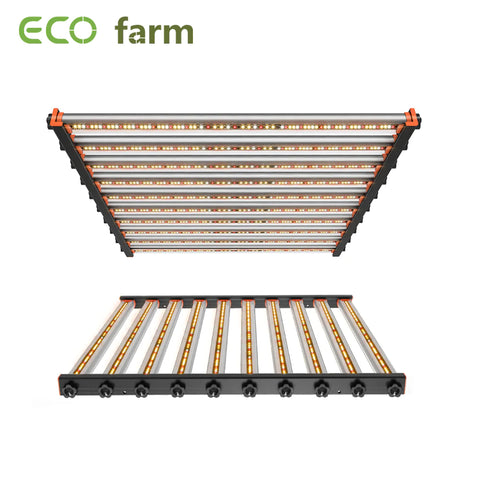 The ECO Farm 650W LED light is a high-performance overhead lighting solution for commercial horticultural cultivation. Designed for growers to push the limits with high PPFD growing practices. 650 watts (65W/strip x 10 strips), PF 1755 mol/JIP65 waterproof coating, perfect for wet environments. Wafer 3030 3500K and 6500K + Wafer 660nm. Luminous color: 3500K warm white. 10 independent working light bars, free to install/uninstall. Small, sturdy packaging saves storage space and reduces shipping damage. , Aluminum alloy material, good quality, good heat dissipation. HPS equivalent: 1000w HPS equivalent. Coverage area: 3*3 to 5*5 feet Each light bar has a small switch to control each light bar individually.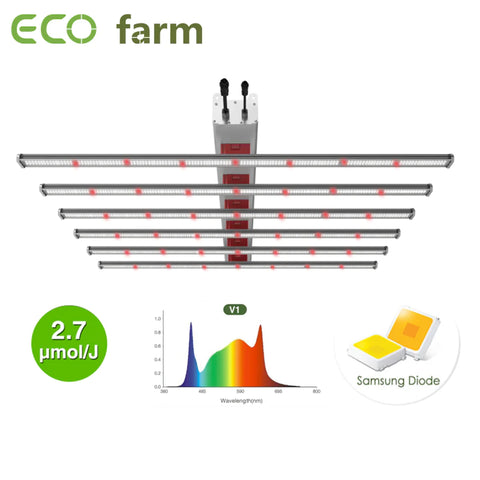 ECO FARM MS 660W/760W/900W LED LIGHT STRIPS FULL SPECTRUM GREENHOUSE LED GROW LIGHT adopts Samsung high bin LED, super high PPFD, perfect replacement for HPS 600W and 1000W. 660W/760W/900W/various watts. High light efficiency, 90% of plant growth light will be absorbed by plants, while in traditional HPS lamps and MH lamps, the effect is only 8%-10%. The ECO Farm MS series light is a high-performance, affordable horticultural toplighting solution. Specifically designed for applications requiring efficient, precise, and uniform PPF levels.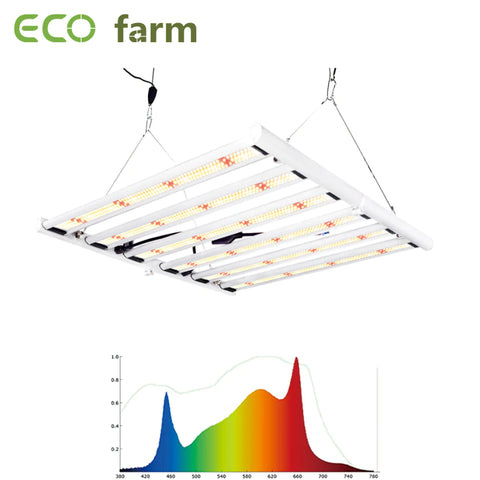 - ECO Farm FLD 240W/320W LED grow lights have higher light intensity, less light decay, and better lumen, and PAR values than HPS/MH lights. The intensity of the light can be adjusted according to the needs of the plants. The optical chip consists of 3000K+5000K+660nm+730nm, providing full spectrum results. FOLDABLE DESIGN AND NO FAN ZERO NOISE - FLD LED grow light can be easily folded, installed, and moved, saving a lot of shipping costs. Structure optimization and material upgrade, lighter and easier to install and use.
conclusion:
ECO Farm LED's full spectrum LED grow lights that emit visible wavelengths (what we think of as color) and invisible wavelengths like UV and IR. Our LED grows lights truly mimic natural sunlight while matching the intensity of traditional HPS lights. We know that blue and red are the wavelengths that dominate "active photosynthesis", so you might think that just offering these colors might circumvent the rules of nature. There's a catch, however: High-yielding plants, both on farms and in nature, require photorespiration. When plants are heated by intense yellow light, such as HPS or natural sunlight, the stomata on the leaf surface open up for photorespiration. During photorespiration, plants go into "exercise" mode, which causes them to consume more nutrients, much like humans want to drink or eat after a workout at the gym. This translates into growth and a healthier harvest.