How do I choose an LED grow light?
What is the function of grow lights?
Indoor grow lights allow you to grow a wide variety of plants in any climate at any time of year. These grow lights are specifically designed to replace natural sunlight, stimulate photosynthesis and provide the correct color spectrum for plants to grow and thrive.
What type of light is best for growing plants indoors?
Most grow lights are either full-spectrum, meaning they emit light that spans the entire electromagnetic spectrum (similar to the sun), or they offer specific hues that plants find most useful for growing—especially red and blue light. Red and blue lights work best together as they combine to provide a more even level of growth.
Full spectrum vs. red & blue grow light
Pro tip: "Red" or "blue" light doesn't just refer to the color of the bulb, although you may find that some bulbs do emit red, blue, or pink light. Color names refer to visible light wavelengths. Different wavelengths of light affect plants in different ways:
Red Light - "Tells the plant how many leaves to make and how big to make"
Blue Light - "Controls the plant's response to the daily light cycle...tells the plant when to bloom."
It's also important to remember that different types of plants require different ratios of red and blue light. What works for one plant may not work for another. You may need to do some research or experimentation on how much blue and red light each plant type needs to see the best results. Alternatively, you can choose a full-spectrum bulb that is closest to the sun.
What are the full spectrum grow light with red and blue light?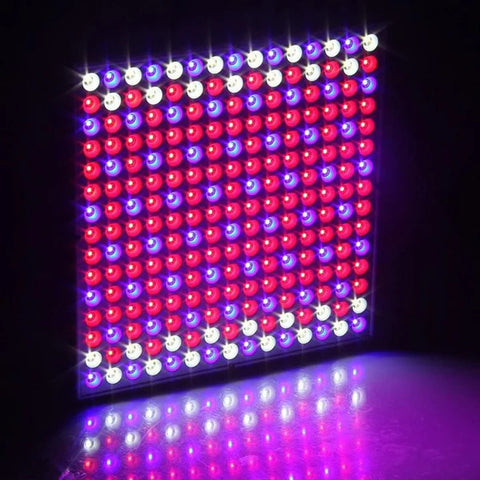 Features:
ECO Farm 45W lamps offer different wavelengths that can be fully absorbed by plants. It can be placed directly on the plant to promote plant growth, budding, flowering, and promote plant PPFD. Different wavelengths of light have different effects on plant photosynthesis. The wavelength of red light is 625nm-630nm, and the wavelength of 650-660nm blue light is 440nm-470nm. Visually, the red and blue LED plant growth lights are pink. Blue light is beneficial to plant photosynthesis, which can promote green leaf growth, protein synthesis, and fruit formation. Red light can promote the growth of plant roots, which is conducive to flowering, fruiting and prolonging the flowering period, and plays a role in increasing production. The red to blue LED ratio of this LED grow light is 5:1. Fan cooling system with excellent cooling effect. LED grow lights can replace 3-5 times the power of traditional high pressure sodium lamps, saving 80% of electricity.
Full Spectrum: From UV to Infare Red, the spectrum has been carefully designed and extensively tested to provide plants with the most efficient light for photosynthesis, 100% usable and effective for your plants, it contributes the most to your plants, helps increase harvest.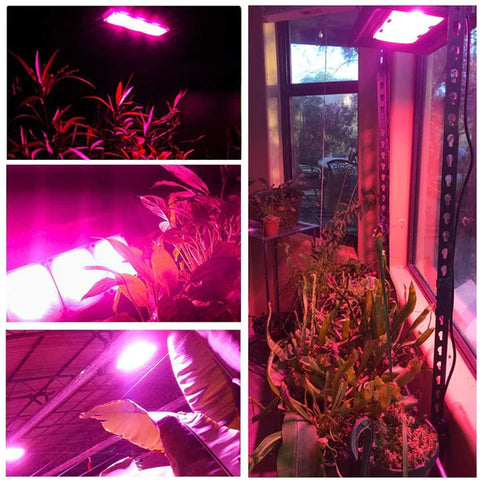 Features:
ECO Farm COB LED grow lights have the best full spectrum (380-800nm) to provide all stages of plant vegetables and flowers everything they need to do in natural sunlight. Especially RED (630-660nm): promote flowering and fruit, directly increase yield; blue (440-460nm): promote germination and photosynthesis; IR (780-800nm): promote plant cell growth; UV (380nm): sterilization. COB LED grow lights are CE, FCC and RoHS certified. IP67 waterproof, safe for indoor/outdoor work even in the rain. Ideal for potted plants, gardens, sowing, breeding, farms, greenhouse planting, flower planting, to create a safe greenhouse for you, environmental protection, no pollution or harmful substances. High actual working power 200+-5%W, 600W HPS/MH replacement, while using ECO Farm COB LED grow light only consumes 250W. BUT maximizes the use of light energy through COB technology, our experiments prove that ECO Farm COB LED grow lights can increase plant yield by 45%-63%, while saving 40% of energy consumption. Adopt internal heat dissipation IC and integral heat dissipation case design with heat dissipation coating to ensure that the operating temperature does not exceed 140℉. There is no need for fans and drivers to work, making the LED grow light ultra-thin and ultra-light, without any noise, suitable for indoor quiet environment.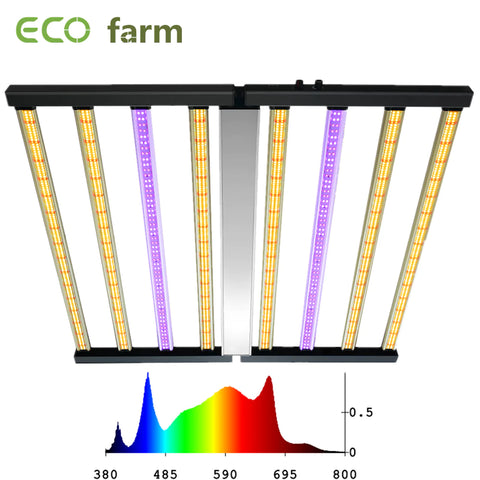 Features:
180-degree foldable, easy to hang, sturdy structure; unbox, unfold, fix and hang, and it's done; PPF efficiency up to 2.70 µmol/J; knob switch dimming + RJ14 signal line daisy chain. Full spectrum from UV to Infare red, the spectrum has been carefully designed and extensively tested to provide plants with the most efficient light for photosynthesis. Extensive growth studies have shown that higher red content increases yield and potency during flowering. The 860w full spectrum uses a spectrum of high-efficiency LEDs and state-of-the-art red LEDs for maximum efficiency and growth with consistent results. ⠀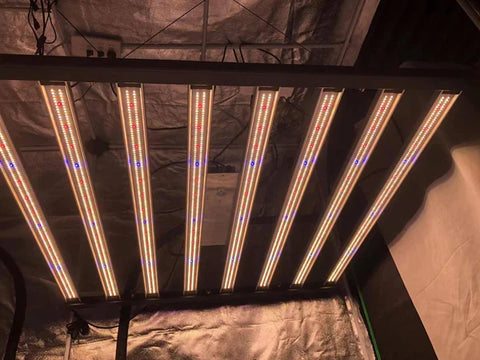 Features:
All the highest quality lamp beads including Samsung, Osram, LED Each top LED is selected from industry leaders based on its specific wavelength. Nanomaterial primary coating ensures durability and cleanability while maximizing efficiency. High light intensity and high energy spectrum, essential for penetrating the canopy to nourish lower leaves and flowers Uniform edge-to-edge coverage eliminates leaf burn and hot spots. ETL certified to UL8800 safety standards
Largest heatsink in LED grow lights, provides excellent cooling and extended LED life, super efficient LED 70,000+ hours rated life. Based on over 6 years of research and testing, the most efficient plant growth spectrum, outperforming HPS, MH, CMH, induction and fluorescence in isopower tests. Ideal spectrum for vegetable and flowering stages does not hinder plant growth as switching from MH to HPS eliminates the need for separate grow lights and bloom lights to reduce internode spacing to promote flower and leaf growth, not stems. Beyond PARN - UV and IR LEDs:UV lamps maximize trichome production and make plants more resistant to pests and diseases
Our LIV LEDs are laboratory proven to produce higher potency/active compounds (THC, CBD, terpenes, antioxidants/vitamins and flavonoids) IR light increases photosynthetic efficiency (Emerson effect) Industry leading 5 year warranty Waterproof housing can Largest lighting footprint in the industry for ceiling mounts!
conclusion:
Each plant needs a different amount of light, so follow the care instructions on the plant's label in the pot, or do some research on the specific type you must ensure it gets the best growing conditions.
Follow these guidelines as a general rule: plant type, light hours per day.